Muslim Students and Culturally Relevant Teaching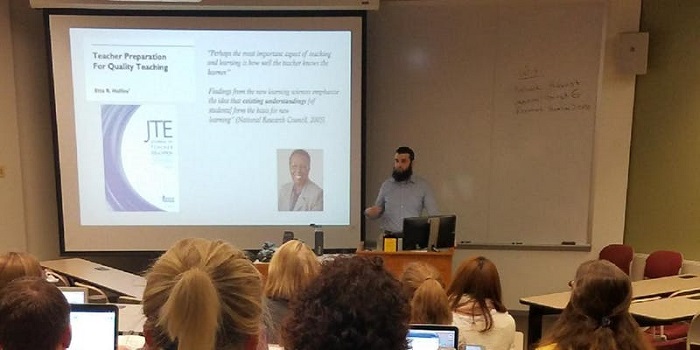 June 22, 2018
Muslim Students and Culturally Relevant Teaching
Colleen Crossley, Consultant
According to TPT's ECHO (Emergency, Community, Health and Outreach), cultural and religious beliefs about health and medicine should be taken into account when interacting with Minnesota's many diverse cultures. This is especially true in ABE, particularly as we consider learning differences/disabilities and mental health issues. Engaging Muslim Students in Public Schools was presented April 28 at Hamline University.
Recently, I talked with the main presenter, Michael Abraham, about his professional background, follow-up questions resulting from the six-hour workshop, and how ABE teachers can better meet the needs of Muslim adults and parents in our classrooms.
Abraham Educational Services is a group of Minnesota Muslim teachers organized by Michael Abraham to increase culturally relevant teaching and pedagogy among non-Muslim teachers. The main engine behind the service, Abraham also teaches and coordinates ESL and professional development at Heritage Academy, a Minneapolis public school serving grades 6-12. Well-known in the Somali community, the school draws about 30% of its students from outside district boundaries, one of the few MPS schools to do so. Previously, Abraham taught at a private school in Saudi Arabia. Upon returning to the U.S., he spent three years at a Richfield charter school. Michael Abraham is Muslim and has worked closely with various groups within the Muslim community.
Due to his educational background and experience within Muslim circles, Abraham is often asked about matters pertaining to education, parenting, and children. He confirms that, among Minnesota Muslims, there can be a cultural reluctance to explore learning differences, depression, and other mental health topics. Such topics can have a stigmatizing effect, and religious solutions are commonly sought initially. ABE and parent educators can and should provide background information about these and related topics. He recommends that public schools hold family nights to help parents better understand how special education and ESL services originated, function, and became part of the American education system through law. Teachers can encourage adult learners to attend such meetings at their children's schools. Guest speakers in ABE classes can further address parents' concerns around these topics. Finally, helping adult learners navigate outside resources as needed will increase awareness around learning differences, disabilities, depression, and related topics, helping destigmatize them.
Abraham notes the importance of adhering to best practices when it comes to teaching adult students with low English proficiency or those with learning difficulties themselves. He strongly supports the use of realia and contextual learning, and providing opportunities for adult learners to make connections to real world experiences. He states that "every teacher has strengths and what they are comfortable doing. The main thing is to evaluate what you're doing all the time." He believes that often, "you have to go slow in order to go fast," and that providing careful scaffolding along the way, especially with students from different cultural and religious backgrounds, is key. Explicit and carefully scaffolded instruction are recommended in all content areas.
Minnesota Muslim parents strongly value education and view teachers as experts, according to Abraham. They understand that teachers work hard on behalf of their children, and feelings toward public school teachers are overwhelmingly positive. However, such parents may also worry about values their children "soak up at school" that are contrary to what their religion teaches. Parents often counter this by sending their kids to Saturday classes at area mosques. Notably, Muslim students living outside the United States do not have Saturday school, since religion and education are closely intertwined in the home countries of many Muslim immigrants.
The phenomenon of homogeneous charter schools (which Abraham's workplace, Heritage Academy, initially was), started by members of the Somali community, is also a result of concerns about cultural clashes in public schools. Homeschooling, while less visible, has become more common among Minnesota Muslims also. For example, parents worried about a school's celebration of non-Muslim holidays such as Halloween, prohibited in Islam, may opt to homeschool if their school is unresponsive to their concerns. Muslim families that homeschool are rarely Somali and are usually middle to upper-middle class. Saturday school, charter schools, and homeschooling all represent efforts by Muslim parents to limit exposure to messages or values that do not correspond with Islamic beliefs. These parenting worries should be validated and discussed when they come up in classroom discussions or other ABE contexts.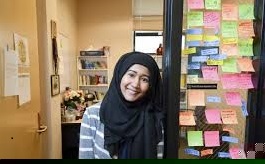 Abraham is also a proponent of teaching Muslim parents about child development and its relationship to neuroscience. He notes that information about neurochemistry and current brain research in adolescence in particular is valuable. Many who grow up in Western cultures believe that it is normal for teens to seek out novel experiences and become increasingly independent. However, the Old World cultural beliefs of many Muslim parents dictate that adolescence marks the passage to adulthood. Adult experiences, responsibilities, and behaviors are expected, and experimentation and independence frowned on. Because of the vast difference between "normal" U.S. teenage behavior and the expectations of many Muslim parents, this can be a confusing and complicated time for these families. ABE teachers can provide information on the developmental phases the teenage years bring and help parents explore the parameters of "normal" adolescent experimentation.
With regard to younger children, Abraham says it is common at Muslim social gatherings for parents to "just let kids play and get their energy out." In general, play is less supervised and "hands-off" compared to Western practices, even when conflicts arise. In addition to providing information on child development, Abraham advises teaching parents communication skills and behavior strategies to help children peacefully resolve conflicts. He notes that, on the one hand, Muslim parents want to teach their kids to be responsible and stick to their religious values. On the other hand, the often unsupervised nature of children's play belies a lack of understanding that learning occurs contextually. When the more dominant child always wins, he says, this is contrary to Islamic principles (such as kindness) that parents want children to uphold.
In addition to explicit conflict resolution strategies, parents can use conflicts as teaching opportunities to instill in children the desired cultural and religious values. Muslim children may sometimes be confused with the apparent disconnect between permissiveness and religious/cultural values. Different behavioral expectations at mosques and public schools may also lead to confusion and, in some cases, to persistent behavior and learning problems. Abraham reiterates the importance of teaching parents effective and transferable conflict resolution strategies and behavior management methods to reinforce within family and community settings.
Abraham recommends John Hattie's research on Visible Learning (https://visible-learning.org); Building Academic Language by Jeff Zwier; and Tools for Teaching by Fred Jones, among other books and readings. He also provided a reading packet to build workshop participants' background knowledge of Islam and the Muslim community in Minnesota (email Colleen at colleen_crossley@rdale.org for workshop notes and article titles). Also on hand were many culturally relevant books that can be used with various reading levels of students. Titles can be found on his website: abrahameducation.com.
Abraham has discussed the possibility of publishing his work with the Hamline University Education Department, and feedback has been encouraging. For now, he is busy teaching, working toward his Master's degree, and parenting three young children. Due to time constraints, he is unable to visit individual school sites, but is exploring the option of developing webinars to expand on the information provided in his workshop. Check out the Abraham Educational Services website for additional resources and to learn about future workshop dates. For additional background information, lesson plans, and more about cultural/religious norms and values of Somali and other Minnesota culture groups, visit echominnesota.org/tools/cultural-toolkit. Visit the PANDA website (mn.abedisabilities.org) for information on a variety of issues that impact adult learners.
Colleen Crossley, Consultant
PANDA