Literacy Leadership Award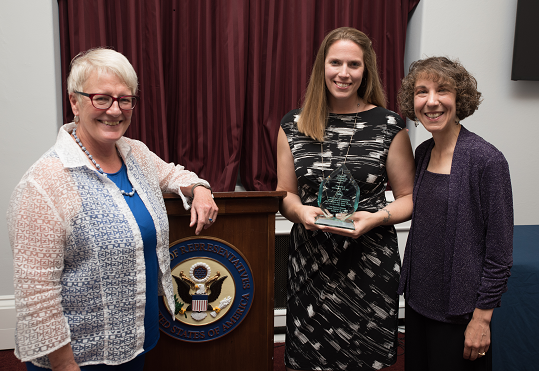 ATLAS was selected as one of four 2017 Literacy Leadership awardees by the National Coalition for Literacy (NCL). ATLAS was recognized for its innovative, practitioner-centered program which provides professional development that trains national leaders in the field of adult education.
"We are so pleased that the National Coalition of Literacy has recognized our innovative ATLAS program with this prestigious award," Hamline President Fayneese Miller said. "This is a wonderful testament to the vision, hard work, and expertise of our ATLAS faculty and staff."
The NCL Literacy Leadership Awards recognize individuals and organizations that have made extraordinary national contributions to improving adult literacy and English language learning in the United States. Past award recipients include Senator Hillary Rodham Clinton, Senator Edward M. Kennedy, and The Dollar General Literacy Foundation. In 2017, the NCL also recognized Congresswoman Rosa Delauro, Dr. Stephen Reder, and Dr. Sharon Darling.
ATLAS was nominated by Silja Kallenbach, Vice President of World Education.  "We are so very honored to be among such prestigious company ​in ​receiv​ing​ this awar​d," ATLAS Director Patsy Egan said.  "It ​recognizes the robust 25-year partnership between the Minnesota Department of Education and Hamline's School of Education​, ​which resulted in the creation of ATLAS 10 years ago. Today ATLAS is in a strong position to continue fostering the development of teacher-leaders to positively impact adult learners. These learners ultimately benefit the most from​ our work by​ having ​highly qualified teachers​, trained in evidence-based best practices and supported by a vibrant ABE system."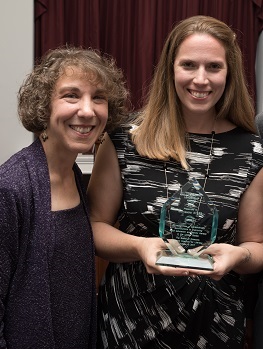 "When ATLAS was launched in 2007 with a faculty director, a faculty senior consultant, and one staff person, I never imagined we would be recognized a decade later with a national literacy leadership award, let alone one that counts Hillary Rodham Clinton and Edward Kennedy as past recipients," ATLAS Operations Manager Marisa Squadrito Geisler said. "This tremendous honor goes far beyond our co-founders and current staff; it is also a testament to the many Adult Basic Education (ABE) practitioners who not only help adults achieve their literacy and life goals every day, but have contributed their expertise and passionate leadership to make ATLAS what it is today."
Patsy and Marisa accepted the Literacy Leadership award on behalf of ATLAS and Hamline University at the October 4, 2017 awards ceremony on Capitol Hill in Washington, D.C.
ATLAS is funded with a grant from the Minnesota Department of Education using federal funding, CFDA 84.002, and/or Minnesota Statute Section 124D.522.