ATLAS
ATLAS (ABE Teaching & Learning Advancement System), housed in the Hamline University School of Education and Leadership, is funded by a grant from the Minnesota Department of Education (MDE) to provide high-quality, accessible professional development and resources to advance education for adult learners. The work of ATLAS is evidence-based, practitioner-focused, responsive to the needs of the adult education/ABE (Adult Basic Education) field, and designed to cultivate professionalism in Minnesota Adult Education. You can find more information about Minnesota Adult Education below.
In close partnership with MDE Adult Education staff, ATLAS provides a wide range of ABE professional development activities and support:
statewide and regional conferences
cohort-based training
study circles
webinars
online courses and communities of practice (using the Schoology platform)
online resource libraries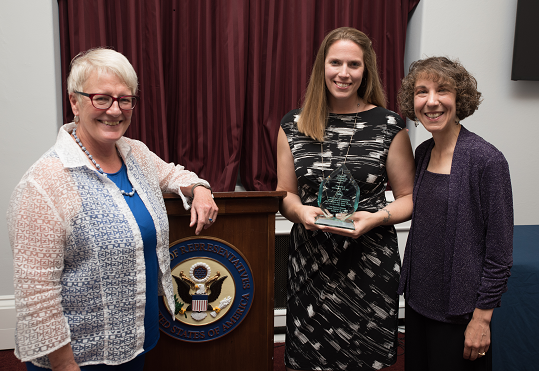 2017 Literacy Leadership award
ATLAS was deeply honored to be selected as one of four 2017 Literacy Leadership awardees by the National Coalition for Literacy. Nominated by Silja Kallenbach, Vice President of World Education, ATLAS was recognized for its innovative, practitioner-centered program which provides professional development that trains national leaders in the field of adult education.
Hamline University School of Education and Leadership
As part of Hamline's School of Education and Leadership – widely recognized as a leader in teacher preparation – ATLAS provides unique access to additional professional development for ABE practitioners. Hamline is the only institution in Minnesota to offer an ABE licensure program, including both initial and additional licenses.
Additional offerings include the Adult Basic Education Certificate, Adult ESL Certificate, Teaching English as a Foreign Language (TEFL) Certificate, and co-sponsored graduate credits for participation in several ATLAS activities.
Hamline University's Land Acknowledgement
Hamline University acknowledges that the land on which we gather and refer to as Minnesota is the traditional and unceded territory of the Dakota and Ojibwe. Minnesota comes from the Dakota name for this region Mni Sota Makoce, "the land where the waters reflect the skies." We pay respect to the citizens of not only those tribes, but others as well, both past and present, and their continuing relationship to their ancestral lands. Making this recognition expresses gratitude and appreciation to those whose territory we reside on and honors the Indigenous people who have been existing with, and on, the land from time immemorial. This long-standing history is significant as land acknowledgements do not exist in a past tense or historical context—colonialism, appropriation, and genocide have relevant, real-time realities. We need to build mindfulness regarding the source of our present land privilege, understand the long-standing history from which it comes, and seek to reconcile our place within both. Hamline, as an institution and community, will hold itself accountable as an Indigenous partner by working stridently to amplify, address, and counter the historical and contemporary injustices that continue to impact Indigenous people—individually, systemically, and structurally.
ATLAS Activities
ATLAS offers professional development (PD) activities for ABE practitioners in a number of key areas. Learn more and find out how YOU can participate below!