Project-Based Learning Resources
Getting Started with Project-Based Learning (PBL)
Project-Based Learning = Teaching Through Projects
That Reach Rigorous Standards for Learners!
Meeting the needs of today's adult learners is a challenging task for educators. One approach that can be put to use across the range of adult education contexts and at any level of instruction is project-based learning.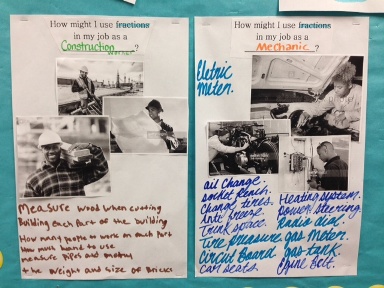 In project-based learning (PBL), students gain knowledge and skills by working to investigate and respond to a complex question, problem, or challenge. PBL has gained much attention of late as a powerful way to integrate many rigorous literacy and communication skills together with key content knowledge for students (Duke, 2014).
PBL requires communication, collaboration, critical thinking, and creativity (Buck Institute for Education, 2015). The content of a project can be related to learners' community participation, potential or current careers, high school equivalency subjects (i.e., math, social studies), and/or postsecondary subject areas such as history or botany. PBL is an engaging approach that demands academic language and prepares learners for postsecondary and career transitions. 
PBL and Content Standards
In addition, PBL is one way to design instruction along a challenging and engaging line of inquiry, an organizational principle emphasized in the College & Career Readiness Standards (CCRS) trainings that ATLAS sponsors statewide.
"Project-based instruction is particularly well suited to addressing more rigorous standards, such as the Common Core State Standards, for example, which call for writing for different tasks, purposes, and audiences. Project-based instruction also provides ways for teachers to address the skills identified as in demand for work and citizenship, such as those outlined by the Partnership for 21st-Century Skills, as it provides lots of opportunities for students to problem solve, collaborate, and think creatively." (Duke, 2015)
Do you need more information about the CCRS and other standards being implemented in Minnesota ABE?
---
References:
Buck Institute for Education. (2015). Retrieved from http://bie.org/
Duke, N. K. (2014). Inside information: Developing powerful readers and writers of informational text through project-based instruction. New York, NY: Scholastic.
Duke, N. K. (2015). Now is the time for project-based learning. Retrieved from  http://pdkintl.org/blogs/learning-on-the-edge/now-time-project-based-learning/