ABE Voices Across the Distance: Snapshot of the New Normal from a Beginning Level ESL Teacher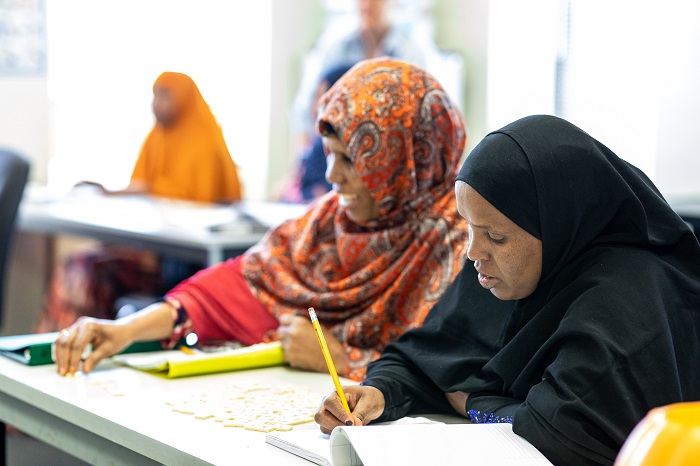 April 20, 2020
ABE Voices Across the Distance: Snapshot of the New Normal from a Beginning Level ESL Teacher
Andrea Echelberger, ESL Training Coordinator
Minnesota schools are closed; how are MN ABE educators responding? The MN ABE Connect Newsletter is featuring a series of interviews with ABE practitioners from around Minnesota on how they are delivering instruction and support during this time. This week, we hear from Amy Van Steenwyk, a Beginning Level teacher working at the Cedar-Riverside Adult Education Collaborative in Minneapolis.
---
Amy Van Steenwyk – Cedar-Riverside Adult Education Collaborative, Minneapolis
Describe your class and students.  What does it look like? How familiar were you/your students with Distance Learning (DL) prior to this public health crisis?
We have morning, afternoon and evening classes in the Cedar-Riverside neighborhood. It's connected to apartment buildings and the local community center. Most of the students in my class speak Somali or Oromo. My class is a combination of levels 1, 2, and some students from level 3, so I have CASAS scores ranging from 176 to 210. I currently have about 20 students on my roster. In this group, there are a lot of students that are true beginners. I have students who are testing at a level 2 who will hang up on me when I call because it's just too overwhelming to have even simple conversations on the phone. We didn't have any distance learning set up at all before our school closed.
What does your class look like now?
Right away I was texting my students pictures of meals, sending videos of me talking, and recording voice messages. From the beginning, I tried to provide every message in multiple formats because people have different strengths. I really encouraged people to text back and share any pictures that they felt comfortable with having their classmates see, but I tried to be respectful and not ask for pictures of their own faces or other things that they might be uncomfortable with sharing.
Now I have a Google website that I started last week (https://sites.google.com/view/amysclass). It's been a huge learning curve for me to figure out what to put on it and the best way to support students. So I've stuck with providing multiple formats as much as possible. For example, I always provide instructions in both text and audio formats.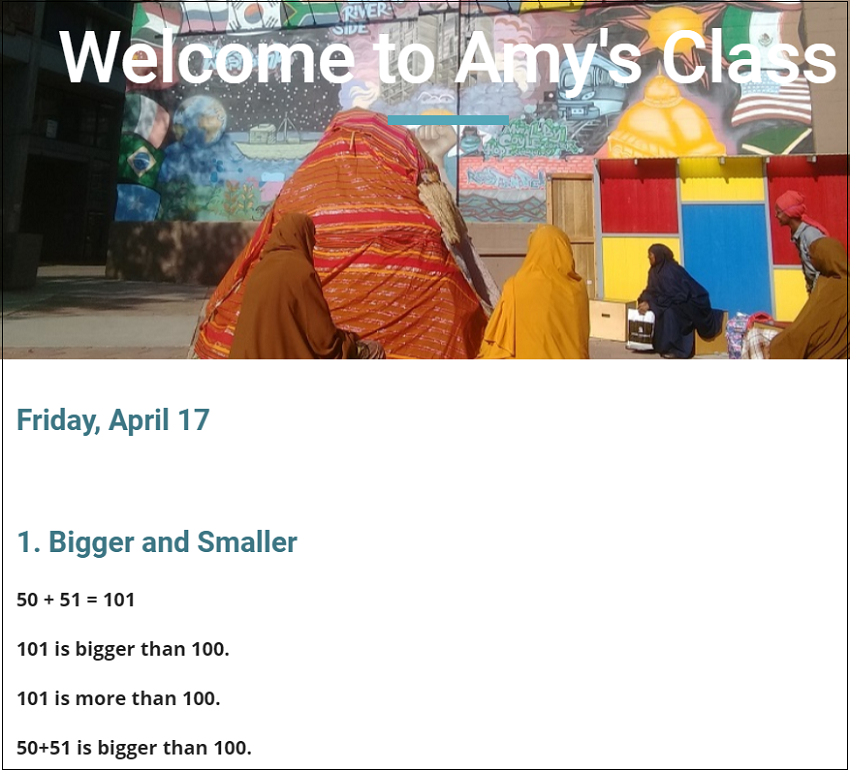 But even with multiple formats, and all of my students using phones, the website won't work for everybody. Because of this, the primary platform that I'm using to reach my students is WhatsApp (How can I install WhatsApp on my computer?). Obviously, flexibility is key! I have a morning class, but the afternoon has been what works for people to talk. Since I obviously can't talk to each individual student each day, I'm trying to group them in various ways using WhatsApp group calls. I can do three students plus me on a call. If we're going to be practicing conversation, I usually do two students so it doesn't get too tedious or confusing with whose turn it is to talk. I'm pretty deliberate about my groupings. Sometimes I pair up students who are at the same level, and sometimes I pair up a higher level student with a lower level student to provide extra support. I think that ultimately the goal is to establish routines. But figuring out which activities work takes quite a bit of experimenting.
How are you organizing your life/teaching?
My balance is kind of off!  We didn't have any distance learning set up until literally the last day of class; some of the students who showed up that day were able to try MobyMax for the first time. I volunteered to take on all of the MobyMax data entry, tracking and teacher training to try and get all of the teachers up to speed. I also took on staff development for DL with another teacher, so we're presenting and training at weekly staff meetings. Since the shutdown began, I've sat in on a million webinars, and I'm trying to think of this time as intensive personal and professional development. I really just threw myself into everything.
What are you prioritizing with your teaching at the moment?
I'm trying to get everyone active and engaged in a way that feels right for them. It can be a pretty disjointed process; I get one student connected and I'm really excited, and then I have to go after another one. Last night at 1 am I got my first response from a very dedicated student who has young kids at home. I wasn't sure if I'd hear from her, but she finally was able to respond. This reminded me how important it is to keep trying to connect.
I've found that student participation ebbs and flows, so the follow-up is really important. Knowing that the teacher is going to call, that you're going to read the conversation with together keeps people engaged and helps them keep track of and value the work that they're doing in home in their notebooks. It makes it more real when you keep following up and interacting in different ways about what the students are learning.
What seems to be working well?
The thing that my students like the most is when I give them an option that is not website based. I'm trying to keep the content and activities as familiar as possible. For example, on Fridays I give them a math word problem over WhatsApp that they write down in their notebook, and then call me to practice reading it. The collaboration aspect of the WhatsApp group is working really well. Students can learn from one another. One student takes a picture and sends it, and it encourages everyone else to do the same thing. They're developing basic digital literacy skills, which is exciting to watch.
I have lot of older students, so using the phone can be challenging. Their eyesight might be weak, or their technology patience is low, and some people just can't look at a screen that long. So I literally get huge thank yous when I send these text-based lessons. They're not my favorite things to send because I don't just want students to copy questions, so I've been trying to move towards incorporating more formats and critical thinking skills. For example, sending an audio file, and a graphic organizer image that students can copy in their notebooks and use as they listen.
What are you struggling with?
As a staff it's been a bit mind-boggling to figure out how we're supposed to track time on task for contact hours. I know we don't need to worry about that right now, but we're trying to be forward thinking and it's taking up a lot of brain energy. It's hard to know what we should be prioritizing in regards to what our students learn. Also, updating a website everyday takes a lot of time, so that's something important to take into consideration, particularly when there is a fairly low number of students that are accessing it regularly.
What advice do you have for your colleagues?
Try to be good about checking in with people, not just jump into teaching. Give people some space and time to express what's going on. I've been taking notes of the names of the people that my students are living with, because a lot of times other people in the household are jumping on the phone to clarify or just say hi. I'm trying to get to know the family a lot better and view them as my resources.
Collaboration between colleagues and sites is super helpful at this time. Seeing examples of what other people are doing is inspiring and helps us to know what we could try so we're not constantly reinventing the wheel. There are people who are really good at what they do, but don't have a space to share their work, so it's important to make time and space during staff meetings and professional development opportunities to learn from others. Finally, embrace trial and error!
---
Watch the MN ABE Connect newsletter to keep up with everything that is happening! Find additional articles in this ABE Voices series by clicking on COVID-19 from the list of Article Categories on the right-hand side of the MN ABE Connect page. Know someone who is doing amazing work? Reach out to Andrea Echelberger (aechelberger@literacymn.org) to share. See below for other ways to stay connected.
Share on Schoology
Share on the COVID-19 & Distance Education Schoology group what you are doing in your classrooms in the "Resources" section under Instructional Resources Related to COVID-19 or FREE Instructional Resources for Various Subjects. We can all use our ideas to inspire the work of others! The materials from this article will be available in Instructional Resources Related to COVID-19 in the Schoology group.
Not a member of the COVID-19 Schoology group? Instructions for joining are below in the green box!
ATLAS website
In addition to posting COVID-related resources in the Schoology group, ATLAS is compiling instructional resources on our website! Check it out: https://atlasabe.org/resources/covid-19/
Webinars providing CEUs
Join Andrea Echelberger, Patsy Egan, and special guests as we tackle the current puzzle: teaching ESL from a distance!
Join Liddy Rich (Harmony ABE), Abby Roza (Ramsey County/Metro East), and Lindsey Cermak (ATLAS) to learn about numeracy routines that require minimal preparation and can be used in distance education.
The MN Adult Education Support Network is offering several webinars on relicensure areas and other topics; check out this list of additional webinars that are coming up!
Virtual Coffee Breaks
And please join ATLAS for informal virtual coffee breaks! Let's connect during these distanced times and check in about how things are going with instruction. (Note: no CEUs are provided for these informal virtual gatherings.)
CCRS Instructional Leadership Virtual Summit
Are you a CCRS leader in your program?  Join us for a half day of professional learning about instructional leadership, focused on CCRS!
How to Join the Schoology Group
If you already have a Schoology account:
Log into your account
Click on the "Groups" tab at the top of the page
Click "My Groups" on the upper right side
Click on "Join Group"
Enter the access code 4PQM-9XNK-FRF7X
 If you do not have a Schoology account:
Scroll to SIGN UP at the top right and sign up as an

Instructor

Once you've registered, click on the "Groups" tab
Click "My Groups"
Click on "Join Group"
Enter the access code 4PQM-9XNK-FRF7X
Important Follow-up Below:
Once you have joined
Click on Notifications in the upper right corner
Set your email notifications by checking the appropriate boxes to make sure you find out when updates to the group are posted and when people comment on your posts
Browse the Discussions tab for facilitated discussions, as well as Updates and Resources
Post new comments, questions, or information to the above
Andrea Echelberger, ESL Training Coordinator
Literacy Minnesota