ACES Updates – Be the First to Know!
July 10, 2023
ACES Updates – Be the First to Know!
Stephanie Sommers, ACES Coordinator
A little over a year ago, a fantastic journey began. Under the leadership of ATLAS and guided by the collective wisdom of our TIF 2.0 Advisory Team, my colleague Heather Turngren and I set out to revise and revitalize the ACES (Academic, Career & Employability Skills) Transitions Integration Framework (TIF). We started by thinking about all of the changes that have taken place in adult education since the initiative was first launched in 2013, and we decided to be more intentional about shining a light on several key elements:
a focus on Social-Emotional Learning (SEL)
a focus on Diversity, Equity, and Inclusion (DEI)
a recognition that instruction now takes place using multiple delivery methods (e.g. in-person, online, HyFlex, asynchronous)
an inclusiveness of multiple learning contexts and purposes (e.g. IET, HSE, ELL)
New TIF 2.0 lesson plans
With these considerations in mind, we started out by revising the ACES/TIF lesson plan template to include these key elements. When we were finished, we began the process of updating all of the original ACES/TIF sample lesson plans. These sample lesson plans provide a beginning, intermediate, and advanced lesson for each of the six TIF categories:
Building on ten years of research and reflection on what makes high-quality Transitions-minded instruction, we created these lesson plans to provide adult learners with meaningful, real-life situations and problems to read, write, and speak about.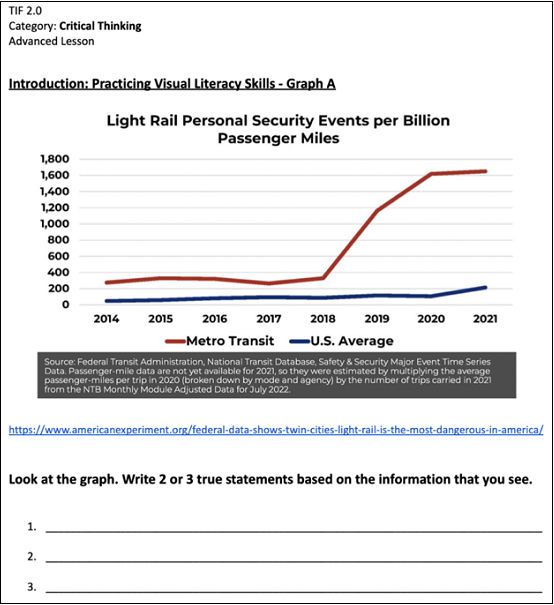 The result is a set of 18 ready-to-use lesson plans that are fully aligned to our three sets of MN ABE Content Standards. These lessons are available as Google Documents that can be downloaded and edited to work in any classroom. Let's look at one of the updated lesson plans.
The advanced lesson plan in the Critical Thinking category focuses on safety concerns around using the light-rail system in Minneapolis. The lesson plan provides some graphs and charts to help build visual literacy skills, a news article from the Minnesota Daily, practice with analyzing and evaluating possible solutions to a problem, and an opportunity for learners to conduct a short research project.
Additional ACES updates
In addition to the updated lesson plans, there are some other exciting changes that are worth noting. The TIF is now available on the ATLAS website as an interactive web-based document. This new version of the TIF contains links to related resources and a dynamic new layout.
Additionally, the ACES Foundations course that is currently available in Schoology is moving over to Canvas along with all of the other Minnesota Adult Ed professional development courses. This change will give us an opportunity to update the course and make it align more closely with TIF 2.0.
The new ACEScourse is scheduled to be available starting in Fall 2023, so stay tuned for more announcements!
Stephanie Sommers, ACES Coordinator
ATLAS