Distance Learning Update – Oct. 2017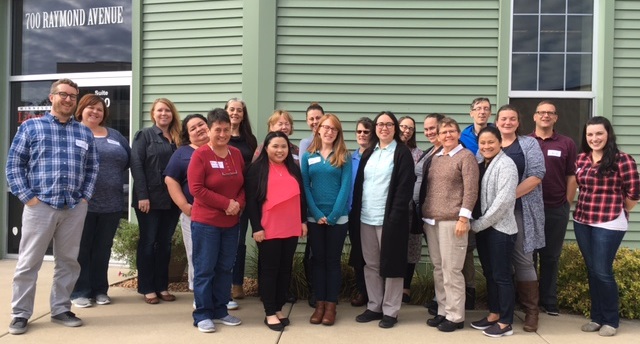 October 23, 2017
Distance Learning Update – Oct. 2017
Tom Cytron-Hysom, Consultant
Over 20 staff from 9 Minnesota ABE programs attended the October 9 kickoff for DL 101, a yearlong course combining face-to-face, online learning, and webinars to help programs build and implement a Distance Learning plan. "We're excited to be building distance learning capacity in so many programs," said project manager Renada Rutmanis.
She added, "We're also excited to see increased outcomes for students that distance learning provides." Several studies have shown that NRS attainments are highest with a combination of classroom and DL instruction, as opposed to either classroom or DL in isolation. Integrated DL instruction thus enhances instructional outcomes.
There have also been several changes in the DL platforms approved for Minnesota ABE:
MobyMax, a free online program designed for K-8 schools to offer differentiated learning and fill gaps in student knowledge, has been approved as a DL platform. It provides beginning literacy instruction for Pre-Beginning and Beginning ESL learners.
IXL, a paid platform, has also been approved. It provides a comprehensive resource of interactive content to give students and instructors the tools to identify and close skill gaps, personalize learning, and track progress in math, English language arts, science, and social studies. IXL meets common core and MN state standards for K-12.CCRS standards are in development. The content areas are correlated with specific K12 grades.
Approved hours for Rosetta Stone have changed from proxy equivalents to time-on-task. Clock time shown on learner reports should be multiplied by 1.25, to account for teacher coordination with learners, and rounded to nearest quarter hour.
The form used to request approval of DL platforms has been updated. Access the form here >>
We are working to expand access to and insure solid training for Burlington English. Margo Hernandez will train groups of five or more teachers in-person, so we are asking any consortia that needs training to arrange this for all their teachers at the same time (not program by program). Webinar training is available for smaller groups of teachers. Margo will continue to provide in-person training for all admins. Staff who have been trained are also highly encouraged to access virtual trainings on more specialized issues, such as Blended learning with Burlington English, Focus on EL Civics, etc. – the calendar is distributed monthly through MNABE DL. We have also added a number of new resources to the Burlington English section of the DL website. Finally, we were awarded over 80 'bonus' seats as our total purchased seats passed 1,000! These have all been awarded, but we are monitoring use of all seats monthly so we can reassign any that are not actively used.
Tom Cytron-Hysom, Consultant
MN ABE Distance Learning