Hybrid DL Programs Increase Student NRS Gains
October 19, 2014
Hybrid DL Programs Increase Student NRS Gains
Tom Cytron-Hysom, Consultant
Recent data shows the potential for ABE programs integrating in-person and distance learning to help students make significant NRS gains. For instance, statewide data for last year shows 49.7% of all participants averaged NRS gains – but 66.7% of students that participated in both traditional and DL (less than 50% of their total hours) made NRS gains!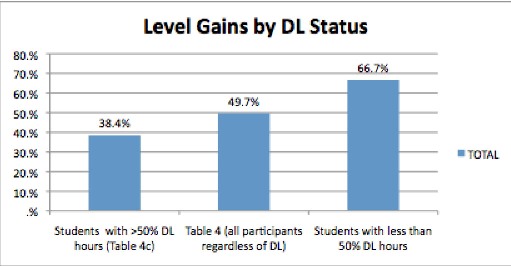 The table below shows students at all levels combining in-person and distance learning, when the DL hours are less that 50%, outperforming all other students: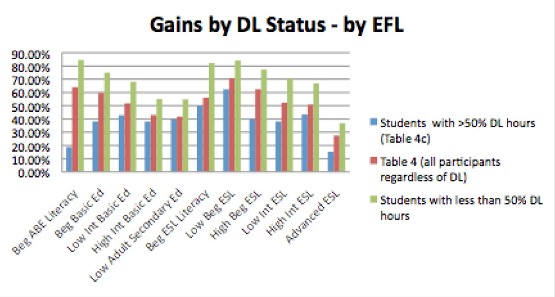 North Metro ABE sites reported approximately 76% of dual-enrolled students made level gains, compared to approximately 50% of students not enrolled in DL. Rosemount/Apple Valley/Eagan reported that students enrolled in DL or hybrid programming had 13-14% more level gains than students not enrolled in DL.
As educators, our first commitment and responsibility is to our students. The data clearly shows that integrating distance and in person learning leads to the greatest possible progress for adult learners. If your program is not yet offering DL, contact us at thysom@gmail.com for more information.
Tom Cytron-Hysom, Consultant
MN ABE Distance Learning