April 18, 2019
Mental Health Awareness
Does your student show any of the following symptoms: sad, isolating, trouble focusing, difficulty sleeping or sleeping too much? If so, they may be struggling with mental health challenges.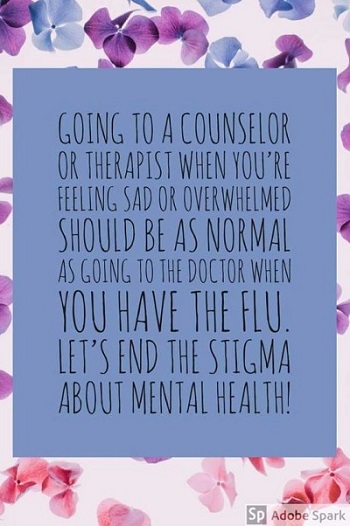 One in four American adults live with a mental health condition. As many as 50% of people living with a mental health condition never seek or receive help due to stigma, lack of information, cost, or lack of health insurance. Many people are reluctant to ask for help or don't know where to find it. Yet, mental illness is very treatable and there are many resources in our community to help.
Mental health conditions are often shrouded in secrecy because many individuals feel shame and guilt about how they are feeling. Just as an individual with a broken arm would not hesitate to receive medical treatment, mental health is equally important and should be treated as such. Because mental illness is hidden, many people feel uncomfortable seeking the help they need.
The stigma often increases for students from other cultures due to differing belief systems. The following quote from a Culture Care Connection information sheet about Somalis in Minnesota states: "Depression is common among Somali refugees, who may have lost family members or endured horrible events during the war. An estimated 30 percent of refugees have been tortured and may be suffering from post-traumatic stress disorder." 
It further states: "Mental illness is often believed to be caused by spirit possession or as a punishment from God."
To learn more about common cultural norms of various cultures go to: http://www.culturecareconnection.org/resources/tools/index.html
Things you can do to reduce the stigma of mental illness:
Talk openly about mental health, just as you would talk about physical health.
Be conscious of your language. Using words such as "crazy" or "out of your mind"
are disrespectful.
See the person, not the condition.
Be willing to listen to student concerns.
Be sensitive to cultural norms of ESL students.
Offer support by showing empathy and compassion.
Give students mental health resources for professional services.
You can make a difference by helping someone you know find treatment. Minnesota mental health resources throughout the state can be found on PANDA's disability website at: https://mn.abedisabilities.org/mental-health/resources-6/
Learn more about mental illness at: https://pandamn.org/category/mental-health/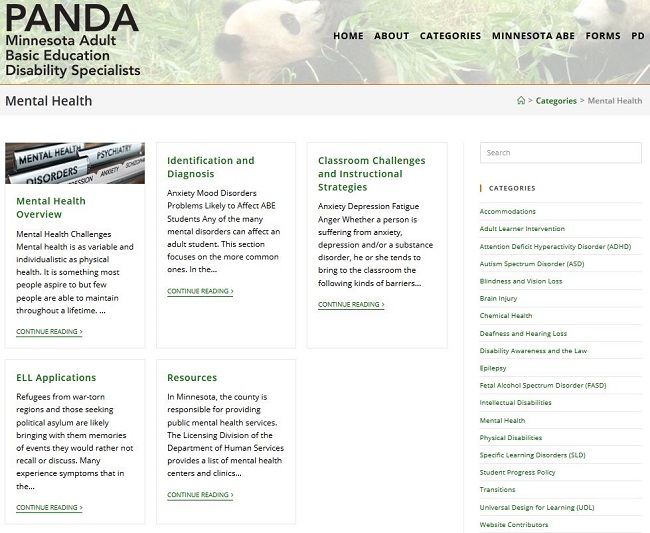 NAMI (National Alliance on Mental Illness) Minnesota offers more than 70 free support groups for people living with a mental illness and their families. Check it out at: https://namimn.org/support/support-groups-adults-living-mental-illness/
CEUs Available for Teachers
To learn more about how to reduce the stigma of mental illness and earn three CEUs, consider taking the free Literacy Minnesota online course titled, "Reducing the Stigma of Mental Illness" (available at https://literacymn.crhosts.cloud/).