New Edmentum Feature: Exact Path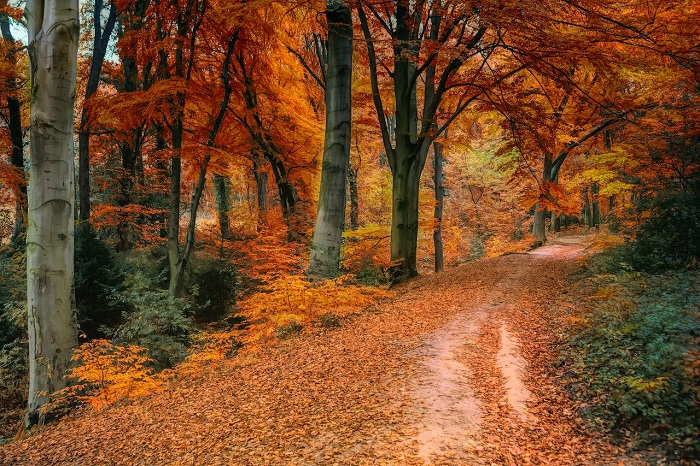 September 26, 2022
New Edmentum Feature: Exact Path
Elizabeth Bennett, Statewide Distance Learning Coordinator
Do you use Edmentum Courseware (formerly known as Plato) as a distance learning platform? Have you noticed a new tab when you log in? This is Exact Path, a feature that is now available to all Minnesota adult education teachers using the state-supported Edmentum account.
Exact Path

Exact Path is a robust diagnostic assessment and teaching tool. It covers K-12 Common Core standards in reading, language arts, and math. If you enroll your students in Exact Path, they will receive a personalized Learning Path based on the results of an adaptive diagnostic assessment.
From the learner perspective, the Learning Path is like any other Edmentum course. It includes tutorials, practice activities, and progress checks designed to remediate and fill in gaps in prior learning.
From the teacher perspective, each Learning Path is like an Edmentum Custom Course…except that all of the content has been curated for you, covers the full range of K-12 standards, and is personalized for every student!
Another nice aspect of Exact Path is the option to change the appearance of most Learning Path content. Teachers can choose between the traditional format (what you're used to seeing in Edmentum Courseware) or interfaces designed for students in grades K-2 and 3-5. These younger student interfaces are simpler to navigate and include much more visual and audio support. They could make Edmentum content more accessible to learners with lower levels of literacy and/or English proficiency.
Assigning grade level
One slightly challenging aspect of Exact Path is the need to assign a K-12 grade level to each learner. Many learners in our statewide account have been assigned the grade "A" for "adult." In order to enroll these learners in Exact Path, a teacher or staff member will have to edit their grade level so it is in the K-12 range.
This can be done through the Administration Center tab → Users → Manage. Find the student you'd like to enroll in Exact Path, and choose Edit User from the blue Actions menu. Select a new grade level, then save your changes.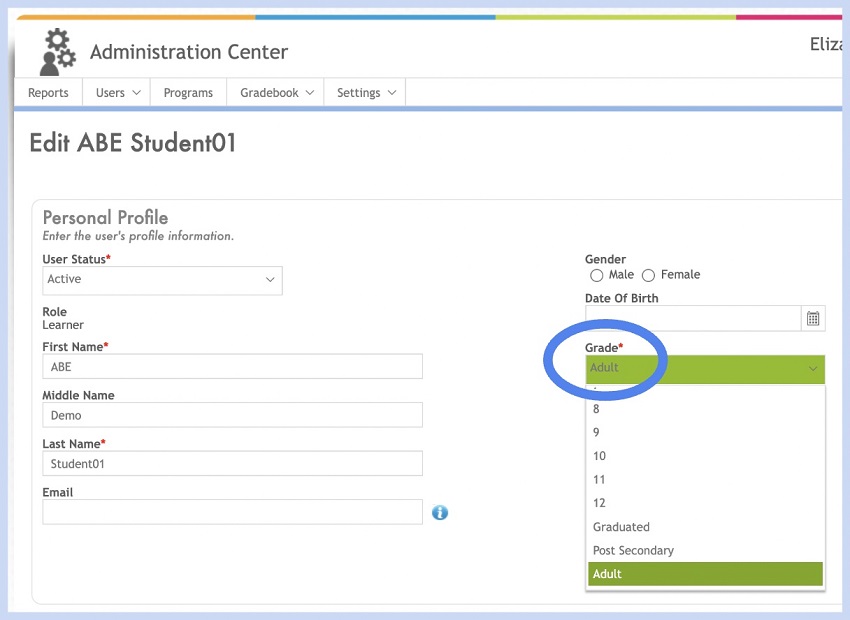 If you want to edit a large number of students, you may wish to use the Batch Processing option. Please refer to Edmentum's Help Center or contact the DL helpdesk (support@mnabedistancelearning.zendesk.com) for assistance with this process.
Assigning grade levels will be more of an art than a science, since, obviously, adult learners are not children and come to our programs with a wide range of skills, knowledge, and prior educational experiences. Fortunately, the primary purpose of the grade level is simply to determine the starting question the student will receive in their diagnostic assessment. The assessment is fully adaptive and will assign the rest of the questions based on the student's answers.
Additional considerations and recommendations
Here are a few other things to consider as you begin using Exact Path diagnostic assessments:
Prepare students for an assessment that may be quite long. I took two math assessments, one as a learner assigned to grade 2 and another assigned to grade 9. The 2nd grade assessment had 39 questions, and the 9th grade assessment had 55.
There is no option to skip a question or to choose "I don't know." Encourage learners to simply make their best guess and move on if they are unsure. According to Edmentum, "the goal of the adaptive diagnostic is to achieve around 50% correct." Learners should not feel as though they must "pass" the test.
Most of the assessment items were multiple choice, but some were presented with drop-down menus or drag-and-drop formats.
Some of the questions automatically started playing audio. Consider providing headphones to students who are taking the assessment around other people.
The math assessments did not include a calculator tool. I would recommend providing scrap paper.
To learn more about using Exact Path, view this training video from Katie Janis at Edmentum and access the Teacher Quick Start Guide. You can also register for the following live training sessions with Katie:
Monday, October 24, 2022 – 3:00-4:30 PM
Deep Dive into Exact Path
REGISTER NOW >>
Wednesday, November 16, 2022 – 3:00-4:30 PM
New User & Refresher Training for Edmentum Courseware and Exact Path
REGISTER NOW >>
Account Structure Locations
Finally, a friendly reminder about creating new student accounts in Edmentum: in the Account Structure Locations section, please click the arrow to expand the MN ABE menu and select only your program/consortium for the student's location.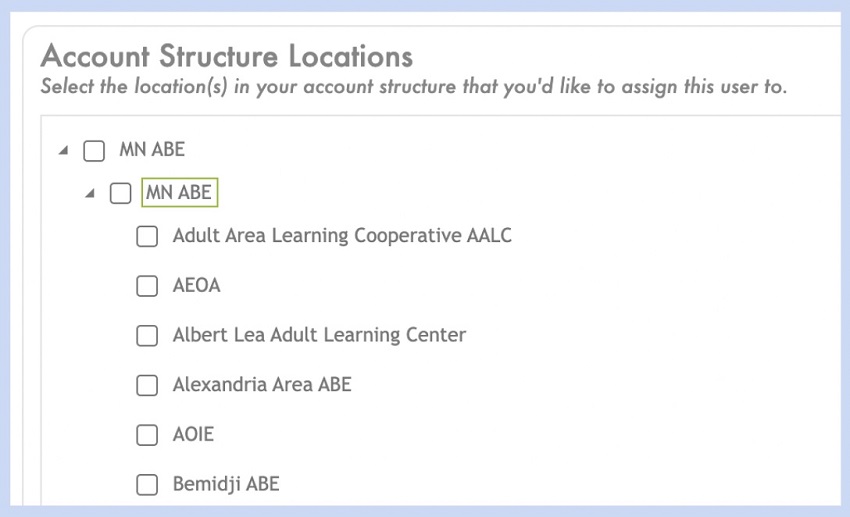 This helps ensure that program staff only have access to their own students, rather than thousands of students from all over the state!
If you do not see your program/consortium listed, please contact the DL helpdesk.
Elizabeth Bennett, Statewide Distance Learning Coordinator
Literacy Minnesota