Northstar & CCRS: Cheers for Collaboration!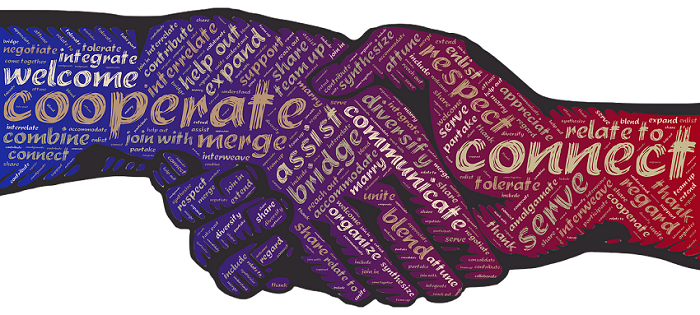 January 3, 2022
Northstar & CCRS: Cheers for Collaboration!
Leah Hauge, Northstar Curriculum Coordinator
Kristine Kelly, ATLAS Literacy Coordinator
On December 9, 2021, ATLAS hosted the webinar Northstar & CCRS: Cheers for Collaboration. The purpose of this webinar was to look more closely at College & Career Readiness-aligned English Language Arts projects recently added to the existing 13 existing curriculum units in Northstar.  We walked through new CCRS-aligned unit projects and offered concrete examples of ways to integrate them into instruction (at multiple levels, including high school equivalency!).
Teacher panelists Barb Murphy and Dani Brown joined us from Literacy Minnesota to share ways they scaffold and extend the Northstar Digital Literacy Curriculum to best serve learners. Both Dani and Barb have extensive experience integrating the Northstar Digital Literacy and College & Career Readiness Standards into instruction. They shared excellent tips to weave together digital literacy and English language arts instruction to best support learners.
---
NOTE: All of these materials are free for MN teachers, but you need a login to access them. Check with your program manager or the Northstar point person in your consortium for this login information, or email support@digitalliteracyassessment.org.
Key takeaways from the webinar
In the webinar, participants examined how Northstar standards support learners to meet the more complex CCR standards. For example, when students meet the Northstar Google Doc standard to share a document, they gain an essential digital literacy tool in order to use technology to produce and publish writing while collaborating with others. In addition, the new College & Career Readiness Alignment maps can help teachers to plan instruction in these core digital literacy skills to prepare students to meet the CCR standards.
The Northstar lessons have a predictable lesson plan structure with built-in routines. One of the most important routines, which we highlighted in the webinar, is the "Pair Explore" section of each lesson. This section comes after a skill has been modeled by the teacher, and practiced together with support. In "Pair Explore," learners productively struggle together to try a skill.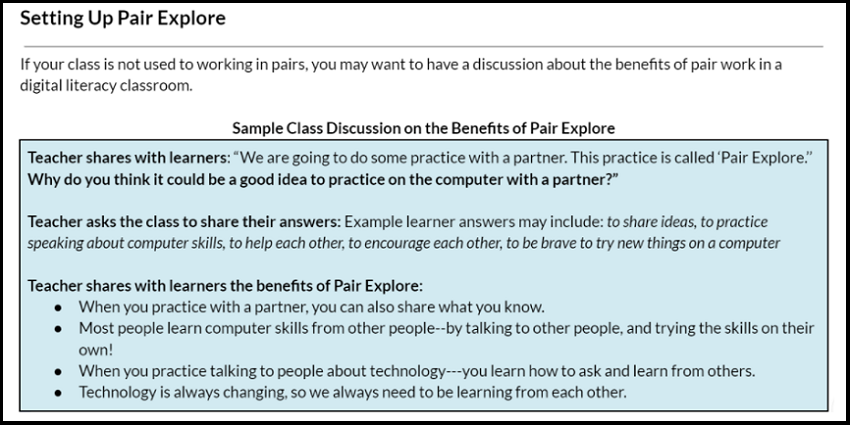 Digital literacy is developed through practice. For mastery, learners need opportunities to experiment with new skills on the computer. This section of each Northstar lesson supports learners in building capacity for problem solving and asking for assistance from teachers and peers. Through experimentation, learners build their confidence to try a skill on their own. It is important to allow learners space to explore these skills with a partner without step-by-step guidance from the teacher. The Northstar Curriculum Teacher Guide provides support on setting up "Pair Explore" in your classroom.
Ready-to-go, standards-aligned curriculum
Northstar ready-to-go, adaptable lesson plans include new CCRS aligned unit projects that support learners to apply digital literacy skills to work towards college and career readiness. Through an MN ABE grant funded project, Northstar developed standards alignment maps and CCRS Aligned Unit Projects. Unit projects included leveled texts learners close read in order to build knowledge in a topic. Each unit project is focused on a line of inquiry. Questions learners explore include:
What strategies are important to know in order to evaluate the reliability of information found online?
What are the steps in the writing process?
How does following the steps in the writing process create a stronger piece of writing?
How can you create and present an effective presentation to inform an audience about a topic?
Northstar curriculum is easy to use and adapt
In the webinar teachers shared how they have adapted and used the ready-to-go Northstar learning resources to support learners' specific needs. Additionally, teachers shared what they like about the Northstar learning resources, mainly, the convenience they provide.
We encourage you to check out the slides and/or watch the recording of the webinar to hear more about the ready-to-go Northstar lessons (there are so many!) and the new CCR standard-aligned unit projects that help learners build on and apply foundational digital literacy skills.
Find the Northstar Curriculum at: www.digitalliteracyassessment.org, in the Admin Portal, Under Resources. Login information is required.
All MN ABE Consortia have access to Northstar. Have questions or need assistance to access Northstar? Email us at: support@digitalliteracyassessment.org
Leah Hauge, Northstar Curriculum Coordinator
Literacy Minnesota
Kristine Kelly, ATLAS Literacy Coordinator
ATLAS