One More Text Library… Designed for Adult Readers!
March 21, 2016
One More Text Library… Designed for Adult Readers!
Marn Frank, Literacy & STAR Coordinator
A number of online libraries such as Newsela, ReadWorks, and most recently Read Theory, have been shared in this newsletter and are used by many ABE teachers. In this article, I will describe the text library from the Center for the Study of Adult Literacy, or CSAL.
The focus of CSAL is to conduct research that will: (1) explore adult learning differences in reading-related abilities, (2) design a web-based, reading library and interactive program, and (3) conduct pilot studies to assess their potential use with adult readers.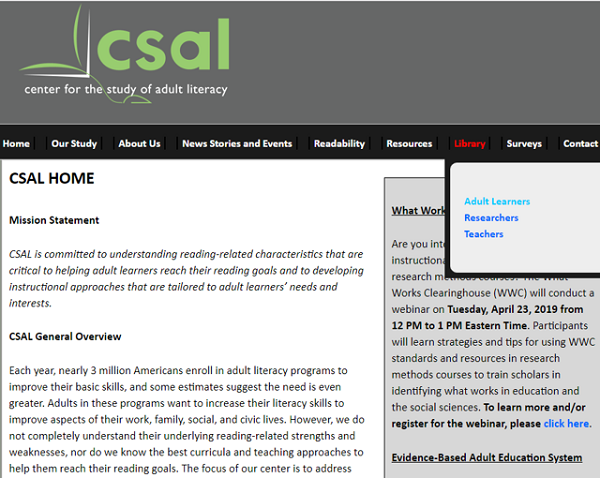 CSAL's text library has been accessible from their website (from the far right menu under Adult Learners) for several years. It contains over 1600 passages categorized by 14 topics: Health, Food, Babies, Children, Teenagers, Families, Advice, Non-Fiction, Fiction, Jobs and Work, Money, History, Science, and Other.
The passages are identified as Easier, Medium, and Harder according to Coh-Metrix, a computer system that considers 108 different text-based factors to determine difficulty. Since CSAL's research is focused on adults reading at grade level equivalents (GLE) 3-8, I estimate that Easier=GLE 3-4, Medium =GLE 5-6, and Harder=GLE 7-8.
CSAL and its users have copyright clearance to access all of the passages from external websites. In alphabetical order, these websites include, among others:
Adult Learning Activities

 – 

California Distance Learning Project
Boys Town – Saving Children, Healing Families
Centers for Disease Control and Prevention
Fast Facts: An Easy-to-Read Series of Publications for the Public
Children's of Minnesota
Health Education and Adult Literacy (HEAL)
Mayo Clinic-Healthy Lifestyle
National Institute on Aging
Nutrition Information and Bulletin Board and Learning Experience (NIBBLE) for ABE
Parenting 24/7
Reading Skills for Today's Adults
The Times in Plain English
US Food and Drug Administration – Protecting and Promoting Your Health
University of Florida Extension
It is amazing how many online and open resources are available for FREE to ABE teachers! An advantage of CSAL's text library is that it was designed for adults (both native and non-native English speakers) who struggle with reading.
Marn Frank, Literacy & STAR Coordinator
ATLAS