Readworks.org: An Excellent, Free Reading Resource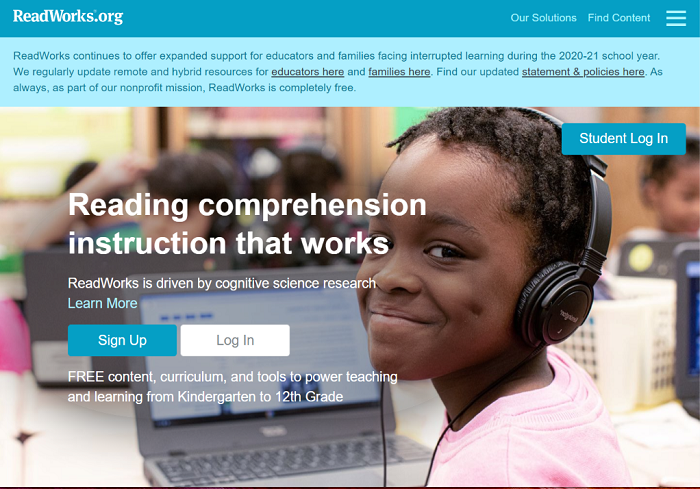 October 5, 2020
Readworks.org: An Excellent, Free Reading Resource
Adam Kieffer, Distance Learning Team
Readworks.org is an excellent free reading resource for all adult learners approved for DL use in MN ABE. It provides a high-quality library of fiction and nonfiction passages and a variety of integrated tools and formative assessments that can increase reading comprehension and vocabulary acquisition for learners.
It is targeted for K-12 readers, but is easily transferable to adult learners because of the science, social studies, art, history and cultural content of its readings. According to their website, everything created by ReadWorks is founded on cognitive science research.
Readworks is web-based; it works seamlessly on all devices and has a ton of great features for teachers and students. All readings are assignable, and teachers have the flexibility to choose which types of activities they want students to complete during and after the readings. Readings are searchable by grade, topic, subtopic, keyword, Lexile level, and standards. In the teacher login, all of these aspects are also conveniently listed alongside the readings on screen. Many passages have accompanying audio read by a human, and the rest can be read by a built-in text to voice program.
It has a personalized learning environment for students: they can highlight and annotate text, view the article and activities in a split screen, change text size, and access other built-in reading aids. You can directly import student rosters from Google classroom and copy/paste in student rosters as well. Students can join with a Google account or with a class code and password.
To get started, I recommend viewing their 45 minute intro webinar which guides you through all the features and basic how-tos of setting up teacher and student accounts. The site also has a wealth of easy-to-understand teacher guides and webinars.
PDFs of the stories and comprehension activities are also available to print and can be collected for DL proxy hours. On the MN DL website, (click on ReadWorks.org) there are more details and an Excel sheet for easily calculating proxy hours.
Adam Kieffer, Distance Learning Team
Literacy Minnesota