Registration for MCTM is now open!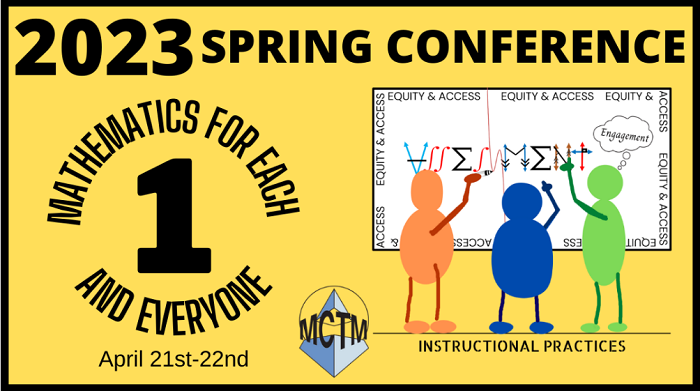 February 13, 2023
Registration for MCTM is now open!
Lindsey Pust, Numeracy & Special Projects Coordinator
The theme of this year's Minnesota Council of Teachers of Mathematics (MCTM) Spring Conference is Mathematics for Each and Everyone! Come learn from engaging presenters and network with teachers from K-12, 2-year colleges, and other adult education programs.
Conference Details
Start: Friday, April 21, 2023 @ 8:00 AM
End: Saturday, April 22, 2023 @ 1:00 PM
Location: DECC in Duluth, MN
Cost: $275 for general participants, $150 for Lead Presenters
Deadlines:

Limited scholarships available on a first-come, first-served basis! Apply below now!
For early-bird pricing, register for the conference by Thursday, April 13

More Information: Visit the MCTM website
What is the MCTM Spring Conference?
The MCTM Spring Conference is a two-day event with national keynote speakers and workshop sessions led by math leaders at all academic levels (Pre K-12, ABE, and College), focused on a variety of math topics, teaching methods, resources, and more. This is a great opportunity to learn from and with your math colleagues!
This year you'll hear from several dynamic keynote speakers, including:
Friday, April 21 – Peter Liljedahl: Building Thinking Classrooms
Saturday, April 22 – Sizi Goyah, May Vang and Mike Weimerskirch: Math for All Minnesotans
This conference has quickly been added to the list of favorites by many ABE practitioners who have attended. It's a conference completely dedicated to math education. Teachers from Pre K-12, college, and adult education come together to talk about math teaching and learning. If you teach math/numeracy in your setting, you won't want to miss out!
Scholarships from ATLAS
To help support Minnesota Adult Education practitioners to take advantage of this amazing opportunity, ATLAS is again offering a number of scholarships for up to $750 each to help offset the cost of attending the conference. This scholarship can be used toward registration, lodging, and/or mileage/parking/transit.
Scholarship Information
NOTE: YOU WILL BE RESPONSIBLE FOR CONFERENCE REGISTRATION AS WELL AS MAKING YOUR OWN HOTEL AND OTHER TRAVEL ARRANGEMENTS.
Amount and Eligible Expenses:
Up to $750 for:

Registration ($275 for general participants, $150 for Lead Presenters)
Travel expenses ONLY (no meals reimbursed):

Mileage/transportation/parking
Hotel (up to 2 nights)
Eligibility:
Practitioners and volunteers in Minnesota Adult Education programs only *
* NOTE to DOC participants: As a state-funded grant program, ATLAS is not permitted to directly pay or reimburse any state employee, including Minnesota State System and DOC staff. Scholarships may be granted to support DOC practitioner participation, but funds must be reimbursed to each DOC facility rather than to individual DOC personnel. Before applying for the scholarship, please contact your manager to verify if your facility can cover your expenses up front and receive reimbursement from ATLAS. Direct any questions to Marisa Geisler at mgeisler02@hamline.edu.
Payment:
Scholarship funds will be disbursed as reimbursements after the conference. Keep in mind that you will need to submit the following documentation in digital format for reimbursement:
Registration: a receipt showing the total paid
Hotel: a hotel receipt showing a ZERO BALANCE (or balance paid)
Transportation: a transit or parking receipt, if applicable (no documentation needed for mileage)
---
Lindsey Pust, Numeracy & Special Projects Coordinator
ATLAS