Teaching the Skills that Matter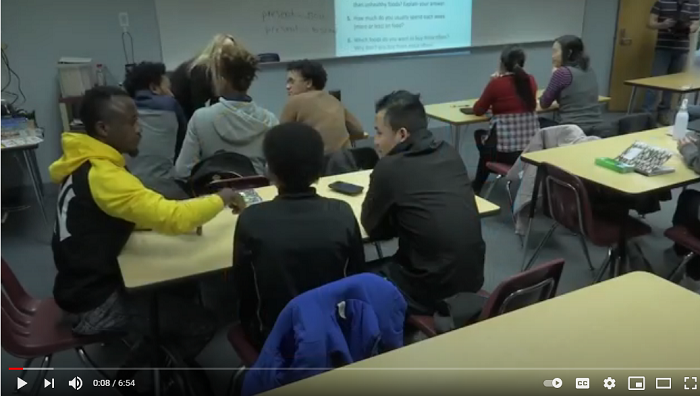 January 4, 2021
Teaching the Skills that Matter
Stephanie Sommers, ACES Coordinator
When students apply skills learned in our ABE classrooms to the real-world, we know that learning has truly taken place! This is perhaps never so important as when it comes to the transferable skills that adults need to be successful in the workplace. The ability to solve problems, think critically, communicate effectively, and respect differences and diversity, to give some examples, are skills that employers prize!
They are also the types of skills that are often asked about during job interviews. Known as behavioral or situational interview questions, employers often ask candidates to describe a time when they had to work with someone whose personality was different from their own, for example, or when they had to solve a problem on the job. Being able to answer these types of questions well takes practice. It also involves being able to identify when the skills are being used, which is where ABE teachers can play a vital role. We can provide our students with opportunities to identify, reflect on, and practice these skills in our classes. This type of intentional integration of transferable skills can and should be a part of every lesson, and there is an easy way to get started.
Teaching Skills That Matter (TSTM)
The Office of Career, Technical, and Adult Education (OCTAE) has been funding a federal initiative called Teaching Skills That Matter (TSTM). As the name implies, the heart of this project involves helping adult learners develop skills that are crucial to finding success at work and in life. There are nine skills that are highlighted:
Adaptability and Willingness to Learn
Communication
Critical Thinking
Interpersonal Skills
Navigating Systems
Problem-Solving
Processing and Analyzing Information
Respecting Differences and Diversity
Self-Awareness
The initiative has several components, including a practitioner toolkit that contains over 25 ready-to-use lessons. The toolkit and other project resources are available on the LINCS website, and Teaching Skills That Matter has also been added to the ACES resource library in both the Critical Thinking and Navigating Systems categories.
The TSTM toolkit embeds the nine skills into lessons in five different content focus areas:
Civics Education
Digital Literacy
Financial Literacy
Health Literacy
Workforce Preparation
Additionally, the lessons provide ABE practitioners with an opportunity to try out three different instructional approaches: 1) project-based learning, 2) problem-based learning, and 3) integrated and contextualized instruction. Research shows that these approaches are highly effective because they provide a way for instructors to blend together academic skills and meaningful content together with transferable skills in ways that are very motivating and impactful for adult learners. The transferable skills are specifically identified in each lesson, providing an opportunity for instructors to call them out and discuss them with students.
Finally, the toolkit was created with input from several nationally recognized subject-matter experts, including some names that many readers will recognize: ATLAS Director Dr. Patsy Eagan, Hamline Professor Betsy Parrish, and Dr. Jen Vanek from World Education all made contributions to the project.
Opportunities to learn more
ACES Winter Webinar
The TSTM materials are a great place to help you get started with integrating transferable skills into your daily lessons. If you are interested in learning more about transferable skills and how to make them a regular part of your teaching, please join us on January 11 at 3:00 for the ACES Winter Webinar titled Speaking the Language of ACES: Helping Your Students Talk about Their Transferable Skills. During this 75-minute webinar, we will be joined by a senior employment counselor and trainer from DEED who will talk about a transferable skills matrix developed by Career Force. We will also be joined by Alison Wilcox, Career Pathways Coordinator for Metro South ABE, and Career Navigator Stephanie Beja. Registration is now open on the ATLAS Events page:
Language & Literacy Institute
If you are interested in learning more about teaching the Skills that Matter, there will be a 45-minute informational session on the initiative during the Language & Literacy Institute on Jan. 28-29, 2021. The session will be facilitated by two of the TSTM Coaches, Dr. Lia Conklin Olson and Stephanie Sommers. Registration is now open, again on the ATLAS Events page:
Stephanie Sommers, ACES Coordinator
ATLAS