Using Flipgrid in the Virtual Classroom
April 26, 2021
Using Flipgrid in the Virtual Classroom
Chrysti Nielsen, ABE Instructor
"Flipgrid is a simple, free, and accessible video discussion experience for learners and families." (https://info.flipgrid.com/) The fundamental idea is simple: people might want to share short videos within a group, but not with the whole internet—something that is not easily done on YouTube or Vimeo.  That is exactly what Flipgrid allows you to do asynchronously via either their app or web-based site.
Why use Flipgrid?
Picture this:  You ask your class a discussion prompt.  Right away, Johnny and Jane's hands shoot up into the air.  Again.  You wait a little longer and slowly Susie, Sally and Sam's hands go up, just like you knew they would (always in that order).  You look over at William, willing his hand to go up.  It doesn't; it never does.  You know William has amazing ideas, but you never get to hear them.  Sound familiar?  Flipgrid's mission is to "empower every voice" and it succeeds.  By allowing students to record their own videos at their own comfort level (audio only, video with face hidden by a sticker, or full face video) and giving students the option to review their video before submitting it, teachers get the opportunity to hear from the Williams of their class.
Flipgrid's ease of use is another reason to use it.  It has an intuitive learner interface where students simply enter the code, sign in and click record a response.  It also integrates with many learner management systems.  As a teacher, one of my favorite parts is how teacher friendly it is with great help guides and tons of PD webinars.
7 Ways to use Flipgrid
1) Extra English Practice
If your English language learners are anything like mine, they practice English during English class, but once they leave my classroom, they go back to speaking their native language.  Flipgrid prompts are a great way to get them speaking English outside of class.
2) Reading Fluency
Reading fluency exercises can be used with both ABE and ESL students.  Simply post the passage you want your learner to practice, then they record themselves reading it.  By doing fluency exercises in this way, students are less self-conscious, and you can watch their video more than once to really hear their fluency.
3) Citizenship
Not only do citizenship students need to answer the 100 civics questions, but they also need to be able to speak fluent English with the USCIS officer conducting their interview.  Flipgrid allows them to practice both.  I created a citizenship civics unit on Flipgrid* in which I took the themes from the 100 civics questions, posted a focus video, and then asked a combination of recall and critical thinking questions that my students needed to give an oral response to in Flipgrid.  By listening to their videos, I can check for both understanding of the civics topics and their grasp of spoken English.
* To access this unit, you'll just need to use your email to sign in.
4) Math Think Aloud
Using the screen-record feature of Flipgrid (aka Shorts), students can talk through how they solved a math problem.  Teachers gain valuable insight into the student's thought process—and most importantly, the ability to understand if a student has mastered the concept or exactly where they went wrong.
5) Question of the Day
Flipgrid has partnered with multiple organizations such as ESL library, Detroit Institute of Arts, News Literacy Project, and Yellowstone National Park in their Discovery tab to create over 35,000 ready-made topics that you can incorporate into your class.  There is a topic perfect for every classroom.
6) GridPals
One of Flipgrid's more unique features is its GridPals.  Teachers using Flipgrid can activate their GridPals profile.  This allows other Flipgrid teachers the ability to search for them via community and/or subject.  Then the two teachers can connect their classes together.  Think of modern pen pals exchanging videos instead of letters.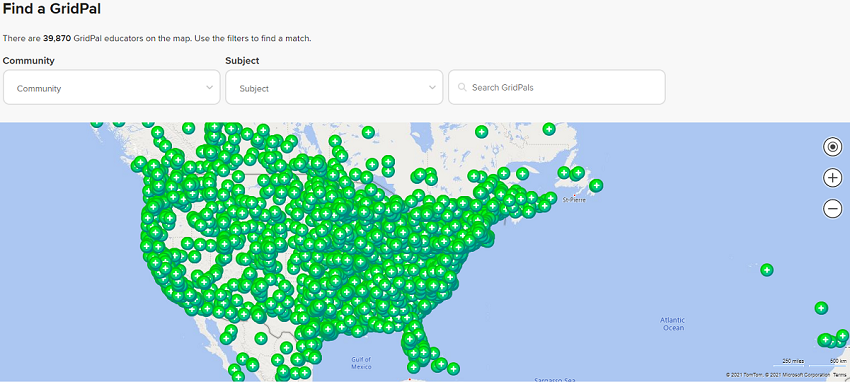 Recently, Flipgrid has started hosting live events that allow you to "bring your class on a journey to meet with designers, engineers, authors, scientists, humanitarians, and fellow celebrated guests."  I mean seriously, how cool is that?
FAQs
*How much does Flipgrid cost?
Zero. Zilch. Nada.
*Do students need to have a Flipgrid account to record videos?
While they do not need to have a specific Flipgrid account, they do need to login with either a Microsoft or Google login.
*Can I use this with low level ESL students?
YES!  The trickiest part is walking them through the digital literacy skills needed to log in the first time.
*Can I use this with upper level ABE students?
Sure can!  Just adjust your topic to the level of your student.
*Is this for synchronous or asynchronous learning?
Flipgrid works best asynchronously, although you can teach students how to use it during synchronous class.  I would just recommend having students spread out while recording their videos to reduce background noise.
*What is the difference between a Topic and a Group?
Think of your Group as your specific class and your Topic as your assignment.
*How do I control who sees my Topics and Groups?
Teachers can select permissions for both their Topics and their Groups.  These permissions determine who can join and view your discussions.  The permission types are student emails, student usernames, Google Classroom, and guest password.
Additional resources
Flipgrid webinar recording:

The recording of Chrysti's Fligrid webinar is available to view here.

Join us for the next TechChat Webinar!
Chrysti Nielsen, ABE Instructor
Northwest Service Cooperative