Using Padlet in the Virtual Classroom
June 18, 2021
Using Padlet in the Virtual Classroom
Rallou Rice, ABE/ESL Instructor
What is Padlet?
Padlet (https://padlet.com/) is a digital application that lets users post notes on a digital wall.  It is web-based and easy to create and use. It was founded in 2008 by Nitesh Goel, who referred to it as "An easy way to put stuff on a wall."
The limited free version allows 5 padlets while the paid version allows unlimited padlets. The paid version includes Padlet Backpack (for schools), Padlet Briefcase (for businesses), and Padlet Pro (for individuals).
In synchronous classes, the instructor creates a padlet and shares the link of that padlet in the chat (in Zoom, Google Meet, etc.).  The students click on the link, and they can join the padlet.  If homework or group work is assigned by the instructor, the students can continue to post in the padlet as long as the instructor does not change the link or delete the padlet.
Compatible Browsers include:
Google Chrome (v76 and above)
Safari (11.0 and above)
Firefox (68 and above)
Edge (17 and above)
Mobile Safari (iOS 6 and above)
*Service is not guaranteed on Internet Explorer. Use Microsoft's latest browser, Edge.
Compatible devices include:
Android devices (must be running Android 7.0 or higher)
Kindle (must be running Android 7.0 or higher to download the app)
iOS devices (iPad / iPhone) running iOS 11.0 or higher
Challenges and solutions
The challenges that users may have are the limited padlets with the free version.  However, there are solutions to make the use of the free version of the program efficient.  Instructors may choose to save the padlet as a PDF or send a copy of it via email to students, delete it and create a new one.  Instructors may also choose to use more than one email to create Padlet accounts, thus allowing five padlets for each email.
Where can you use Padlet?
In any online synchronous or asynchronous classes
In meetings to collect and store participants' ideas
Individual To-Do list (you can use it on your phone)
Ways to use Padlet with students
Students can post comments and feedback on topics or ideas in the class
Groups of students can brainstorm ideas and easily organize thoughts
As a portfolio for a class or program
Exit tickets from a class or end of a lesson, answering a quick question to see where students are in their understanding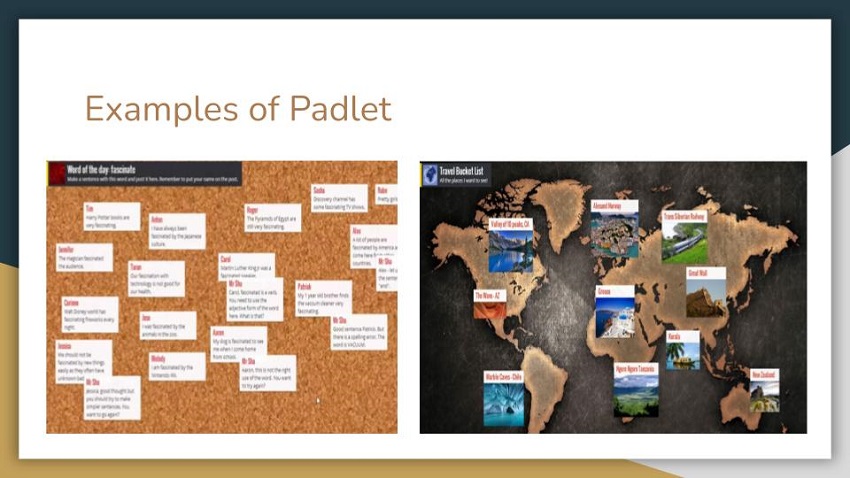 A timeline or a map can be used
A group project or collaborative work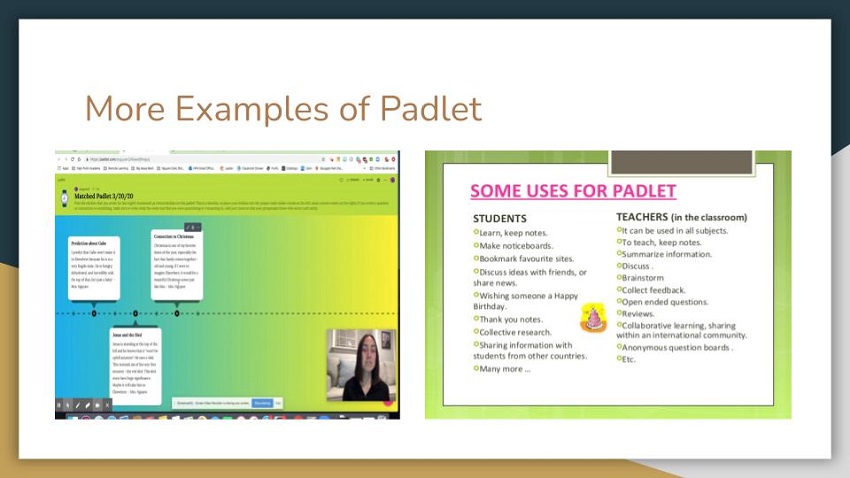 You can modify Padlet and customize it according to your needs.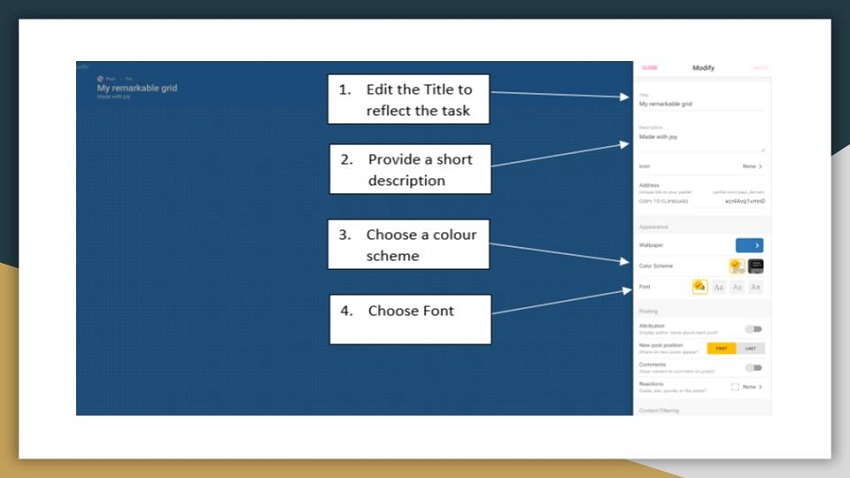 RESOURCES:

In case you experience problems, the Help Center is available: https://padlet.help/l/en

To find more ideas on how to use Padlet, you can always go to: https://www.weareteachers.com/padlet-for-teachers/

There is also a helpful video tutorial at https://youtu.be/KmJY4j_F8Xc
FAQs
How much does Padlet cost?
The limited version (five padlets) is free.
Do students need to have an account to use Padlet?
No, they only need the link that the teacher sends them which allows them to post directly in that padlet.
Can I use this with low level ESL students?
YES!  The difficult part is walking them through the steps and showing them how to click on the link and join the padlet.
Can I use this with upper level ABE students?
Yes, you can use Padlet for any subject and any academic level of students.
Is this for synchronous or asynchronous learning?
Padlet works synchronously and asynchronously very well.  Think of it as a whiteboard that everyone can write on during synchronous class time, as well as a place to connect, do group projects, and collaborate while doing asynchronous work.
Additional TechChat resources
Rallou Rice, ABE/ESL Instructor
Metro North ABE - Elk River