2018 MELEd Conference Registration is Open! And a Few Options Left to Reduce Your Conference Costs
October 2, 2018
2018 MELEd Conference Registration is Open! And a Few Options Left to Reduce Your Conference Costs
Erin Cary, Member Relations Director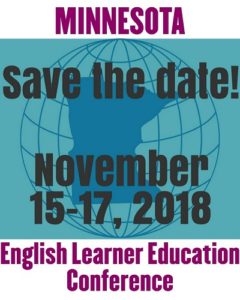 The 5th Annual Minnesota English Learner Education (MELEd) Conference will be held November 15-17, 2018, at the Hyatt Regency in downtown Minneapolis, MN (parking included!).
The Minnesota English Learner Education Conference is a partnership between MinneTESOL and the Minnesota Department of Education. It is a merger of the annual MinneTESOL Fall Conference and the Minnesota ESL, Bilingual, and Migrant Education Conference. The conference will be held at a NEW LOCATION at the Hyatt Regency in downtown Minneapolis, MN—on-site parking will be included.
We're thrilled to welcome keynotes Bonny Norton (Friday) and Ester de Jong (Saturday), along with many fantastic vendors, cultural organizations and invited speakers. And best of all, EL educators of all stripes will be presenting on topics of interest to our field!
Registration is open! Take advantage of the early bird rate by registering before November 2! Check our website to register for MELEd 2018. Check out the following ways to save on your conference fee this year:
First-Time Presenter Scholarship!
This year's presenters have been notified and our conference schedule is being finalized! We'll be sending the schedule to presenters shortly. In order to encourage new presenters in ELL, those presenting for the first time at MELEd are invited to have their conference fee reimbursed! In order to apply for this scholarship, you must complete this application form by November 2, 2018. MinneTESOL Treasurer David Atterberry will notify you by email when your application is accepted.
Please note the following eligibility requirements for this year's First-Time Presenter Scholarship:
You must be a current member of MinneTESOL to be eligible. You can join MinneTESOL by going to minnetesol.org/membership-renewal.
You must not have presented previously at MELEd, MinneTESOL, or MinneSLIFE conferences.
You must be giving your presentation by yourself or with a maximum of one co-presenter.
You must register for the conference by the Early Bird Deadline of November 2, 2018.
Travel Scholarship!
Conference attendees traveling over 100 miles to attend the conference are invited to apply for travel scholarships up to $250, to be used for travel and accommodations. You must first register for the conference before applying for a scholarship. These limited scholarships are available on a first-come, first-served basis to MinneTESOL members only; priority will be given to applicants who have not used the scholarship within the past three years, but all are encouraged to apply! Watch our website and Facebook page (plus your email, MinneTESOL members) for more details and our application very soon!
Volunteer!
Volunteer! Most of our volunteer roles which qualify for fee reimbursement have been claimed by this time, with a few awaiting confirmation, but keep an eye out in case we need to reach out again and fill those last few roles. If interested in supporting the conference by volunteering to stuff folders, help vendors set up or help the co-chairs clean up after the conference, we'd love your help!
Indicate your interest and preferred role here >>
We look forward to supporting presenters, conference-goers and everyone involved in MELEd 2018!
Questions?
Please direct any questions to Member Relations Director Erin Cary (erin@lyndale.org) OR to the conference co-chairs, Darren LaScotte (lasc0027@umn.edu) and Leah Kronick (kron0062@umn.edu).
Stay Current with MELEd News
Like us on Facebook (Minnesota English Learner Education Conference – MELEd) and follow us on Twitter (@MELEdconference) and Instagram for upcoming information on keynotes, deadlines and exciting updates on this year's event!
Erin Cary, Member Relations Director
Minnesota English Learner Education (MELEd)