A CCRS Star is Born! Third CCRS Classroom Video Now Available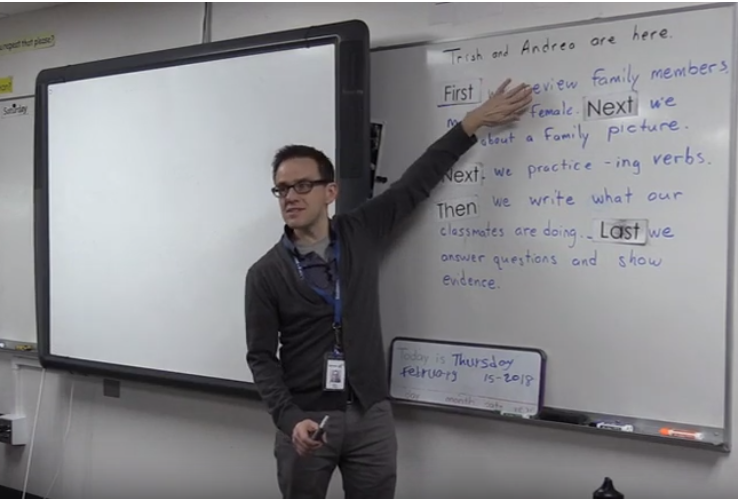 February 4, 2019
A CCRS Star is Born! Third CCRS Classroom Video Now Available
Andrea Echelberger, ESL Training Coordinator, and Burgen Young, Instructional Manager
We like to say that if there is something to support ABE instruction that hasn't been created yet, MN ABE will make it happen! Continuing the amazing history of homegrown Minnesota resources, the Minnesota Literacy Council and ATLAS have responded to requests for videos with a project that will benefit all ABE teachers, no matter what level of English Language Arts (ELA) you may teach.
In the third and final video of the CCRS in the ABE Classroom series, Dan Bruski of Hopkins ABE skillfully integrates a variety of teaching standards into his beginning level ESL class. During the lesson, learners work on strengthening their vocabulary, developing grammar and critical thinking skills, and using language in a communicative context. You can find Dan's video, along with a copy of his lesson plan and the Text-Dependent Questions Stems and Frames for Beginners handout at mnliteracy.org/classroomvideos on the Minnesota Literacy Council website.
A few of the top takeaways from this video include:
Reading texts can take on a variety of forms, including images, actions, charts, and graphs.
Learners at beginning levels are capable of finding evidence to respond to text-dependent questions, and of citing evidence to defend their position, including responding to questions that require making and supporting inferences.
Scaffolding, routines, and using volunteers enables lower level learners in multilevel classes to participate fully with their more proficient peers.
Working with standards is an opportunity to enhance (not replace) what instructors already know about effective adult language instruction.
No matter what level of ABE you teach or area you teach in (ESL, GED, Diploma, etc.), this video is worth watching because the wonderful scaffolding techniques Dan incorporates throughout his lesson. He demonstrates supportive classroom routines that tie the class together; multiple reading texts that increase in difficulty; partner, small-group, and whole class work; learner-generated texts; and the use of all four language modalities. These scaffolds are valuable for every teacher to see and use!
This video project began in response to the noticeable lack of materials – particularly videos featuring real adult learners and teachers – of CCRS in the ABE classroom. When tackling a new teaching initiative, it's helpful for us to observe other teachers who are implementing CCRS at similar levels. For teachers in low-literacy ESL classes in particular, the current available videos of native English-speaking or K-12 classroom videos can be challenging to apply to ABE situations. This new video series will inspire ABE teachers of all levels to integrate CCRS into current instruction, through concrete examples of effective routines and academically rigorous activities.
This project is supported by the Minnesota Literacy Council and ATLAS, both part of your MN ABE Support Network. A professional video editor volunteered his time to produce these three high-quality videos.
Andrea Echelberger, ESL Training Coordinator, and Burgen Young, Instructional Manager
Minnesota Literacy Council