A Win-Win in Career Pathways! Partnering with Your Own School District
December 17, 2019
A Win-Win in Career Pathways! Partnering with Your Own School District
Alison R. Wilcox, Career Pathways Coordinator / ESL Instructor
When deciding what classes to develop for Adult Career Pathways, Metro South ABE first looks to satisfy the labor shortages within their own school district. It all started when Bloomington Public School District (ISD271) came to us in 2017 to ask if we could offer a Commercial Driver's License (CDL) class to solve their shortage of school bus drivers. In April 2017, Metro South became a true partner with the Bloomington Schools Transportation Department in planning two CDL classes each year and later to help fund the spring CDL classes.
The CDL class prepares students to pass the Commercial Drivers License (Class B) permit test with passenger and bus driver endorsements – a job credential. The class is now held at the Bloomington Transportation Center so that students can see the work environment, tour the facility, sit with a driver on a bus route, and meet a friendly Tim Ryback who manages the transportation center. The Metro South Career Navigator also visits the class to assist students with resumes, the application process, and practice interviews.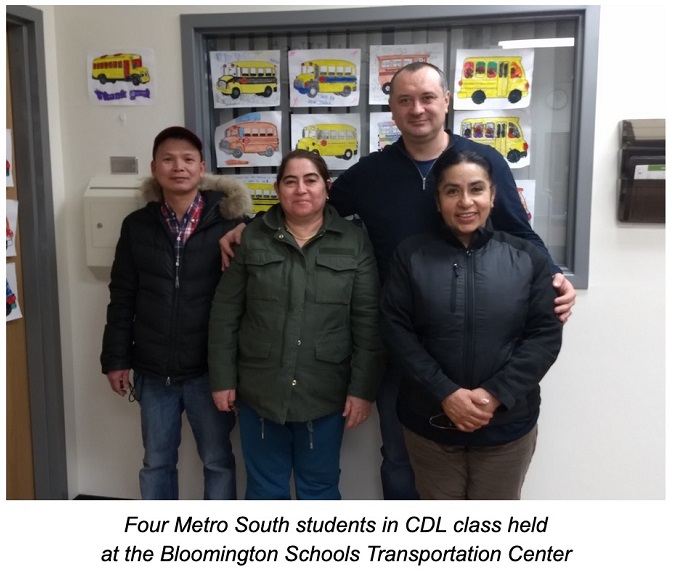 Craig Anderson, Metro South GED and CDL instructor, teaches the class and has had a lot of success getting his students to pass the CDL credential. Craig is an experienced ABE teacher, has obtained his own CDL credential in the past, and knows how to leverage students' learning by putting a lot of materials and resources (including videos) on Google Classroom so that busy students can access that for the permit test.
To this date, the BPS Transportation Department has already hired seven students. We have learned that partnering with one's own school district is a "win-win" formula, one that some of you are already doing! Bloomington School District benefits through the "grow your own" approach to addressing the critical shortage of bus drivers, which also is a big problem in the Twin Cities and around the nation. Everyone benefits! Metro South and Bloomington Public Schools are now looking at developing much stronger partnerships in filling open education related jobs at the district through our Child Development Associate (credential) class and a new Paraprofessional Prep (credential) class!
Alison R. Wilcox, Career Pathways Coordinator / ESL Instructor
Metro South ABE