ABE Foundations at a Distance: Special Pandemic Edition!
August 31, 2020
ABE Foundations at a Distance: Special Pandemic Edition!
Patsy Egan, ATLAS Director
Kristine Kelly, English Language Arts Coordinator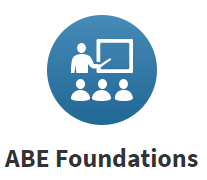 This fall, due to the inability to hold the in-person ABE Foundations Workshop, the online course is a great option for those new to ABE!  However, it's a lot of information, and we recognize that having the in-person workshop allows you to ask questions, meet key leaders in the field, and build relationships with other colleagues new to ABE.  So to add to the online course experience, we are offering 3 webinars to support your entry into the field – on October 12, 19, and 26, 2020.
Purpose of the webinar series to complement the ABE Foundations online course
To provide a guided, connected way to complete  the ABE Foundations online course content in a short, defined timeframe with colleagues.
To provide space for asking questions, sharing successes and challenges related to their current work.
To meet and network, and form relationships with ABE leaders and fellow practitioners in the state.
Can I get CEUs?  Of course!  There are 12 CEUs possible, 6 for the online course, 4.5 for webinars (1.5 given out after each one), plus additional 1.5 for between webinar work for those who complete all 3 webinars.
To complete the online course in a supported way, this series of 3 webinars complements the timely participation of ABE Foundations Online Course in this timeline.  Note that a 4th webinar specific to support staff personnel is being planned for November, too!
---
October 12, 1:30-3:00 pm – Live Webinar 1
Hosted by: ATLAS (and MDE staff will speak about Adult Diploma)
Preparation for for Live Webinar 1 on October 12:
Complete these two modules prior to Live Webinar 1: 
1. Introduction to ABE Students
2. MN Adult Secondary Credentials
---
October 19, 1:30-3:00 pm – Live Webinar 2
Hosted by: ATLAS, MDE guests
Preparation for Live Webinar 2 on October 19:
Complete these two modules prior to Live Webinar 2: 
3. MN ABE Model & Delivery System
4. MN ABE Policy & Accountability
Complete these tasks before Live Webinar 2:

Follow up task on ABE intro, students and secondary credentials
Complete ABE Foundations Online Course Modules on Model and Delivery System and Policy and Accountability
Submit questions on the model/delivery system, policy and accountability
---
October 26, 1:30-3:00 pm – Live Webinar 3
Hosted by: ATLAS, Literacy MN
Preparation for Live Webinar 3 on October 26:
Complete these three modules prior to Live Webinar 3: 
5. Introduction to MN Content Standards for ABE
6. Volunteers
7. Professional Development Resources
Complete these tasks before Live Webinar 3:

Follow up task on ABE Model and Delivery System and Policy and Accountability
Complete ABE Foundations Modules on ABE Content Standards, Volunteers, and PD Resources
Submit questions on the  ABE Content Standards, Volunteers, and PD Resources
---
Optional Session 4 – View from the Front Office: Life of a Student in ABE
(Tentatively scheduled for Thursday, Nov. 12) 
Patsy Egan, ATLAS Director
ATLAS
Kristine Kelly, English Language Arts Coordinator
ATLAS