ACEing Your To-Do List with Trello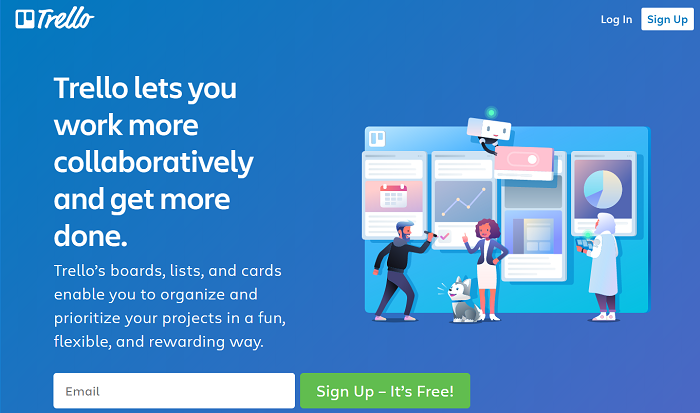 May 4, 2020
ACEing Your To-Do List with Trello
Stephanie Sommers, ACES Coordinator
For someone working on a large project or towards a goal, few things are as satisfying as crossing things off of your to-do list. Creating the list is also very valuable. Thinking about a project and breaking it down into parts helps us to take stock of everything that we need to complete. When I think about the work that I do for ATLAS, for example, there are a variety of tasks that I have to complete each year. I write newsletter articles, find resources to add to the ACES resource library, plan webinars, and develop presentations to be delivered at various regional events. Up until now, I have been keeping all of this organized with the help of a planning notebook, various Google Drive folders, and years of experience with developing my own system. But I think I might have found a better way.
With COVID-19 we have all had new responsibilities added to our plates. This is true for us as ABE professionals, and it's also true for our adult learners. We are learning to manage as homeschoolers, as caregivers, as remote workers, and as distance learners. I wanted to find a tool that could help with keeping all of these new moving parts organized, and what I found is an app called Trello (trello.com). Trello is the latest resource to be added to the Self- Management category of the ACES resource library.
Keeping organized with Trello
Trello allows users to create boards to manage their workflow, and then customize those boards by adding lists and cards. Users can also attach files, checklists, and comments to the cards. What I liked immediately about Trello is its intuitive user interface. I was able to create my first board in about 2 minutes without having to read a bunch of instructions or watch how-to videos. This is also a top benefit of using Trello according to a March 2020 review by PC Magazine. According to that review, "Trello is an eye-catching, fun, and intuitive app that helps people collaborate around work." Let's take a closer look at how your learners could be using it.
Trello allows boards to be easily shared among a team. A student working on her Adult Diploma, for example, could create a board and share it with her teachers. This can be done by clicking on the Invite button and either entering an e-mail address or else creating a link that can be shared. The teachers would then be able to help monitor the student's progress, provide feedback via comments, and attach useful files. Here is a board that I created for a student who I called Halimo.

The default organization for the lists is to name them Things to Do, Doing and Done. These names can be edited, but I didn't see the need to do so. Each of the tasks on a list is added using a card. Halimo has 3 cards on her Things to Do list. The cards on a list can easily be reorganized by dragging and dropping, and you can also move cards between lists. As Halimo completes the things on her Doing list, for example, she can drag the cards over to Done. Users can create multiple boards with multiple lists and endless cards. The cards can be customized in a number of ways to provide even more organization and opportunities for collaboration. If Halimo shared her board with her teacher, for example, then the teacher could add comments about the work in progress or share links or attachments that might provide support. There are also features for adding checklists and assigning due dates.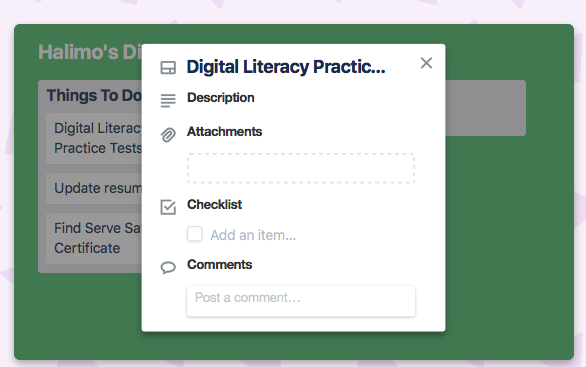 Like many online tools, Trello has several different types of user accounts. The Free version, which is what I used to create my example board, would work well for most users. It allows you to create unlimited private boards, and up to 10 collaborative team boards. There is also a 10MB per file limit for attachments. The Business Class and Enterprise accounts provide more features, but the Free account certainly provides enough tools to help users improve their Self-Management skills while visually organizing tasks quickly and easily. While the current pandemic makes it difficult for us to support and collaborate with our learners in the ways that we are most familiar with, using a tool like Trello can help us to provide that support in ways that we hadn't previously imagined.
Stephanie Sommers, ACES Coordinator
ATLAS