Adult Career Pathways COURSE DESIGN Cohort: Plan now to participate in 2018-19!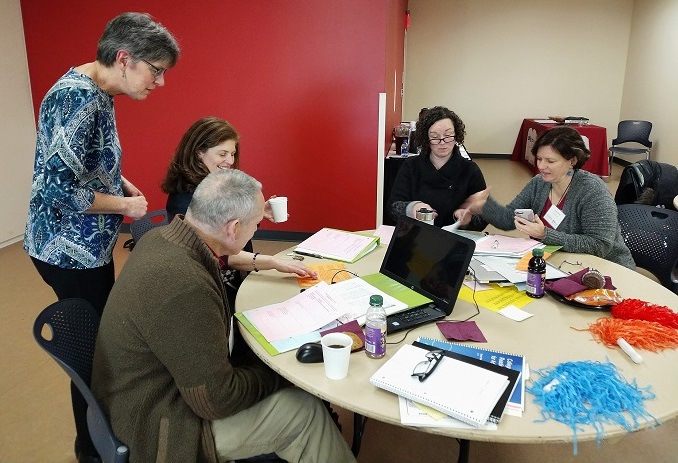 August 6, 2018
Adult Career Pathways COURSE DESIGN Cohort: Plan now to participate in 2018-19!
Liz Andress, Adult Career Pathways Consultant
Join a group of ABE professionals from across the state in a six-month product-oriented cohort to learn and then implement best practices in course design for a specific Adult Career Pathway (ACP) or Integrated Education & Training (IET) course in your program. Examples include a CNA prep course, a child development "bridge" course to prepare learners for their first college class, a commercial driver's license permit test prep class, and many more.
Who should participate?
The ACP Course Design cohort is intended for ABE instructors or curriculum writers with a spectrum of experience, from very little to extensive. We will create a community of learning in which participants will be integral resources to each other. You'll be designing or revising an ACP/IET course that your ABE program plans to use.
Activities

This focused course design training begins with a two-day intensive training workshop in St. Paul. A step-by-step course design outline has been developed by ATLAS that will guide our work. Training will cover the why and how of each step and time will be provided to begin work on several of the steps.
The bulk of the work is done at your own program sites, as you draft each section, post it for review and comment by a coach and a peer, and revise as you go. We wrap-up with a one-day wrap-up workshop to share the results of your work and consolidate lessons learned. Two coaching calls, connections with a peer partner and assignment deadlines provide support and accountability to meet your goals.
The whole experience is practical and highly supportive, and your participation will result in an actual course structured by the end of the training. If you're looking for a way to roll up your sleeves and develop or strengthen a career pathway / IET course, this opportunity is for you!
A complete schedule of activities and information about funding and CEUs are provided on the information/application form.
What participants say
A group of 20+ instructors completed the training in 2017-18. Here are some of their comments:
"Feedback on the clarity of your curriculum – the scope and sequence, instructor notes, etc. – is really helpful! I liked working with partners and having coaching calls."
"Objectives, objectives, objectives! The cohort really supported me as I wrestled with trying to do too much, then guided the process of defining/honing stronger course objectives and owning the objectives. From there I learned how to 'design backwards' to serve the learners much more effectively."

"I'm most proud of the student syllabus I created – getting away from 'teacher talk' and making it much more user-friendly for the learners."
Put this in your 2018-19 PD plans!
Applications are due October 5. The application form is available on the ATLAS website APPLICATIONS page.
Questions? Want to reserve a spot now? Contact Liz Andress, ATLAS Adult Career Pathways Consultant, at liz@solbrack.com.
Liz Andress, Adult Career Pathways Consultant
ATLAS