Announcing NEW PANDA Website Links and Comments/Suggestions Form!
May 16, 2022
Announcing NEW PANDA Website Links and Comments/Suggestions Form!
Wendy Sweeney, MA, LP, PANDA Manager
Lori Yurick, PANDA Grant Assistant
ACCESSIBILITY OPTIONS USING TECHNOLOGY CATEGORY
Overview
In each sub-chapter in this category, you will find accessibility options that can be used in all teaching and learning environments, including in-person, online, hybrid, or HyFlex.  You will find accessibility features for phones, computers, reading, writing, and math.
What does disability accessibility mean?
Accessibility – noun

The quality of being suitable or adapted for use by people with disabilities
(Source: https://www.dictionary.com/browse/accessibility)
Check it out at https://pandamn.org/category/accessibility-options-using-technology/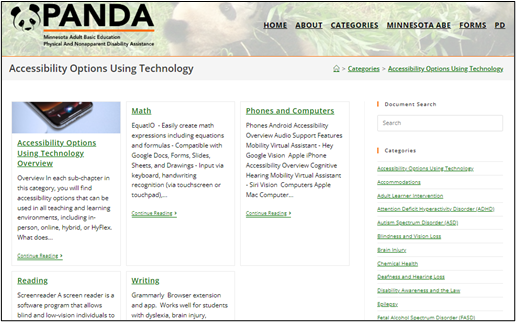 PANDA has a lending library of materials, adaptive equipment, and assistive technology on hand that are available to Minnesota ABE teachers and volunteers to access for use with their students.  We have a variety of materials that are listed on this link for reading, writing, math, vision loss, hearing loss, and mobility challenges.  If you would like to borrow any items, please contact PANDA staff at panda@rdale.org   We will mail the item to your program once we receive your request.  If you have a student with a specific need that is not listed in our lending library, please contact PANDA staff to discuss your student's needs.  We will purchase it for your program when funding allows.
Check it out at:  https://pandamn.org/category/tools/
NEW COMMENTS or SUGGESTIONS FORM
PANDA staff is always open to suggestions for additions to our website, general comments, questions, or errors you may find.  For ease of use, we have added a feedback form that can be accessed at the bottom of our homepage (under the categories column on the right side of the page).
Check out the feedback form here!
You can also always contact us by email at panda@rdale.org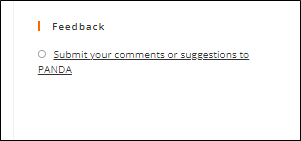 Wendy Sweeney, MA, LP, PANDA Manager
PANDA - Minnesota Adult Basic Education, Physical And Nonapparent Disability Assistance
Lori Yurick, PANDA Grant Assistant
PANDA - Minnesota Adult Basic Education, Physical And Nonapparent Disability Assistance