Believe It or Not! Information Literacy and Adult Learners: Part 2
November 1, 2021
Believe It or Not! Information Literacy and Adult Learners: Part 2
John Trerotola, Teacher
In last week's article, I stressed the importance of incorporating information literacy into the ABE classroom.  For this week, I will highlight some strategies and resources to aid in instructional planning and delivery on this topic.  The resources correlate with multiple CCRS anchors and connect to outcomes from ACES/TIF and the Northstar Digital Literacy Standards.
Moreover, you don't have to be a social studies teacher, as these resources and strategies can be used by all instructors and adapted to a variety of classrooms ranging from ELL to GED.
When planning, consider a scaffolded approach to teaching information literacy.  Perhaps start with "big picture" lessons to get students comfortable with the topic.  What is information literacy and why is it important?  Then, incorporate more detailed lessons that challenge students to begin approaching all types of data with a critical eye.
Fortunately, there are many other classroom ready resources that are mostly free and can be used in print or digital form.
Introducing information literacy
NOTE: Most of these sites require that you set up a free account. Once you're logged in, you'll be able to access the specific pages/resources highlighted here.
For example, to introduce the topic of information/media literacy, have students read an article from SERP on "Today's News: Information or Entertainment" (found on this page of units) or use a leveled article from Newsela where students learn that fake news is not a new phenomenon.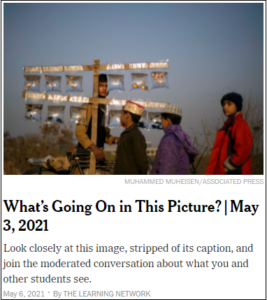 It may also be beneficial to engage emerging readers in a Nearpod lesson about the difference between pretend and real, or you can incorporate listening and multiple grammar skills into your instruction by using a "Deepfake" article from Breaking News English.  Although you need a nominal paid subscription, ESL Library offers comprehensive lessons on fake news, fact vs. opinion, and other related topics.
It is also equally important to remind students that misinformation can appear in both written and visual forms.  Try using What's Going On in this Picture or Graph from The New York Times Learning Network as a quick and easy way for students to evaluate visual information.
More in-depth lessons
For more in-depth lessons, consider flipping your classroom by sending students a video clip on "Identifying Fake News Sources" from C-SPAN Classroom and then use in-person class time to discuss.  In addition, iCivics has excellent stand-alone media literacy lessons and even offers an engaging game where students have to "fight" viral deception and false reporting.
However, when considering instructional resources related to information literacy, look no further than Stanford University's Civic Online Curriculum.  This free resource has timely, leveled lessons and assessments on critically evaluating evidence and sources.
More than at any other time, information and media literacy is a necessary part of any ABE curriculum.  Whether you are teaching remotely or in-person, English Language Learners or students needing a high school equivalency credential, those in the ABE community are in a perfect position to guide students along the information highway while giving them the awareness and skills to critically approach the constant flow of data coming their way.  The well-being of our society depends on it!
Originally published 5/10/21
John Trerotola, Teacher
Robbinsdale Adult Academic Program