Career Pathways: Expand Your Toolkit!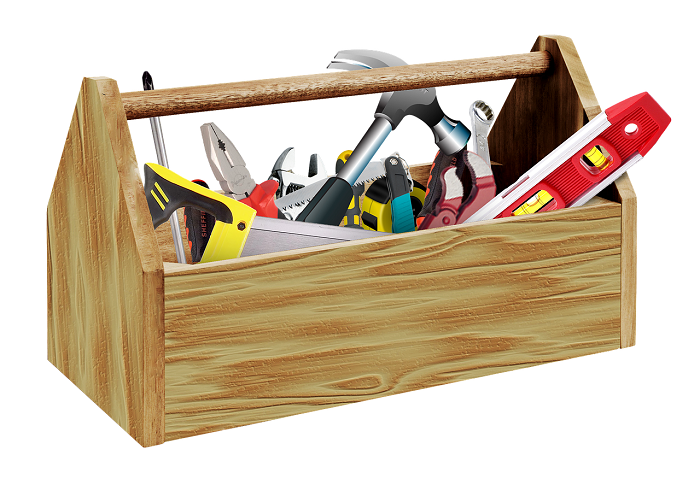 June 4, 2018
Career Pathways: Expand Your Toolkit!
Liz Andress, Adult Career Pathways Consultant
Design and delivery of career pathway programs is full of both opportunity and challenge for ABE administrators. ATLAS provides a great set of tools, plus cohort training with peer support and action-oriented learning. Two key tools are highlighted here, followed by information on next year's cohort.  (NOTE: Cohort applications are due Friday, June 8!)
Adult Career Pathways (ACP) tools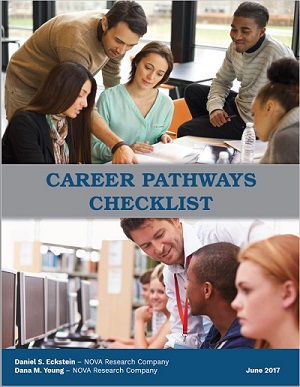 The Career Pathways Checklist is a nifty 10-page document to get you started in your adult career pathways work (U.S. Dept. of Education, OCTAE, June 2017).
The Checklist is designed to help determine the extent to which an existing career pathway program meets the requirements as outlined in WIOA. It can also serve as a road map at the beginning stages of career pathway development and has proven helpful in establishing common understanding among partners from various institutions collaborating in a career pathway project. Each page includes a brief explanation of one of the seven criteria, followed by a grid for noting how the program you are assessing meets or does not meet that criterion.
"The Career Pathways Checklist allowed us to see where our current pathway programs meet WIOA criteria and where we can improve. For example, our advising and navigation supports are strong; however, we need to explore more ways to expand work-based learning experiences such as job shadowing, internships and pre-apprenticeships." (Karen Wolters, ABE Program Coordinator, Mankato Area ABE)
The Career Pathways Toolkit is a 350-page whopper of a resource (U.S. Dept. of Labor, Employment and Training Administration, October 2016). It is divided into six key elements:
Build cross-agency partnerships
Identify industry sector and engage employers
Design education and training programs
Identify funding needs and sources
Align policies and programs
Measure system change and performance
As a whole it can be overwhelming. But drill down and you will find some great charts and practical "worksheets" for guiding each aspect of program development.
Element One includes an extremely useful chart that lists six key partners in career pathway programming. The grid then shows 30+ roles in adult career pathway programming and which partners typically fulfill these roles.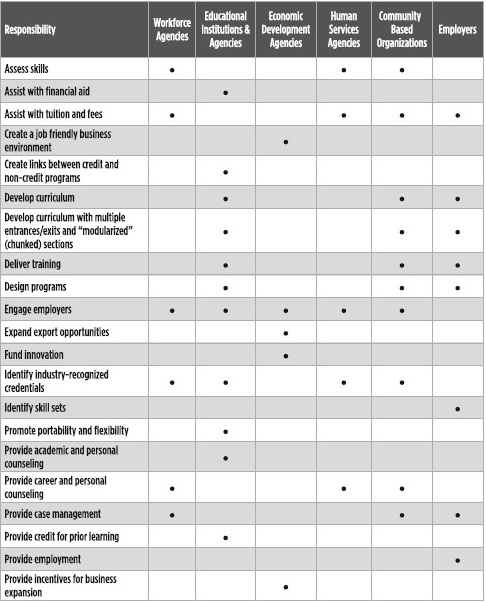 This chart is followed by an easy-to-use Matrix of partner roles and responsibilities worksheet which guides the process of defining the roles and responsibilities for each partner in your cross-agency partnership.
Building recruitment strategies for target populations (in Element Three) provides another great set of tools. First you identify specific target populations that you want to reach, that could benefit from participation in the career pathway program. Next, a worksheet lists 15 possible referral sources to reach your target groups. Finally, Marketing Message and Tactics guides in crafting "benefit statements" for each target population, then deciding how you'll get the message out.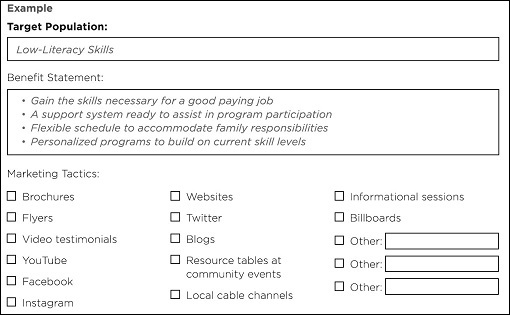 Online resource library
These and many more great adult career pathways program development tools are available in the ATLAS ACP online resource library, found on the ATLAS website (atlasABE.org) under Resources.
Career pathway program development cohort – learn and do with support from peers
Consider joining a year-long professional development cohort for ABE administrators that includes lots of peer support for figuring out the complexities of the work in your own unique context. The best way for many of us to move this work forward locally is to have a structured professional development experience that provides best practices and tools, then a process to set one's own goals and action steps in priority areas.
"The ACP Program Development cohort has given me specific and concrete strategies to develop effective ACP programming. Being part of the cohort has been a strong reminder that quality programming does not just happen. Clearly defined expectations and goals for everyone involved are essential for success." – Penny Jahnke, ABE Coordinator, Albert Lea, MN
"This cohort has been one of the most worthwhile professional development opportunities that I have participated in…. My cohort peer partner and the facilitators have challenged me to think outside the box in planning, marketing and implementing our new Para Pro Plus Career Pathway program." – Scott Hall, ABE Supervisor, St. Paul Public Schools
See a previous article for a complete description of the cohort. The application form is due Friday, June 8, 2018. Contact Liz Andress, ATLAS Adult Career Pathways Consultant, at liz@solbrack.com with questions.
Liz Andress, Adult Career Pathways Consultant
ATLAS