Career Pathways Program Development Cohort: Applications Due June 8!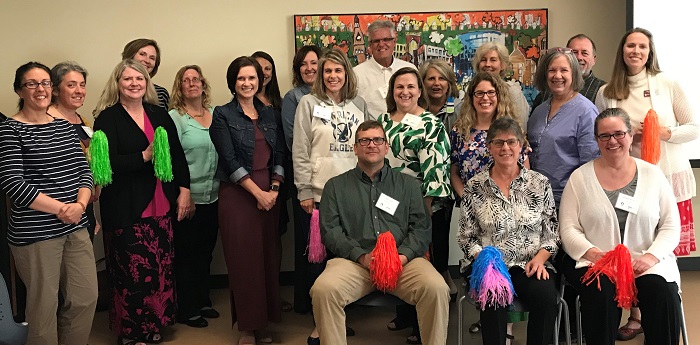 April 24, 2018
Career Pathways Program Development Cohort: Applications Due June 8!
Liz Andress, Adult Career Pathways Consultant
ABE administrators – You are invited!
Looking to start or strengthen a career pathway program? Join a group of fellow ABE administrators from across the state in a year-long action-oriented cohort to learn and then implement best practices in developing Adult Career Pathways programs in your area. Adult Career Pathways (ACPs) provide basic skills, training, and industry-recognized credentials that lead toward jobs that earn a livable wage, all in an accelerated time frame. ACPs can be an essential part of your work to provide Integrated Education and Training (IET) programming as encouraged by the Workforce Innovation and Opportunity Act (WIOA).
Who should participate?
This cohort is intended for ABE administrators with a spectrum of experience, from very little to extensive. We will create a community of learning in which administrators will be integral resources to each other. This is for YOU if you are currently part of an adult career pathway effort that is new or ongoing; if you tried an ACP program in the past that was challenging; or if you are embarking with partners in developing a new ACP program.
Focus and activities
There are many challenges in designing, implementing and sustaining effective adult career pathway programs and partnerships. In this cohort year we will build knowledge and skills to:
Understand WIOA definitions/regulations related to ACPs and IET, and the role of ABE in ACP partnerships
Partner with local WorkForce/"one-stop" entities in serving career pathway participants
Engage employers in ACP design and delivery
Address barriers and building strong program enrollments
Training sessions for this cohort will be practical and directly related to your real-life contexts. You will set your own goals and action steps for each module; receive support from peers and ATLAS trainers; and share your successes, challenges and learning with the cohort.
A complete schedule of activities and more information can be found on the application form.
What are 2017-18 participants saying?
The cohort provides…
ACCOUNTABILITY – "The cohort has created structure, assignments, and deadlines to help move our program forward in strengthening career pathways work. Without these deadlines, things likely would have been put on the back burner. Expectations are kept high, constructive feedback is plentiful, and accountability is guaranteed!" – Tammy Schatz, Program Manager, Moorhead ABE
CONNECTIONS – "The ACP Cohort has allowed me to create new connections to ABE staff in other programs, to share ideas and get and give feedback, and to help motivate and encourage me to be thoughtful in the work of developing a new Adult Career Pathway program." – Emily Watts, ABE Program Coordinator, Osseo Area Schools
IMPROVED PARTNERSHIPS – "We have been able to develop a better partnership with our local workforce center through planning and assessing our mutual needs." – Kellie McGowan, Adult Education Director, Metro South ABE
Apply now!
Applications are due June 8. For further information, see the complete application form posted on the APPLICATIONS page.
Questions? Please contact Patsy Egan, ATLAS Director, at pegan02@hamline.edu or 651-523-2646.
Liz Andress, Adult Career Pathways Consultant
ATLAS