Coherence Across Classrooms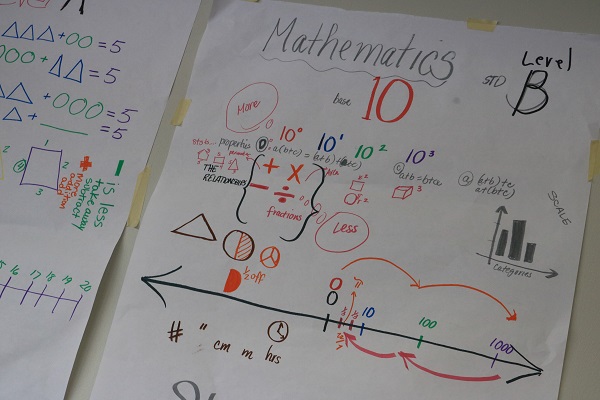 November 11, 2019
Coherence Across Classrooms
Andy Albee, Math Instructor
Think back to 6 years ago.  We (as an ABE system) were preparing for a major change.  The GED was going to be given online and was going to be based on a set of standards.  In 2013, those standards were introduced to us as the College & Career Readiness Standards (CCRS). When I look back on those changes, they seemed daunting at the time, now they are just a part of our routine. Or are they?
In the mathematics section of the CCRS, we are introduced to the 3 Mathematical Shifts before we even see any of the standards or mathematical practices that are now part of our instruction.  Those shifts include Focus, Coherence, and Rigor. But what does it mean to be coherent across classrooms?
In the Robbinsdale Adult Academic Program, we have worked coherence into our basic skills courses by splitting the standards into three classes that we run at concurrent times.  This allows us to share students between classes that are organized by CASAS reading scores. Colleen Crossley teaches standards from CCRS Levels A & B, Erin Parker from Levels B & C, and Andy Albee from Levels C, D & E.  The overlap of the standards allows for students to more smoothly transition between classrooms. In all three classrooms, the main lessons are taught on Mondays and Tuesdays with follow up on Tuesdays and Thursdays to review and solidify the lessons learned.
CCRS Levels A & B
Colleen uses EMPower Math, Everyday Number Sense to teach mainly whole number skills from the CCRS A standards with a real world context.  This can include checkout lessons where adjustment strategies are used to help students do math quickly at stores. She also has all her students enrolled in the whole numbers and skills lessons in the Edmentum distance learning program.  Working with Erin in planning has allowed her to narrow the focus of her math lessons. Before setting this coherence plan, students worked in cohorts on mathematical areas in which they needed more practice. She states that "Now students work on combined lessons with everyone working on the same material.  It makes the classroom (and me) less crazy."
CCRS Levels B & C
Erin Parker works with mainly with Fractions, Decimals and Percents as well some applications in basic algebraic expressions, geometry and data From the CCRS Levels B & C.  She states that the New Readers Press books Math Sense 1-3 as well as common core sheets from off the internet work well at her level. She has students work together to apply the topic and discuss their problem solving techniques. Erin says "I can focus with students at the same level.  I love teaching Math. Who would have thought?"
CCRS Levels D & E
Andy teaches mainly out of the Kaplan GED Test Prep 2018 book with supplemental activities to cover mainly Algebra, Geometry and Statistics from CCRS Levels D & E.  While the Kaplan book does not do a great job of alignment to the CCRS, most of our students own a copy and adjustments can be made to align to the standards.  Andy states that "Even though I do dip into levels B & C for quick reviews prior to level D or E lessons, it is so helpful to be able to refer students who need more in depth work in the lower levels to Erin.  Knowing what she is preparing students to understand helps me in planning my lessons."
Benefits to teachers and students
Having three levels of math running concurrently is of benefit to our teachers and students. Our students are placed into our classrooms based on the CASAS reading test scores, so sharing a math time allows us to readjust our students to the level of math that they need. Moving from just teaching whatever math the majority of our students need to planning lessons around specific standards has worked well for us at Adult Academic.
Interested in exploring this topic more? Go to the Schoology Minnesota Numeracy Instruction Networking Group to continue the discussion about how you have or can start to plan your inter-classroom coherence plan! If you are not yet a member of the group, follow the instructions below. If you are a group member, simply go to Discussions and click on Coherence in ABE programs.
How to join & participate in the Minnesota Numeracy Instruction Networking Group:
1. If you don't already have a Schoology account, go to www.schoology.com and sign up as an Instructor. (This is important!)

2. Once you are in your account, go to the top blue bar, choose Groups, and then click My Groups on the right. Click Join a Group and then enter the group access code PXNGW-K43CR.
3. Post your general math questions, ideas and resources in the Updates section of the group. This is the page that will appear after you enter the group.
4. To join the discussion on coherence, click on Discussions on the left-hand sidebar and then click on Coherence in ABE programs.
Andy Albee, Math Instructor
Robbinsdale Adult Academic Program