Contextualized Curriculum Resources for the ELL Classroom
June 13, 2017
Contextualized Curriculum Resources for the ELL Classroom
Heather Turngren, ABE Teacher
One may have anticipated many sessions at the recent COABE conference would be dedicated to WIOA topics of contextualized curriculum and instruction. I was inspired one of the pre-conference sessions I attended on the WIOA topics.
Jayme Adelson-Goldstein led a group of seven presenters for the Developing Today's Contextualized ESOL Instruction for Tomorrow's Career Pathways pre-conference session. The session focused on discreet tasks that can be incorporated into an ELL/ESL/ESOL classroom that helps develop workplace and career pathways skills. The presenters stressed that ELL instructors do not need to become a technical expert to facilitate contextualized instruction, but the more we immerse ourselves in the subjects our students will study, the easier it will be to generate examples and tasks that feel authentic.
The first step in the contextualization process is to identify the tasks and activities that students need to engage in during trainings or at work. The second step is to infuse language learning with training-related vocabulary, concepts, and tasks. The third and final step is to interact and collaborate with other providers, employers, and agencies to gain insight into the training opportunities that exist to help prepare our students to find good jobs with good wages.
Many of the lesson examples presented and used in the session came from the ESOL-Pro series, Preparing English Learners for Work and Career Pathways and its companion resource.
One example that really impressed me was using a jigsaw technique. This is a common reading activity in many ELL classrooms. However, the activity had team roles defined as workplace roles (i.e.: supervisor, manager, administrative assistant, etc.).  A copy of the chart we used is below.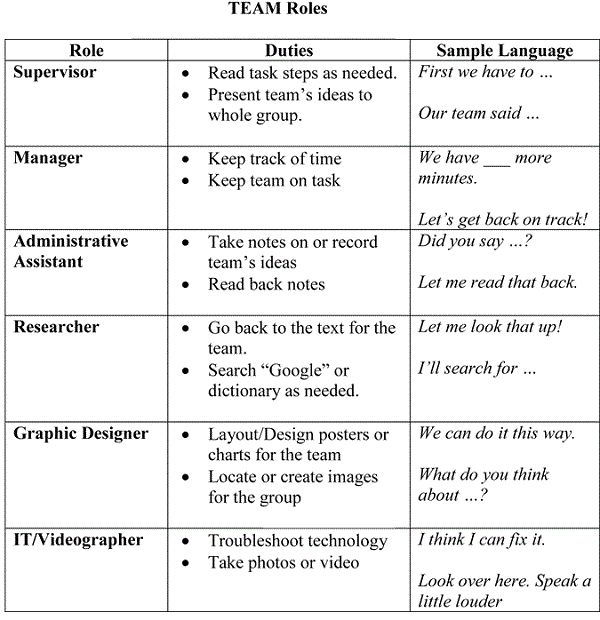 As described in the ESOL-Pro brief: "Cooperative team work in the contextualized ELA classroom provides learners with an opportunity to practice 21st century workplace interactions: completing routine tasks with coworkers, contributing to team meetings, or participating in team projects."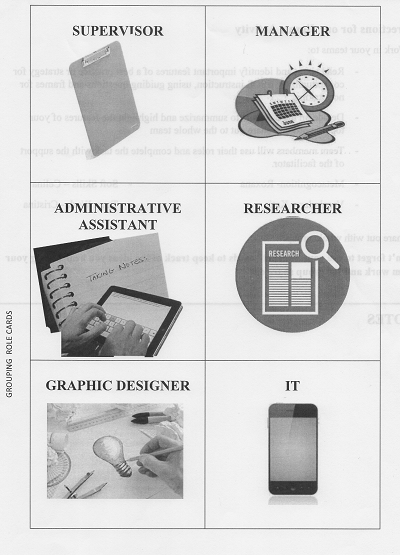 The jigsaw technique is a cooperative learning strategy that helps students create their own learning and provide an opportunity to help each other build comprehension. This technique provides an opportunity for students to cooperate with others and share responsibility for each other's learning by using critical thinking and social skills to complete a task. The extra layer of providing team roles that use terminology found in the workplace is an explicit way to incorporate career vocabulary into the classroom.
I have started using similar role cards in many of the reading activities in my current advanced ELL class. Students appreciate having an assigned role and accountability. There is also the extra language support to help students with workplace and academic vocabulary. This small change in jigsaw readings has helped to infuse my current curriculum in a more contextualized manner.
Heather Turngren, ABE Teacher
Minneapolis Adult Education