Diversifying Your Image Searches
April 18, 2022
Diversifying Your Image Searches
Ash Aliengena, Literacy Specialist
Diversity, Equity, Inclusion. Culturally Responsive Teaching. If you work in Adult Education, you've probably seen these terms being applied and explored more and more frequently— and rightly so!
However, as a teacher of literacy and beginner level ESOL students, these conversations with fellow teachers have often been challenging and made me feel left out. Over the past two years I've been teaching remotely with traditional 4-skills thematic unit ESOL textbooks. Like so many adult English classes, our focus is on working with basic vocabulary, phonics, simple texts and tenses. What do diversity and inclusion mean in that context? How can a beginner level ESOL class be made more culturally responsive, when the content and skills we need to cover seem so basic?
I realized that in order to embody the values that our field aspires to hold, I needed to figure out how to make them real and tangible in my classroom. This school year, that mission became my primary focus. I'd like to share some of my thoughts and takeaways from my journey so far.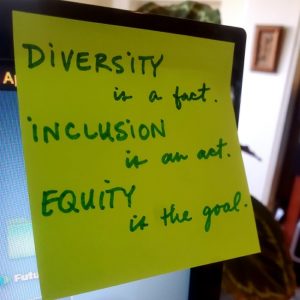 Sometime in late September 2021, I came across a catchy DEI slogan making the rounds on the Internet. So, I did what educators do and put it on a post-it on my computer monitor:
Diversity is a fact.

Inclusion is an act.

Equity is the goal.
The simple definitions of diversity and inclusion hit me particularly hard.
Diversity is a fact. A quick glance down one of my class lists shows an incredible variety of experiences: students from 11 countries, a handful of languages, a few religions, a wide spread of education and income levels, different gender and sexual identities, and ages from 19 to 72. Fact: I don't need to manufacture diversity. It's already right there in front of me.
Inclusion is an act. Representation is a choice and it matters. As a teacher, I can create instructional materials that represent the diversity of my students, and reflect it back to them. I believe that every student deserves to see themselves represented in our class content. What does that mean in a beginner ESOL classroom? For me, it's all about the visuals.
Some tips for incorporating diverse images:
Every year, new and diverse Internet stock photo collections emerge: collections featuring People of Color in everyday situations, differently abled bodies, black professionals, women in science, queer folks, and more. Most are freely accessible and only require that you give credit. Our ESOL team at Holyoke Community College in Western MA has started a small but growing directory of these diverse image collections. Credit is due to my colleague Laura Porter who organized these resources.
While diverse image collections are a great resource, I still find that Google is my go-to for sourcing images to use in class. The problem: Google's image search algorithms have learned from us how to be racist. For example, let's say you're doing a unit on food. You search "woman cooking spaghetti." You will scroll through hundreds of white women cooking in magazine-perfect kitchens. Results 23 and 40 will be Asian women. The first Black woman you find cooking spaghetti will be image number 72. Why? Because heteronormative white culture is cast as the dominant culture. So, images of white, cisgendered, upper middle class people don't get tagged with those descriptors. They're just "normal" women cooking spaghetti. If you want diversity in your Google image search results, you have to ask for it and be specific. Try "disabled woman cooking spaghetti," "Iraqi woman cooking spaghetti"— it works! (And if you take out "spaghetti" you'll get even  more results!)
Use your class list to help keep your representation habits on track. I keep my class list nearby when planning class or prepping an activity. Sometimes I print it, sometimes it's a Google spreadsheet. The list includes students' countries, languages, ages, and other identities I may know about them (single mom, homeless, gay, 5 kids, business owner, Jehovah's Witness, welder, painter, has cancer…). When I'm searching for images for, say, a WordWall activity, I go down the list and try to represent something about each student in my image searches. When I get to the bottom, I start again at the top and keep going. The list keeps me honest and connected to who my students are.
What I've learned this year is that the work of diversity and inclusion happens, in part, through small intentional shifts: little changes we incorporate into our practices over time. The hope is that we'll be building equity all along the way.
---
About the Author:
Ash Aliengena (they/them) is a Literacy Specialist who teaches beginner ESOL classes for Holyoke Community College at the Ludlow Area Adult Learning Center, located in Western Massachusetts: hcc.edu/esol.
Ash Aliengena, Literacy Specialist
Holyoke Community College at the Ludlow Area Adult Learning Center