Enrolling New Students? Update Your Hotline Description to Let Everyone Know!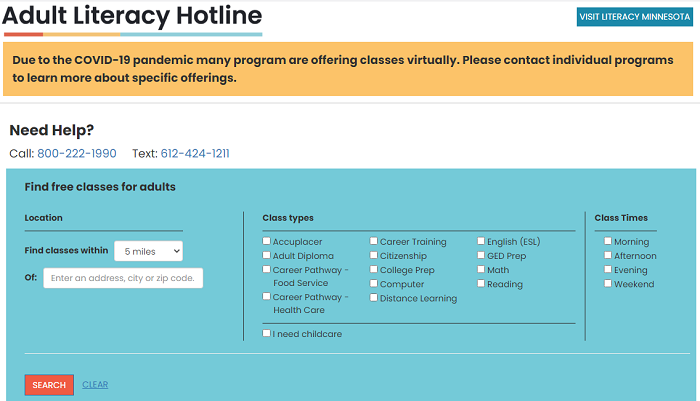 July 27, 2020
Enrolling New Students? Update Your Hotline Description to Let Everyone Know!
Kelly Rynda, Hotline and Volunteer Support Specialist
The Adult Literacy Hotline has continued to take inquiries from prospective students during the pandemic – and we need your help!
Please take a minute to make a note in your Hotline description about whether or not you are enrolling new students at the moment, and, if possible, briefly describe the intake process since it may differ from pre-pandemic.
This will help Hotline staff, as well as learners and social services providers who search directly on the Hotline website, to direct learners to programs more accurately and efficiently. And it may help you as well: is your program not enrolling new students right now but you're still receiving inquiries? You can check the Hotline to see who's taking new students, or you can direct students to search themselves or contact us.
But we need everyone to take a minute and make that note in SiD!
All you need to do is log in, click Hotline in the top right:

Click on your subsite:
And add to the description:
"COVID-19 Update: Virtual citizenship and GED tutoring is currently available. Students interested in citizenship or GED can text or call (612) 430-8361 to get started. Students can also e-mail flc@hclib.org."
And voilà! Your COVID-19 update will be visible for all to see. (Please note that it can take several minutes for updates to process.)
In this example from the Franklin Learning Center, they clearly state that they're taking new students, but only for certain subjects, and give their new Google Voice number they've been using since COVID. This information is so helpful to students hoping to get started during this time, as well as to Hotline staff to know about changes to enrollment and contact information.
Not able to enroll new students right now? Here's an example from Open Door Learning Center – Rondo:
Take a minute – really just a minute! – and update your Hotline information in SiD. Learners will appreciate it, and so will your colleagues!
Issues with making the update? Check out this guide. Still need SiD help? Contact the Urban Planet support team at support@mnabe.org.
Contact Kelly with Hotline questions or inquiries at krynda@literacymn.org.
Kelly Rynda, Hotline and Volunteer Support Specialist
Literacy Minnesota