Free Online Reading Pre-Assessments on ReadTheory and CommonLit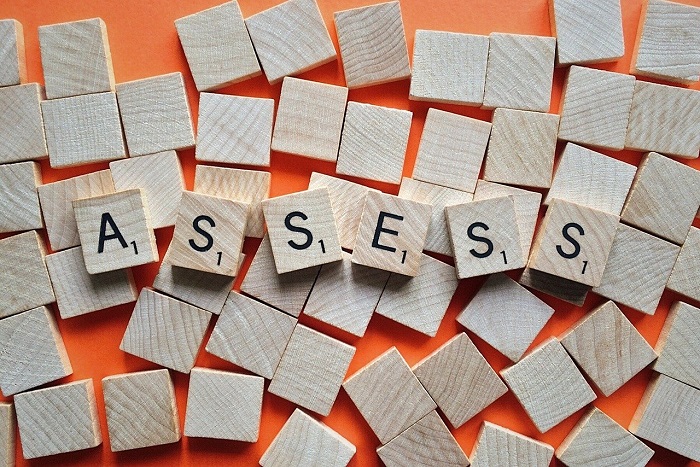 September 21, 2020
Free Online Reading Pre-Assessments on ReadTheory and CommonLit
Kristine Kelly, ATLAS Literacy & ELA Coordinator
Your program may have taken advantage of the opportunity to provide computer-based remote CASAS and TABE testing this fall, thanks to unspent funds from the MN Adult Education Support Network. If not (or if you're looking for some additional reading assessment information), you may want to try the reading pre-assessments on two popular online literacy tools: ReadTheory and CommonLit. Both are FREE to use, though the CommonLit Reading Pre-Assessment will only be available this school year until November 2020.
I decided to investigate both online pre-assessments, and I took several of each one to try them out myself. As with any assessment, we don't want to base everything off of one score, but these pre-assessments can give us a place to start with students, especially if we plan to use ReadTheory or CommonLit to continue reading instruction with students during COVID-19 and beyond. Remember that both websites are designed for K-12, so there is a strong academic slant to their content.
Below is a comparison table of characteristics of the two pre-assessments that may help you to choose which might work well for your students and your context: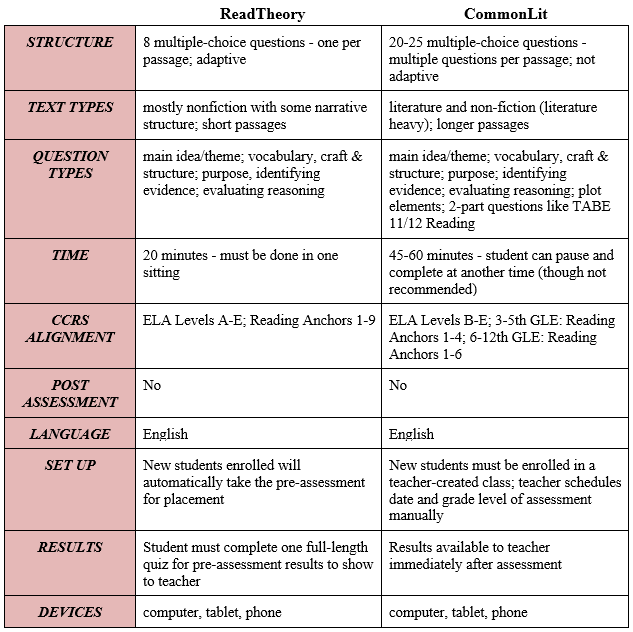 Overall, I found the multiple-choice questions in both pre-assessments to include a lot of academic language, including language lifted right from the CCRS standards. Keep that in mind as your students may understand the gist of the passages they are reading but not the questions they are asked about the passages (a great case for teaching academic vocabulary that often appears in test questions!).
In addition, here are some other highlights of both pre-assessments:
ReadTheory Pre-Assessment
useful for general academic reading assessment, particularly for pre-GED/GED/diploma students
starts at a low Lexile text for all students and adapts as student takes the assessment
passages can go down to CCRS Level A Lexile levels
no deadline on pre-assessment offered through the website (unlike CommonLit)
students can move into adaptive texts and quizzes immediately after assessment
CommonLit Pre-Assessment
particularly useful for pre-GED/GED/diploma students
literature passages are helpful for GED RLA test preparation
teachers can assign grade level of test they think is closest to student level
some words in the assessment passages are defined for students
teachers can receive a standards-based data report
Any kind of formal assessment has definitely been a challenge during the time of COVID-19, but perhaps one of these online tools may help you gather valuable information for your instruction! Please send any questions about either pre-assessment to kkelly01@hamline.edu.
Kristine Kelly, ATLAS Literacy & ELA Coordinator
ATLAS