Free Online Training for ESL Classroom Volunteers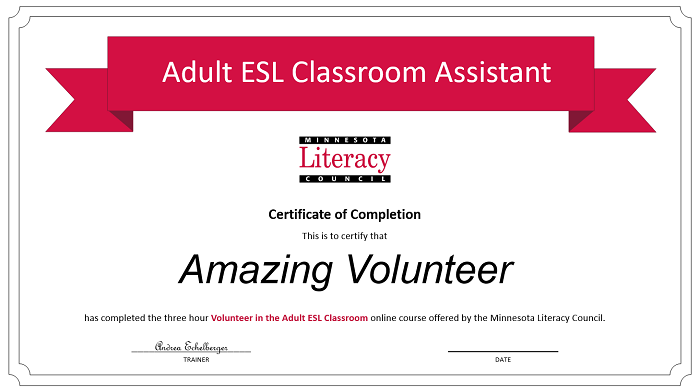 March 25, 2019
Free Online Training for ESL Classroom Volunteers
Andrea Echelberger, ESL Training Coordinator
Adult ESL classroom volunteers are the best! They answer questions, give learners feedback and support, provide speaking practice, encouragement, and help keep teachers sane. New classroom volunteers are hungry to jump in and help, but sometimes aren't sure where to start.
To get new classroom volunteers started off on the right foot, Minnesota Literacy Council has updated their free online training course for adult ESL classroom volunteers. The new course, Volunteer in the Adult ESL Classroom provides a clear and engaging introduction to the knowledge and skills that classroom volunteers will need to support adult ESL learners.
Course Objectives: By the end of this course volunteers will be able to…
Explain the role that culture plays in their own life as well as the lives of ESL learners
Name communication strategies that will help them be successful when working in the ESL classroom
Help learners understand new vocabulary
Respond appropriately to learner errors
Float effectively during classroom activities
Volunteer in the Adult ESL Classroom contains a variety of audio tracks, videos, readings, and quizzes to help volunteers become familiar with the content and track their own learning. The quizzes are in multiple formats, including multiple choice, true/false, short answer, and short essay.
At the end of the course, if a volunteer has completed all of the content modules, they will be able to download a course completion certificate. The volunteer may email or bring in to the learning center coordinator to show that they completed the course requirements. See the completion certificate above for an example of what to expect.
Volunteers may log in and out to complete the training at their own pace. The training will take approximately 3 hours to complete in its entirety. There is a time requirement for each section; if volunteers move through it too quickly, they may need to go back and spend more time on it.
All of the MN Literacy Council online courses can be found at https://literacymn.crhosts.cloud/.
Please note that this course does not take the place of the 12-hour ESL Pre-Service Training for adult ESL volunteers who will be generating contact hours.
Please feel free to let me know if you have any questions or feedback regarding the updated course and completion requirement. I hope that this online course will be helpful in training you classroom volunteers so that they can better support teachers and learners!
Andrea Echelberger, ESL Training Coordinator
Minnesota Literacy Council