FREE TEXT FREE TEXT FREE TEXT: Part 2
May 21, 2018
FREE TEXT FREE TEXT FREE TEXT: Part 2
Kristine Kelly, Literacy & ELA Coordinator
Welcome to Free Text: Part 2! Several weeks ago, I wrote an article about free text resources with K-12 grade level equivalency (GLE) text or text ranges above 4th GLE. See that article here.
This week, I've selected resources that target low through advanced level ELLs as well as a picture-only resource to stimulate critical thinking and even some creative writing! Finally, "Wonderopolis" is a source of great text for ELLs or native speakers of English that seeks to answer questions about topics that many people wonder about. I hope you will find something here that is new to you!
All of the following text sources are free, though some require a quick registration.
1. Bow Valley ESL Literacy Readers
https://centre.bowvalleycollege.ca/esl-literacy-readers
This free website includes forty theme-based readers for adult ESL literacy learners. Each selection includes a printable PDF and an audio version of the text. Levels A-D are in printable booklets with many photos for support. Levels D-G organize text in paragraphs with more complex language. Each level also includes a brief analysis of text complexity for that level, broken up into the categories of overall text features, structure and vocabulary. I've seen several examples of teachers including selections from the site with a variety of teacher-created activities including phonics, vocabulary, fluency, comprehension, writing, and speaking & listening activities. Lots of room for creativity with these texts as a foundation!
2. English Online
http://www.english-online.at/index.htm
The articles on this website are carefully chosen and rewritten for clearer understanding by English language learners. The average reading level for the articles falls into CCRS Level D, which is appropriate for Advanced ELLs. Each article has a vocabulary list at the end that includes a mix of academic and content-specific words. There are hundreds of articles available on this website with several topic areas focusing on STEM subjects as well as popular news categories.
3. Learning English
https://learningenglish.voanews.com
This site is a part of Voices of America. Texts are available in three levels from upper-beginning to advanced English. Each text has an audio component, many visuals and a list of target vocabulary. Texts have a print option, and all the materials here (besides some of the visuals) are public domain. Check out the "People in America" section that includes captioned videos telling engaging stories of a diverse group of Americans. Major categories of stories on the site include:
Arts & culture
Education
Health & lifestyle
Science & Technology
US History
4. The New York Times "What's Going on in This Picture?"
https://www.nytimes.com/column/learning-whats-going-on-in-this-picture
Don't forget that a single picture can be a "text"! On Monday of each week, The New York Times posts a picture as a prompt for critical thinking.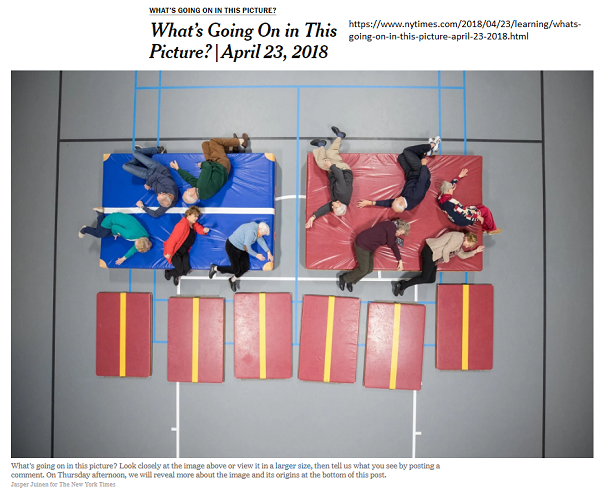 Students can engage in a discussion about what is happening in the picture and why. Then students can view comments other students are making about the picture to prompt additional lines of thinking. On Thursdays, the Times reveals the source of the picture and an explanation of what is actually happening in the picture. These pictures can work for multiple levels of students and can serve as good writing prompts once the students have had time to discuss their initial thinking.
5. Wonderopolis
The focus of this website is on exploring interesting questions that people "wonder" about in multiple content areas. Though the website looks targeted to kids, the informational texts are good. The text levels seem to be around a 5th-7th GLE (High CCRS Level C – Level D). You will need to create your own text-dependent questions and standards-aligned activities, but many texts have additional activities and links at the end. There is audio provided, clickable vocabulary definitions when online, and a lot of very high-interest text to choose from under the tab "Explore Wonders." Printable PDFs are available. My academic literacy class (including advanced ELLs) enjoy these texts because the topics cater to their inquisitive minds!
As I said in Part 1, a good text is the basis of a great CCRS ELA lesson and can lead to work with reading, writing, language and speaking and listening standards in numerous activities. Don't be afraid to spend time working deeply with one text rather than spending just a bit of time with multiple texts. The CCRS math folks say to delve an inch wide and a mile deep, so dig in to these sites and see what you find! If you have any favorites you'd like me to highlight in Part 3, please email me at kkelly01@hamline.edu.
Kristine Kelly, Literacy & ELA Coordinator
ATLAS