Gaining Confidence in English: Volunteer Coaches Make the Difference on Skype
May 31, 2015
Gaining Confidence in English: Volunteer Coaches Make the Difference on Skype
Susan Wetenkamp-Brandt, Educational Technology Manager
This spring I had the pleasure of speaking with Anne Glassman from the Lakeville Area Learning Center, and her lead volunteer Angie Farrell, about their Skype Coaching program. This innovative program matches volunteer tutors with adult English learners for one-to-one coaching in English via Skype, an Internet-based video calling service. Its primary purposes are to give English learners more opportunities to practice speaking and listening skills and to gain confidence using English in real-life contexts. I wanted to know more about how the program worked and how other ABE practitioners could take what they have done and replicate it elsewhere, so I sat down for a chat (on Skype!) with Anne and Angie to get the details. Here's what they had to say.
How does the program work?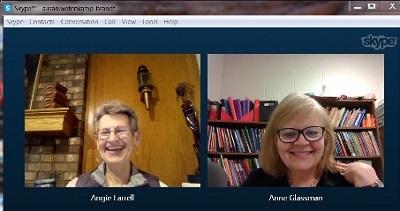 Angie matches each interested learner with a volunteer tutor. Each learner has one specific tutor to work with, so that they can build a relationship over time. An effort is made to match the skills and interests of learners and tutors, and more experienced tutors are matched with less-skilled learners. A minimum of one scheduled meeting per week is required from learners who want to participate. Tutors (referred to as Coaches) and learners set their own schedule, but consistency is key. Participation is tied to active enrollment in a regular (face-to-face) class. Skype Coaching is an enrichment activity, and is not available as a stand-alone class.
What was the inspiration for this project?
The students needed it! In particular, it started with one learner who began attending nursing school after a couple years in ABE. She was told that she could not continue in her nursing program because her English was too poor. She needed a tutor to improve her spoken English. Angie, a volunteer in the ABE program, offered to work with her, but could not meet in person. She suggested meeting on Skype. It was so easy (in terms of time commitments) that it made so much sense. They began working on workplace dialogues, such as describing a problem or asking for time off. Soon, the learner's English improved enough for her to return to her nursing program. Angie and Anne saw the potential to expand this service to more English learners, and the Skype Coaching program was born.
What has been challenging about this project?
Technology issues were a major challenge, especially at first. Anne wanted to train her volunteers how to use Skype in the computer lab at the school building, but found out that they were not allowed to install Skype at all – the district did not allow it. This remains true to this day! Volunteers who want to help learners install Skype on their personal laptops need to go off-site to a café in order to download the program. Furthermore, some interested learners don't have computers, or good enough computers, and many lack digital literacy skills. The coach may need to help the learner understand how to open an attachment, move between multiple windows, etc. This requires complex technology language that the learners may not know yet. Of course, it's a powerful way to develop digital literacy skills, if the learners and coaches have the patience for it.
As with any one-to-one tutoring program, scheduling and finding a good match between learners and coaches is always an issue. Recruiting volunteers who are willing to try something new and different can also be a challenge. Anne sometimes recruits classroom volunteers who are no longer able to stay in the classroom due to schedule changes. She has also had success with college service learning students.
What benefits have you seen for learners and tutors?
This has been an excellent way for learners to see their development in English and build confidence. The biggest benefit for learners is increased confidence in their ability to navigate the culture and interact with Americans. Learners and tutors often spend time talking about daily living activities, like where and how to get your oil changed or advice on finding a home. It is also very effective for practicing job search and interview skills, as well as on-the-job language, and learning how to fit in at work in America.
For the coaches, it's a FUN cross-cultural exchange. Because coaching is done from home on Skype, no one needs to drive anywhere, which is especially an advantage in the winter and in evenings. It's very convenient for both learners and volunteers.
What advice do you have for other ABE programs that might want to start a Skype Coaching program?
Do it! It's time efficient and cost effective. If you don't have enough students to do a whole class, you can easily do a small group. In fact, it's a good idea to start small, and work out your procedures and systems before rolling it out for a larger number of tutors and learners.
A good solid training and orientation for both coaches and learners is very helpful. Approximately 30% of Anne and Angie's coaches have never used Skype before volunteering for this program, so training is really important. It's also nice to get the volunteers together in a group now and then, since they all work solo and from home. For many, this is their only tutor role, so they need opportunities to feel connected to the ABE program.
Volunteers attend the 12-hour ESL pre-service training with the Minnesota Literacy Council, which is required of all ABE volunteers who work with learners without teacher supervision. Under the current state Distance Learning policy, the ABE program can count contact hours for time the coaches spend online with learners. In order to track hours, Anne has created a Google form that the volunteer completes after every session with a learner. The form also gives the volunteer a chance to ask Anne a question or just inform her about how things are going.
After speaking with Anne and Angie, I really got the feeling that the Skype Coaching program at the Lakeville Area Learning Center is a case of "back to the future." My first role in ABE in the late 1990s was as a one-to-one volunteer ESL tutor. One-to-one tutoring programs have become rare in ABE these days, largely because of the logistical difficulties of running such a program. But with the ease and efficiency of meeting remotely via Skype, ABE programs could find themselves offering this service again. By leveraging technology and volunteers, ABE programs can expand learners' opportunities to practice English and make connections in their community far beyond the classroom.
Susan Wetenkamp-Brandt, Educational Technology Manager
Minnesota Literacy Council