Help Students Get Their "Foot in the Door" by Creating Great Employer Partnerships

February 10, 2020
Help Students Get Their "Foot in the Door" by Creating Great Employer Partnerships
Lynn Thompson, Hospitality Program Manager and Instructor
Besides the chance to teach ELLs what the idiom "foot in the door" means, creating employer partners has many great benefits for your students and your ABE program, as well as the employers in your community.
Complicated applications, hard to understand phone interviews, US employers who are not used to talking with English language learners, and impossibly long hiring processes are just some of the barriers our students face when trying to find a job in the US.  By connecting with employers, ABE providers can help to advocate for our students, speed up the job application process, and help them navigate the new workplaces they have found themselves in.
Employers help to educate students and inform curriculum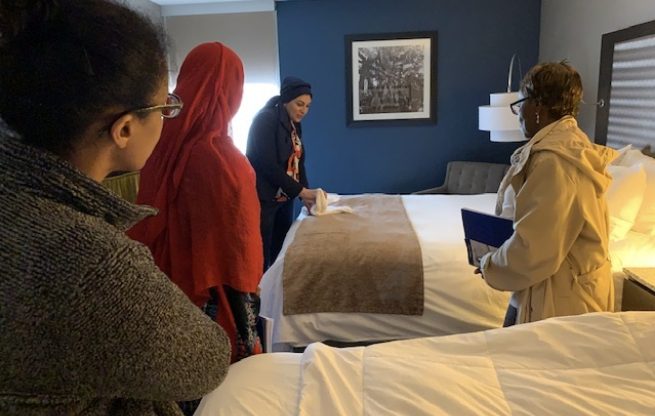 In the training programs at International Institute of Minnesota, some of the highlights for our students are the interactions with employers. This interaction could be a visit to the company location for a tour and information session, or a classroom visit in which a hiring manager joins us to do mock interviews.  It boosts their confidence as they gain experience interacting with employers.  It also helps them to discover possibilities for different kinds of jobs that they can have, and the opportunities that they have for growth in a particular field.  Employer partnerships have also allowed our Supervising and Leadership students to complete a Supervisor shadowing experience as part of their final project.  Students are connected with a supervisor at a local employer and are allowed to see first-hand what the job entails.  This is invaluable experience that helps to connect the classroom learning with real-life experience.

Visiting a worksite in person and having conversations with hiring managers and supervisors helps us, as educators, understand the workplace that we are preparing students to enter.  We have better informed curriculum and classroom activities as a result.  A recent graduate of our Dietary Aide training program wrote to us after she started her new job, explaining how the training she received made starting the new job easier for her:
"At work they have trained me as a cook and given me a chef uniform and cap! I am in charge of breakfast for my building. I do all the oatmeal, pancakes and scrambled eggs for all the servers to take to their stations. All according to correct temperatures! I also make sure all freezers, fridges and ovens are at the right temperatures. Then I take orders from the dining hall tickets for over easy eggs, sunny side up, poached eggs, sausage, bacon. It is going well. Because of the training I got from you it was easy for me to do it." – Rose
Every workplace is a little different, and hiring trends are always changing. Our relationships with employers help us to better adapt the classes we are teaching to meet the employer demand.
All Employers are not Good Employers
Connecting your students to employers is a great benefit to employers.  In the current job market, employers are looking for ways to attract and retain employees and are desperate for help.  One employer reported to us that 75% of people they offer interviews to, do not show up.  We help to make sure our students get to the interview and are prepared.  Employers know they can also call us if they are having trouble explaining something to a student during training.
With such a high level of employer demand, it is good to set up criteria for who you want to be partners with.  There are employers that exceed our expectations, and some that we would not feel comfortable sending our learners to. Don't be afraid to ask questions to ensure that you are recommending your students to a work environment that will be supportive and not discriminatory.  Setting up a site visit to see the workplace for yourself is a great first step in assessing an employer.
Key Questions to ask employers:
What is the application process?
What is your training and orientation process?
What English skills and abilities do employees need?
Are your shift start and end times flexible?
What are you looking for in an employee?
Are you on a bus line?
What is your base pay?
How often do you give raises?
What opportunities for growth do you have?
Warning signs of difficult to work with employers
Discriminatory questions on applications or in interviews
Laborious application and onboarding process
Expect you to do onboarding or training with student
Little to no effort in making training accessible for English language learners
Over promise on their flexibility and are not able to follow through
 Maintaining Employer Relationships
Invite the employers to participate in classroom activities like mock interviews. We also have an annual job fair where we invite employers to come in and interact with our students.
Maintain a database of employers. This is crucial to staying on top of who to contact and where to send students. Keep track of information like; hiring manager contact info, application process, shift times, bus routes, etc.
Send regular email updates to your employer partners so they know what is happening in your program.
Create a handout or a brochure that clearly explains your role and your program, so that expectations are clear from the start.
When you do have a good relationship with an employer you are able to sidestep a lot of the barriers and miscommunication that keep our students out of the work force and away from quality jobs.  When we have students with special needs or extenuating circumstances, we know the employers we can send them to that will be understanding and flexible.

Lynn Thompson, Hospitality Program Manager and Instructor
International Institute of Minnesota