Honor Your Students, Volunteers and Community Partners with a Statewide Award!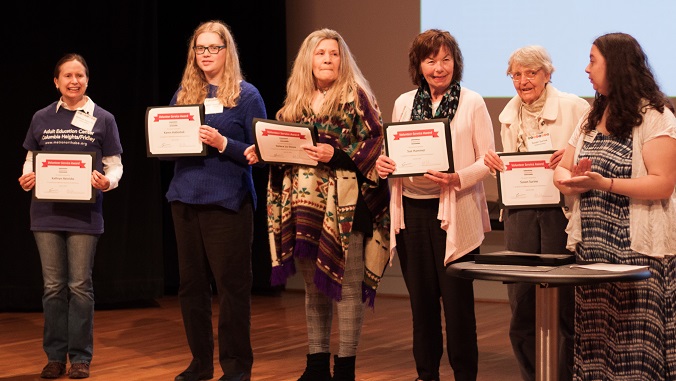 March 9, 2020
Honor Your Students, Volunteers and Community Partners with a Statewide Award!
Wendy Roberts, Volunteer Outreach and Hotline Manager
We are excited to announce that nomination forms are open for Literacy Minnesota's annual Adult Basic Education (ABE) awards event. The awards ceremony (and the annual student reading from the Journeys Anthology of Adult Student Writing that follows) will take place again at the Minnesota History Center, 345 W Kellogg Blvd, Saint Paul. All nominations are due Friday, April 3, 2020. Nomination forms can be accessed at https://www.literacymn.org/literacy-minnesota-annual-awards.
Outstanding Learner Awards are for students who have made unique contributions to adult literacy or achieved remarkable learning gains. The top two Outstanding Learner recipients will be chosen to receive a $250 Lucille Fisher Award. This special recognition is offered in memory of Lucille Fischer, who was a beloved ABE teacher and the first instructional supervisor for the St. Paul Public Schools ABE/GED program in 1970. Under Lucy's leadership, St. Paul became the first program in Minnesota to hold a GED graduation ceremony with caps and gowns. Lucy was also a founding member of the former professional organization, Minnesota Association for Continuing Adult Education (MACAE).
Literacy Minnesota Thomas M. Kraemer Memorial Education Grant Fund is intended to assist ABE learners in their pursuit of further education. Awards range from $250 – $750. Thomas M. Kraemer served as the President of Literacy Minnesota's Board of Directors from January 1994 until his accidental and untimely death in August 1995. In recognition of Tom Kraemer's leadership and his commitment to lifelong learning, this education grant fund has been established in his memory.
Outstanding Volunteer Awards are for volunteers who have demonstrated exceptional commitment and creativity through their involvement in adult literacy.
Volunteer Service Hour Awards are for volunteers who have served 1,000 hours or more.
Community Partnership Awards are for organizations that have supported or collaborated with adult literacy programs to provide enhanced learning opportunities for students.
A committee of Literacy Minnesota staff and board members, along with volunteer coordinators from partner ABE programs, will choose awardees. Kraemer Grant recipients will be chosen by a committee of donors and advisors who oversee the Kraemer Fund. Recipients and their nominators will be notified of the committee's decisions by email in early May and awards will be presented June 2, 2020 in the 3M Auditorium at the Minnesota History Center, before the Journeys student readings. Look for more information about this event to come.
We look forward to celebrating the accomplishments of volunteers, learners and community partners in adult education with you!
Questions? Contact Wendy at wroberts@literacymn.org or 651-251-9063.
Originally published 2/17/20
Wendy Roberts, Volunteer Outreach and Hotline Manager
Literacy Minnesota