Introducing the Minnesota Adult Education PD Catalog!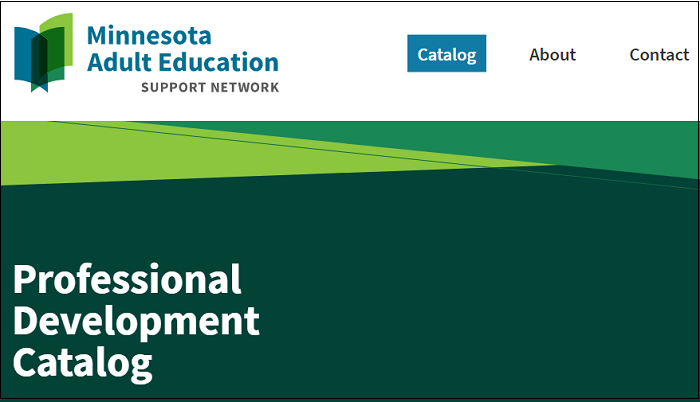 March 9, 2020
Introducing the Minnesota Adult Education PD Catalog!
Marisa Squadrito Geisler, ATLAS Operations Coordinator
Astrid Liden, ABE Professional Development Specialist
For the past several months, a dedicated team of Minnesota Adult Education Support Network providers has been hard at work creating a new professional development (PD) planning tool just for you: the new Minnesota Adult Education PD Catalog!
This online catalog provides an overview of all MN Adult Education PD activities in one convenient, searchable place. Here you will find brief descriptions of all PD offerings currently provided by the MN Adult Education Support Network, as well as links to more information. You can get there directly at mnpdcatalog.org, or through the MN Adult Ed page in the top menu of the ATLAS website.
To narrow down your results, you can refine your search by Content Area, Format, Audience, and/or Provider – as shown below, where we're looking for ESL trainings available by request, targeted at instructors, and provided by Literacy Minnesota:

How does the PD Catalog differ from the Events Calendar?
Great question! The Events Calendar provides logistical details for activities that have been scheduled; it tells you when and where they will take place, how to register, what the relevant travel arrangements and reimbursement procedures are, and so on.
By contrast, the PD Catalog provides summary information about all the PD opportunities offered by the Support Network, regardless of whether they have been scheduled, for planning purposes. When an upcoming date or timeframe is known, it is listed, but many of the activities in the Catalog have not yet been scheduled. Many can be provided to you by request – such as study circles and workshops – and still others are available on an ongoing basis – such as online courses and networking groups.
A handy way to differentiate is to remember back to your college days…There was the BIG course catalog, full of everything offered at the institution ever, and then each semester you picked up a smaller, more specific course schedule, where you looked to find what was available right away for registration.  Same goes for the PD Catalog as compared to the Events Calendar!
Let us know what you think!
So take a spin through the PD Catalog, and use the form on the Contact page to let us know what you think! It is our hope that you will find this to be a powerful and useful tool for planning professional development for your program and yourself.
Brought to you by the Minnesota Adult Education Support Network:
ATLAS | Literacy Action Network | Literacy Minnesota | Minnesota Association of Workforce Boards | PANDA – MN ABE Disability Specialists | Southwest Adult Basic Education
Marisa Squadrito Geisler, ATLAS Operations Coordinator
ATLAS
Astrid Liden, ABE Professional Development Specialist
Minnesota Department of Education