Journeys Anthology: Call for Submissions!
October 5, 2020
Journeys Anthology: Call for Submissions!
Kelly Rynda, Hotline and Volunteer Support Specialist
"To be able to tell my story means a lot. It means learning. It means a lot of people are going to learn from my story and I am learning from other people's story." That's what one ABE learner has to say about publishing his story in Journeys, the anthology of adult student writing published annually by Literacy Minnesota.
This fall, we invite your learners to share their voices and submit their original stories and art for publication in the 2021 edition of Journeys. Friday, December 18 is the deadline for this year's submissions.
The Journeys submissions webform is now open and entries are being accepted throughout the fall. We encourage you to work with your learners this fall on their Journeys writing submissions and help them complete their entries no later than December 18. The new book will be available in the spring of 2021.
Continuing this year: Letters About Literature
Through a partnership with the Friends of the St. Paul Public Library, we invite your learners to submit a written piece on a special theme, called Letters About Literature. It is an opportunity for learners to select and read a piece of literature, reflect on it, and write a personal letter to the author explaining how it changed their views of the world and/or themselves. Journeys submissions with this theme will be highlighted in a special chapter of the anthology, as well as submitted to the official Letters About Literature contest, which is sponsored by the Friends of the St. Paul Public Library. Below is an example of one of these personal letters: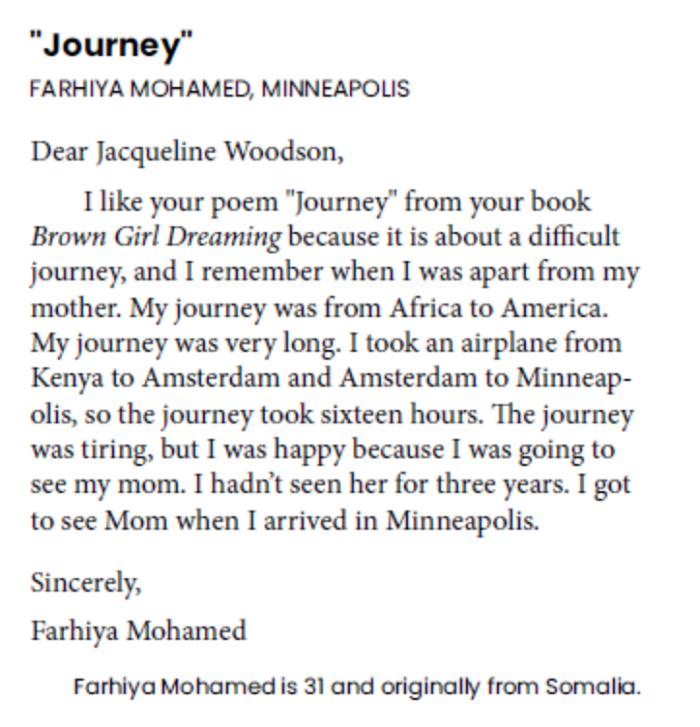 New this year: Black Literacy Matters
Black Literacy Matters, a new companion to Journeys, is now accepting submissions. Black Literacy Matters creates a space for Black voices to be published and heard, celebrates the creativity and diversity of Black culture and lifts up the narratives and lived experience of Black Minnesotans. Like Journeys, Black Literacy Matters will function as both platform and teaching tool, with accompanying discussion guides and classroom resources for the Adult Basic Education (ABE) community and beyond. The inaugural edition of Black Literacy Matters will be released in May 2021 – with sneak previews and a special event in February, in honor of Black History Month. Learn more and submit an entry.
New for fall: Journeys curriculum unit updated with remote classroom ideas!
We've updated our Journeys curriculum unit to include activity modifications for the remote classroom. We hope you'll take advantage of this resource in your virtual classrooms this fall! Did you know that Journeys contains an accompanying curriculum unit geared toward high-intermediate to advanced ESL learners? The learning objectives contained in the curriculum are aligned with the College and Career Readiness Standards (CCRS) and the Transitions Integrations Framework (TIF). Unit highlights:

Aligned with CASAS and TIF standards
Updated for COVID-19 with activity modifications for remote instruction
Written for High Intermediate to Advanced ESL learners (CASAS scores 211-235)
8 cumulative lesson plans, each ~1 to 1.5 hours long
Includes ready-to-use activities
Intended to be adapted to your unique classroom settings—whether in-person or virtual!
Purchase Journeys 2020 as a PDF ($11) to receive the updated curriculum unit including the virtual learning activity modifications. Journeys 2020 is also available in print ($14, or $11 when you order 5+ copies).
Miss our poster session at Summer Institute?
You can still watch the video presentation which goes over the information above!
Miss the virtual Journeys Readings in June?
It's not too late! Visit our website to see videos of 20+ Journeys 2020 authors reading their original stories and get inspired for Journeys 2021!
Submit your learners' work!
Review the Journeys 2021 Submission Guidelines
Consider participating in this year's special theme, "Letters About Literature"
Prepare to submit: view the Preview of Submission Fields
A confirmation email for each submission will be sent to the teacher or coordinator's email. Please review each confirmation for accuracy.
Questions? Contact Kelly at krynda@literacymn.org, or 651-251-9074.
About Journeys
In its 32nd year, Journeys showcases short written pieces by Adult Basic Education learners from every corner of Minnesota. Journeys is a book of stories. Within its pages, you'll find memories, poems, art, tall tales and everything in between. These stories share the journeys and perspectives of adult literacy students enrolled in reading, English as a Second Language, GED, and basic skills classes across the state of Minnesota.
Kelly Rynda, Hotline and Volunteer Support Specialist
Literacy Minnesota