Language Interpreter: Potential Career Pathway for Our Learners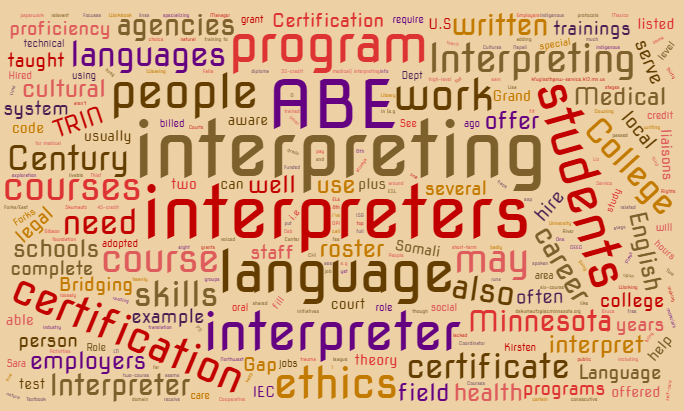 March 13, 2020
Language Interpreter: Potential Career Pathway for Our Learners
Liz Andress, Adult Career Pathways Consultant
Language interpreter seems like a natural career pathway to explore for ABE learners who come into our program speaking their first language and often several other languages while building proficiency in English.  ATLAS has compiled information about language interpreter careers, ways Minnesota ABE programs are already involved with interpreter career pathway programs, crucial information for a program exploring interpreter pathways, and resources available for use in the field.  This article draws from that 8-page compilation available in the ATLAS Adult Career Pathways online resource library.
There is also a clear need for language interpreters across the state.  An example from the field:  Kirsten Fuglseth, ABE coordinator for the Northwest Service Cooperative Working, has had several employers in the Grand Forks/East Grand Forks area express a dire need for trained interpreters, especially in the Somali and Nepali languages.  These organizations include healthcare facilities, social service agencies and other businesses.  Employers have access to language lines, but this approach is not meeting their needs.  It's been a long and winding road to find a way to address this need in the region.  Our hope is that the compiled information from multiple sources will assist any of you exploring a potential role in interpreter pathway programs.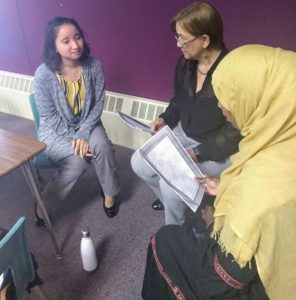 Opportunities for ABE
An ABE program could partner with providers of Community Interpreter and/or Bridging the Gap 40-hour trainings.  This could mean providing a bridge course to prepare learners for success in the fast-paced, rigorous regular trainings and/or an integrated approach with an ABE ELL instructor co-teaching with an interpreter trainer to support the ABE learners.
An ABE program may explore partnership with your local/regional MN State schools. For example, Century College has offered an Intro to Interpreting course as a high school course in Minneapolis and may consider doing this with other partners.  They have done some distance learning partnerships with other community colleges.
ABE could partner with a local interpreting agency (see this example; they usually hire individuals as independent contractors) or other employers (e.g., medical providers) that hire interpreters directly.  Many offer training for their interpreters, generally far more practical and less academic than college programs.  Such a partnership may be more likely to result in employment for program completers than if they are being equipped as independent contractors.
Critical issues to consider
Post-secondary courses focus heavily on TRANSLATING (i.e. written language) in addition to INTERPRETING (i.e. spoken language) and are quite academic in nature. Few ABE students are making the leap into those post-secondary certificate courses, primarily because of the written language piece.  (See example at Century College.)
ABE students may need additional study in their native language to build oral proficiency in technical (e.g., health, legal) language.
Even if people are doing "informal", community-based interpreting, it is important to have training. One is not helping the community if they interpret inaccurately or inappropriately.
Employer engagement is important in the development of any local interpreter career pathway.
Interpreter work can be sporadic; rarely is it regular, full-time employment/income. Thus, it may not fit well with career pathways goals of livable wage jobs.
Preparing ABE students to work as interpreters and preparing them to work in jobs where bilingual skill is a preferred/required qualification are different things.  Be clear which is the goal.
Certification
There is no single certification test or process for interpreters, but rather different expectations and practices within different areas of interpreting (e.g. medical or legal interpreting).  Lacking legislation, the field is currently very loosely regulated (with the exception of legal interpreting).  Meanwhile, many agencies and most medical providers have adopted some type of minimum training requirement, usually Community Interpreter or Bridging the Gap.
For interpreting, Language Testing International (LTI), the testing company that works with the American Council on the Teaching of Foreign Languages (ACTFL), can provide certification for more than 120 languages ($140 for a speaking-only online proctored certification exam).  Other tests (higher fees) are available for multiple skills (speaking, writing).  See https://www.languagetesting.com/.
Medical interpreters are only considered certified if they take and pass certain exams.  There are currently only two nationally recognized certification exams.  These are voluntary and only available in a select number of languages.
There is a national code of ethics for health care interpreters that many local hospitals and some interpreting agencies have adopted as their standard.  Anyone who wants to interpret needs to study and be aware of professional ethics.
Minnesota ABE programs with interpreter programs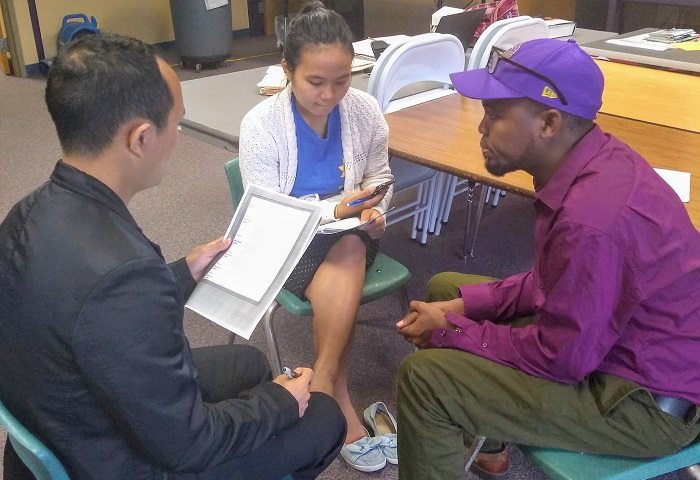 The Karen Organization of Minnesota (KOM), in a pathway programs funded with a DEED Pathways to Prosperity grant, partners with Roseville ABE, Weaving Cultures, and Century College to offer an interpreter training to students who are testing at a 6th to 8th grade reading level.  Their preliminary curriculum is available in the ATLAS online resource library.  Lisa Gibson at KOM (lgibson@mnkaren.org) is happy to talk with MN ABE colleagues about their experience to date.
In addition, the International Education Center (IEC) runs an interpreter bridge program for advanced-level ESL students, in partnership with the University of Minnesota.  The ABE  course introduces students to interpreting as a career, the code of ethics of the field, and some basic practice developing interpreting skills.
Career opportunities for ABE learners
Education: Positions in schools are usually called interpreter and cultural liaison.  Language skills are most often tested using the oral proficiency interview (OPI).  Schools increasingly hire staff specifically to serve as interpreters, translators and/or cultural liaisons.  They often have a small number of full-time interpreters for their most common languages and then have a list of on-call people.  They may also contract through interpreting agencies.
Courts: Certified court interpreters that have the top level certification are in their own league and keep busy.
Healthcare: Staff medical interpreters are hired directly by a hospital, full- or part-time.
Interpreting agencies: An individual might be affiliated with several interpreting agencies.  Gigs may be only a few hours at a time, resulting in an unpredictable schedule and workload.  Most work is in medical settings, such as going to doctor appointments with patients; may also work in schools.  Some people interpret as a side-job or do it to contribute to their community.
Moving forward
ABE programs in areas with significant immigrant and refugee populations are encouraged to engage with local employers to explore the need for trained language interpreters, and/or to connect with existing interpreter training programs to offer ABE partnership to increase student success.
If your program has done work with language interpreter pathways, please share your experience and materials to be added to the ATLAS online library resources, by contacting Liz Andress at liz@solbrack.com. Good luck!
Liz Andress, Adult Career Pathways Consultant
ATLAS