LearningExpress Library for ABE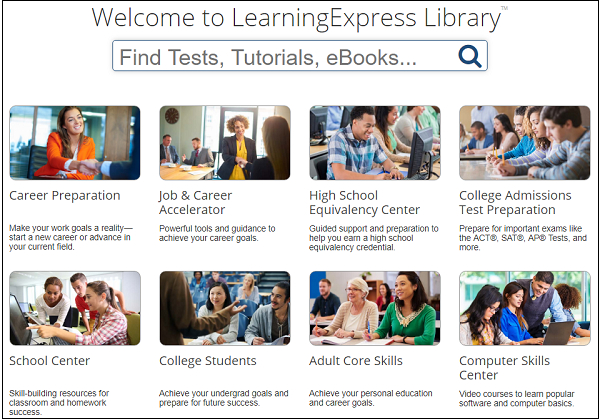 August 1, 2015
LearningExpress Library for ABE
Beth Staats, Librarian Reference Outreach & Instruction
You may know about the test prep material in LearningExpress Library or even the job and career information and assistance. But did you know about the learning material available in the Adult Core Skills Center of LearningExpress Library?
Each section listed below has subsections on learning and reviewing your skills, practicing your skills, and a collection of eBooks:
Build Your Math Skills
Become a Better Reader
Improve Your Writing, Speaking, & Grammar
Additionally, there is a section titled Become a U.S. Citizen. This section contains subsections with citizenship practice tests and eBooks. There is also information on obtaining a green card. These subsections are available in English and Spanish.
LearningExpress Library contains nearly 1,000 online tutorials, practice tests, and e-books. It covers job search and workplace skills improvement, skill building in reading, writing, math, and basic science, career certification and licensure exam prep, college and grad school entrance test prep, GED test prep, and more.  LearningExpress Library contains the following centers:
The Adult Core Skills Center offers adults resources to improve their basic skills in reading, writing, and math, prepare for the GED test, or become a U.S. citizen.
The School Center contains resources to help students in elementary, middle, and high school prepare for important tests, get extra help with assignments, and boost their skills in important subjects.
The College Prep Center contains resources to achieve college preparation goals, including SAT and ACT test preparation and practice.
The Career Center helps to prepare for a professional exam and improve workplace skills.
The High School Equivalency Center helps in preparing for the GED test, HiSET or TASC exams.
The Computer Skills Center offers video courses on how to use a computer. Use this Center to learn basics of computers, from searching the Internet to using popular programs for word processing, creating spreadsheets and databases, implementing design, and more.
The Job & Career Accelerator is a tool to find a new job or pursue a career in a new industry, create a resume, write a cover letter or interview follow-up letter.
The College Center helps to strengthen academic skills and prepare for placement tests and graduate school entrance exams.
If you would like to learn more about LearningExpress Library, which is part of ELM, please contact Beth Staats, with Minitex Reference Outreach & Instruction, at at fried004@umn.edu or 612-624-7873. Beth offers in-person or remote instructional sessions on LearningExpress Library or any of the other ELM resources at no cost. Beth is hoping to partner and collaborate with ABE organizations in the state in order to spread the word and educate people on LearningExpress Library, which is funded by your local library or school media center, , and State Library Services, the MN state library agency, with state appropriations to the Minnesota Office of Higher Education and the Minnesota Department of Education, and federal LSTA funds under the support of the Institute of Museum and Library Services.
Beth Staats, Librarian Reference Outreach & Instruction
Minitex