LINCS Online Video Discussion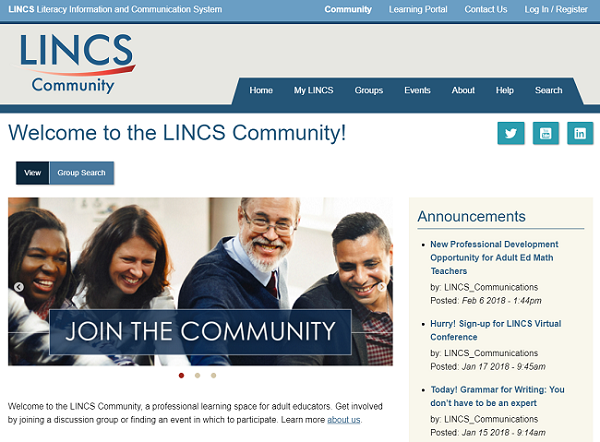 September 29, 2017
LINCS Online Video Discussion
Andrea Echelberger, ESL Training Coordinator
Minnesota teachers and their classroom practices will be featured on the LINCS Community ESL Discussion Board during the week of October 16-20, 2017. 
Join the discussion for the opportunity to connect with and learn from adult ESL colleagues all across the nation as you view and discuss videos of Minnesota teachers!
The LINCS Community is a virtual professional learning space for adult educators and stakeholders. Participants share and gain knowledge and resources in an online community of practice discussion groups. The LINCS Community offers a variety of groups on topics, such as career pathways, English language acquisition, and math and numeracy. That are important to the field of adult education. Each group is led by a subject matter expert who facilitates discussion and serves as a content expert.
If you are not already a member of LINCS, you can easily join at community.lincs.ed.gov. Once you've registered, click on Join the Community, then click on Discussion Groups, and then on Adult English Language Learners. You will receive confirmation of your LINCS membership in a day or two. Encourage your colleagues and volunteers to sign up as well!
Project Description
Observing other classroom teachers is a valuable professional development opportunity for ABE teachers. Through observations and reflection, teachers are able to learn new classroom management techniques, add to their toolbox of activities, and gain insight into their own teaching practices. However, finding time to schedule classroom observations tends to be a big challenge for many busy teachers.
In this online discussion, participants will have the opportunity to tap into the benefits of classroom observations through viewing videos of professional teachers leading adult ESL learners in a variety of learning activities and authentic classroom settings. The featured videos will be selected from a new online resource which is a collection of classroom activity videos which were developed by the MN Literacy Council for teachers and volunteer ESL tutors.
Participants will watch the videos on their own time, and engage in an online facilitated discussion on the LINCS listserv to discuss and reflect on the teaching practices and activities featured in the videos. A different video will be featured each day for a week, and guiding reflection questions will be posted along with each video. Participants will also be invited to try the activities featured in the videos out in their own classes, and discuss their experience with their online colleagues.
Watching other professional teachers in action will provide participants with different classroom activities to try with their own learners, get exposure to a variety of classroom management strategies that can be adapted for their own teaching situations, and the chance to reflect on personal teaching challenges and successes with online colleagues.
Andrea Echelberger, ESL Training Coordinator
Minnesota Literacy Council