Make Learning More Relevant with the Language & Numeracy Study Circle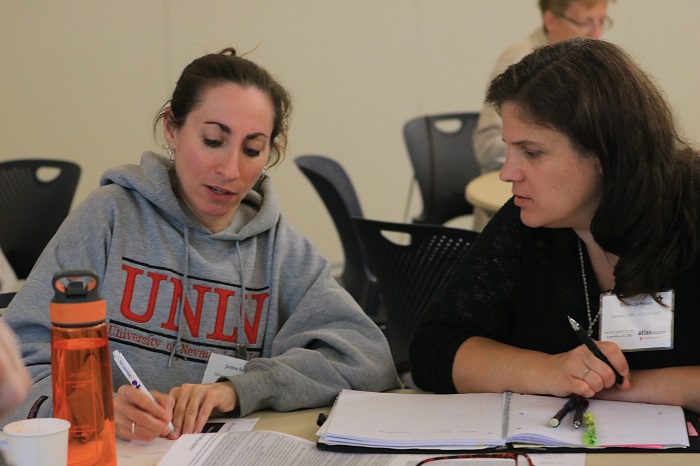 February 5, 2018
Make Learning More Relevant with the Language & Numeracy Study Circle
Danielle Legault, Instructor / ATLAS Study Circle Facilitator
ATLAS now offers four study circles for practitioners looking to delve more deeply into issues of relevance to their classroom practice. One of the newest study circles is Integrating Language and Numeracy.
Registrations for the upcoming study circle are due FRI. FEB. 9!
What is a study circle that integrates language and numeracy?
This study circle is a way for adult education teachers to discuss, study, and share how to effectively integrate numeracy and English language lessons. It is appropriate for teachers of all levels of learners who serve non-native speakers of English within Minnesota ABE, as teachers adapt tasks for their own levels and classrooms. We are looking for a group of teachers with varied teaching backgrounds—some with more math and some with more language.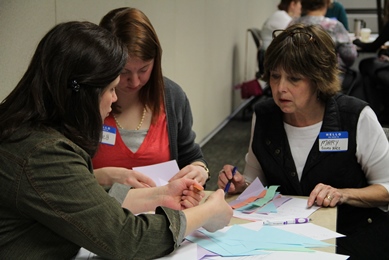 Study circle participants:
Explore their own place within the field of language and numeracy instruction and the perspectives of their cohort members.
Learn about and practice using the College & Career Readiness Standards for Adult Education (CCRS) to create meaningful numeracy progressions within the various contexts of an English language learning course.
Create or adapt classroom activities to teach numeracy concepts supported by intentional language instruction.
Are observed and do one observation of a cohort member with the purpose of practicing integrating language and numeracy and having the opportunity for feedback, reflection, and learning from one another.
What is the purpose of the language and numeracy study circle?
The purpose of this study circle is to advance Minnesota ABE teachers' ability to effectively and confidently integrate numeracy and English language instruction. The study circle was chosen as the professional development delivery method because it introduces research and related information as well as giving participants ample time for testing new ideas in the classroom, thinking, reflecting, and sharing ideas and experiences.
Integrating math and numeracy into English language classes is part of aligning our programs to the CCRS. You will also find that this practice makes learning more relevant to learners and opens new ways for them to engage in rich and meaningful activities and conversations.
What did we learn from the first numeracy circle?
In the post-evaluation of the first numeracy circle held in Spring 2017, all of the participants wrote that they were mostly able or completely able to meet the three main objectives listed below as a result of participating in the study circle:
Articulate a big-picture sense of numeracy and English learning in Adult Basic Education and identify their current role(s) in that work.
Use the instructional shifts of focus and coherence and the CCRS mathematics standards when selecting numeracy topics for an English language course.
Utilize rigor (conceptual understanding, procedural fluency, and application) and intentional language supports when developing or adapting classroom numeracy activities.
When asked what they found most useful, participants wrote that sharing and hearing about others' best practices, observing other teachers, and having group discussions about strategies and the standards were the most helpful parts of the study circle.
Don't miss the upcoming numeracy circle!
The next Integrating English and Numeracy Study Circle will be held at Hamline University from 2:00-5:00 pm, as follows:
Wed. Feb. 14
Wed. Feb. 28
Wed. Mar. 14
Registration is limited to 12 participants, so don't wait!
REGISTER NOW >>
For more information about the four study circles offered by ATLAS, visit the ESL page.
Originally published 1/16/18
Danielle Legault, Instructor / ATLAS Study Circle Facilitator
Minneapolis Adult Education