Managing Stress to Improve Learning: A Self-Management Resource

February 17, 2017
Managing Stress to Improve Learning: A Self-Management Resource
Stephanie Sommers, ACES Coordinator
ABE teachers understand very well that there is a difference between just setting a goal and being able to achieve it. The adults who walk through our doors all have the desire to learn something new and further their education, but so many things get in the way. Often, some of the biggest obstacles that our adult learners face are not academic, but social and emotional in nature.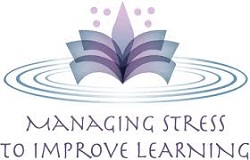 The Managing Stress to Improve Learning project by the New England Literacy Resource Center (NELRC) has an array of resources to help teachers create safe, stable classrooms and promote positive mental health and stress reduction techniques. The idea for the project was hatched in 2010 by World Education staff members who passionately believe that stress management leads to better learning.
This website is the newest resource added to the ACES resource library on the ATLAS website, under the TIF category of Self-Management.
Routines and Rituals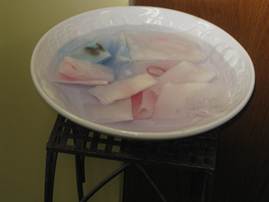 One collection of resources from the website that works particularly well with ACES is dedicated to Routines and Rituals that support stress reduction and mental health. One such routine is called the Letting Go Bowl.
It involves setting a large bowl of water near the classroom door next to strips of paper towels. As they enter the classroom, students take a moment to write down on one of the strips anything that is worrying them or holding them back from being focused and present in class that day. Then they place the strip in the bowl of water and symbolically wash that worry away. The Letting Go Bowl lesson plan and several others related to creating safe classroom spaces can be found on the website.
Math Anxiety
Another common issue for our adult learners is anxiety related to a particular academic subject, such as math. The Managing Stress to Improve Learning project has a section devoted to techniques for addressing Math Anxiety. In this section, a GED Math instructor shares some ideas he has used for helping his students feel more comfortable with math. One of his ideas is to invite students to write poems about math that explore their relationship with the subject. The poems allow students to write about feelings of anxiety, empowerment, and frustration. Some great example math poems that were written by adult learners are posted on the website.
Staff Development
To help programs assess how well they are doing with creating safe and stable learning environments, the project has developed a program and staff development tool. The tool, which can be found by navigating to the Self-Assessment section of the website, provides a helpful checklist for looking at things like the classroom environment, class policies and routines, classroom content, program policies, and staff development. It asks questions like, "Is there a collaboratively created list of guidelines/expectation for how students behave and treat each other in class, with specific examples?" Another question asks, "Are there predictable rituals/activities for starting and ending class to promote a stable and predictable environment?"
Additional Tools
Other great website features include an extensive collection of Tools grouped together by categories such as, "Stress, Trauma and the Brain" and "Expressive Arts and Well Being." Each section includes things like lesson ideas and templates for trying out the activities with your learners.
Visit the website today for ideas on how you can create a more safe and stable classroom tomorrow.
Stephanie Sommers, ACES Coordinator
ATLAS