Manipulatives Are a Fun and Engaging Way to Help ESL Students Learn! – Part 2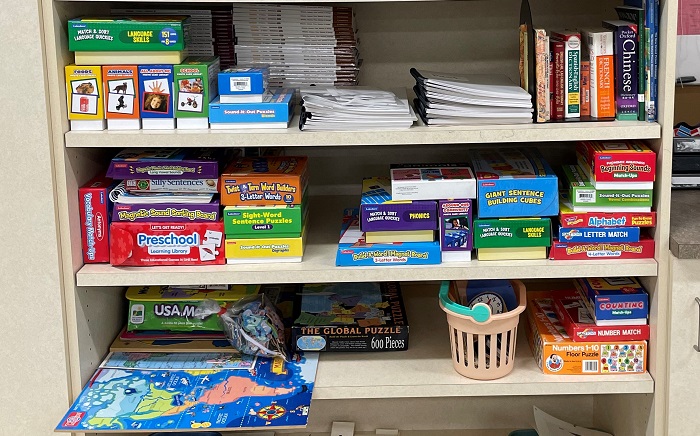 March 25, 2022
Manipulatives Are a Fun and Engaging Way to Help ESL Students Learn! – Part 2
Miriam Bosveld, Teacher and PANDA Consultant
Miriam Bosveld, a Level 1 ESL teacher at the Robbinsdale Adult Academic Program and a PANDA consultant, wrote the following article series about the relevance of using manipulatives in teaching her students. Using manipulatives is also supported in the Universal Design for Learning (UDL) free training that PANDA offers each year.
In Part 1 of this article, Miriam describes how manipulatives can enhance and reinforce learning.
Below, in Part 2 of this article, she discusses the ability of manipulatives to contribute to community building, stress reduction, and equity.
Community building
Manipulatives help to build community. Generally, we use manipulatives in pairs or small groups. Community is built by doing a shared task and communicating while doing so. Using manipulatives results in students asking questions, offering suggestions, and using polite words. When I listen to my students organize their spelling words into crosswords with letter tiles, I hear "Can I please have a B? or Thanks for the Y."
I believe that students communicating together in English is the best way for them to learn English. But, it's helpful to have some props. Physical materials relieve some of the pressure of listening and speaking. A task provides a purpose, requires less eye contact, and active hands can settle nerves.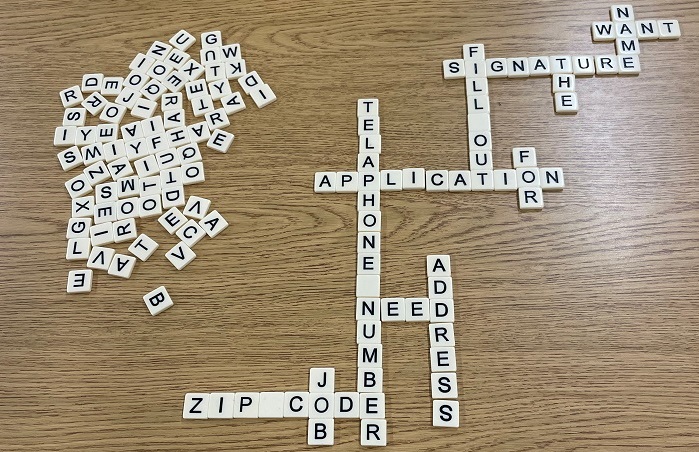 For example, during the Letter Tile/Crossword/Spelling Word activity, the students are often quiet but industrious. There's some conversation, but they mostly seem engaged in a group task. Everyone can participate. Some students are good at finding the letters. Others are good at figuring out how to make all the words connect. Manipulatives give opportunities for students to work in a group and show off their strengths.
You can also group students thoughtfully in a way that leads to community. If you know that a new student would benefit from someone explaining in Spanish, put that new student in the same group as your most helpful Spanish speaker. If you know that two students are both the mothers of three-year-old twins, put them in the same group. Maybe they'll get to know each other and will realize they have something in common.
My favorite role as a teacher is to be a facilitator. I truly believe that the students will learn more from solving problems together than me telling them the answers. But, I'm also a little bit of a control freak or an over-eager problem-solver.  For example, if I hear two students struggling to communicate, I often break in to help. Manipulatives and groups are helpful for me because I tend to step back and let the group do what it needs to do. Or, at the very least, since I can't be in two places at once, I'm only interfering with one group!
Stress reduction
Classrooms need to have a "good vibe."  There needs to be learning, productive struggle, and challenges, but there also needs to be a low-stress and relaxed atmosphere.
Lower-level students and students experiencing stress especially need some fun/relaxation/stress reduction. Manipulatives act as a natural brain break. Since manipulatives are often done in groups, just physically getting up and moving to a new table can be a break. Students can participate at the level they feel comfortable. Their participation can vary based on how they feel that day or how much they want to contribute.
For example, when my students are putting their spelling words into crosswords, some students immediately put individual words together. Other students start looking for letters. Others like to look for common letters so they can start to look for connection spots. Some students don't do anything except find an S when someone says, "We need an S." I had worried that some of my higher-level students might find this boring, but everyone seems engaged.
Equity
Manipulatives can be a tool for equity! Manipulatives can be an equalizer of all the participants in the classroom. Manipulatives can alleviate some of the power imbalance between the teacher and students. Any time teachers and students can laugh, there is less of a barrier between them.
For example, I have some vocabulary games: the English word is on the front of the card, but on the back, the word is listed in different languages. After students say the word in English, I attempt to say the word in Vietnamese, Spanish, Russian, and French. The students can't help but smile at my pronunciation. It helps students understand that learning a new language is hard. I'm not smarter because I'm the teacher. I just happen to know English.
Manipulatives can also help with power imbalances between students.  For example, during a whole-class discussion, the classroom leaders tend to be the most verbal and extroverted. Higher-level students in the room can be the first to answer questions. Manipulatives and small groups bring out different tendencies.  Some of my quiet students are very capable with their hands. There are different leaders when manipulatives are involved.
Finding manipulatives
Manipulatives don't have to be expensive. Paper, scissors, and a laminator are all you need. A love of garage sales and thrift stores also comes in handy. I buy anything that will give me more letter tiles. I'm also super happy whenever I find a geography puzzle.  However, a trip to Lakeshore might be in order, especially if you teach phonics and basic vocabulary. You will re-use these many times, and while games and vocabulary activities might seem pricey at the time, they will last for many years.
As more of us move into HyFlex teaching, how best to use manipulatives and how to create online manipulatives and manipulative modifications will be a challenge. However, enhancing lessons, creating room for productive struggle, supporting community and equity in the classroom, as well as having some fun will always be an ABE goal. Manipulatives support that goal.
---
Using manipulatives is also supported in the Universal Design for Learning (UDL) free training that PANDA offers each year. If you would like to read more about the UDL workshop, visit the PANDA website.
Miriam Bosveld, Teacher and PANDA Consultant
Robbinsdale Adult Academic Program/PANDA