Math Teachers: Time to Connect! Top 5 Reasons to Join MCTM
December 5, 2017
Math Teachers: Time to Connect! Top 5 Reasons to Join MCTM
Abby Roza, MNI A-Team Member
Patsy Egan, Director
Ever want to talk math, but have no math buddy? Want to tap the expertise of math education professionals across contexts, including K-12, college, and ABE? Read on!
There are so many math education professionals across the state, and YES, there is an organization that brings them together! MN ABE is making great strides in connecting with our math colleagues who work with college students, K-12 students, and of course our own ABE students. Allow us to offer you 5 top reasons to join MCTM, the Minnesota Council for Teachers of Mathematics.
1) Less alone and more together
Participation in MCTM is an opportunity to access the ideas of lots of great educators in your region, in Minnesota and across the country. This means more sharing of ideas and less reinventing of the wheel. In ABE, we have a fantastic culture of collaboration. It's high time we reach across contexts to connect with our colleagues who are teaching the same math CONTENT only to younger learners, or perhaps also to adults but in colleges or universities. Better instruction and more efficient use of teacher planning time comes from resource and idea sharing.
In addition, many of our students aspire to attend community colleges, and it makes sense to to connect with those teachers and know what our students should prepare for. Let's lend our ABE expertise and harness other math teachers' superpowers as we work to improve math instruction for ALL Minnesota family members!
2) In late spring, MCTM has a large and wonderful conference in Duluth
This annual conference offers dozens of great sessions including sessions about specific math learning activities, meeting math standards, and combining English language learning with math. Conference participants range from elementary teachers to professors at community colleges. And this year, we are working hard to establish an ABE strand at this conference! We are looking forward to being a more prevalent part of this vibrant math community gathering this coming May.
You can apply for a scholarship to attend here >>
NOTE: Even if you don't receive a scholarship, stay tuned for possible sponsorship for attendance (a big chunk of your registration fee, mileage, and hotel!) through ATLAS. Details are forthcoming in early spring!
TIP! Are you affiliated with a community college? Those who teach in 2-year college settings can attend the same conference through Minnesota Mathematical Association of Two-Year Colleges (MinnMATYC): www.minnMatyc.org (once updated for 2018) at a significant discount. More information about connecting with MinnMATYC will come in future newsletter articles, but don't wait! If you think you may qualify to be a part of MinnMATYC, check out their website today!
3) Affordable, or even FREE, Membership!
Membership to MCTM has two options: Affordable and Free.
You can sign up for a free e-membership or contribute $25 for a sustaining membership here >>
Becoming a member of MCTM means being part of Minnesota's math teaching community!
Read more about membership here >>
4) Mathbits Newsletter
A fabulous perk of membership is Mathbits, a small but mighty newsletter about math instruction in Minnesota that makes its way to you each month via email. You will find information for math instruction at all levels, leadership and professional development opportunities, current research and resources, and equity in math education. Archived versions of MathBits are available going back to the year 2000!
And here is a hand-picked taste of Mathbits for you to review: FIVE! 5 Images to Inspire Mathematical Discussion >>
5) Join your community!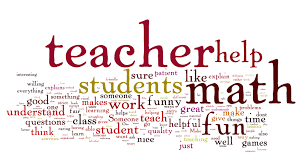 Minnesota is filled with thoughtful, creative people teaching math. You are one of them!
Being connected to many great teachers is inspiring and makes us stronger. Even if you identify as an ELL or ELA teacher first, and only think of yourself as a "teacher of math," you still belong here!
Every day someone in our community is wrestling with the same questions you are – How do I provide the best math instruction possible to my students? How can I create mathematicians? How can I do more with with the little time and resources I have? How can I teach math in a way that is different than I was taught? Join a community that believes sharing is caring!
Here are some of the many resources we've learned about via MCTM:
BONUS #6
Hey! You've made it through our Top 5 list, but the greatness doesn't stop here! This Top 5 list barely scratches the surface of the possibilities when ABE, K-12, and community college teachers of math get together. Who knows what magic could happen next?! Join us at the conference to find out!
Abby Roza, MNI A-Team Member
ATLAS
Patsy Egan, Director
ATLAS