MN ABE/ESL Teachers Find Success with Teaching Analogy Phonics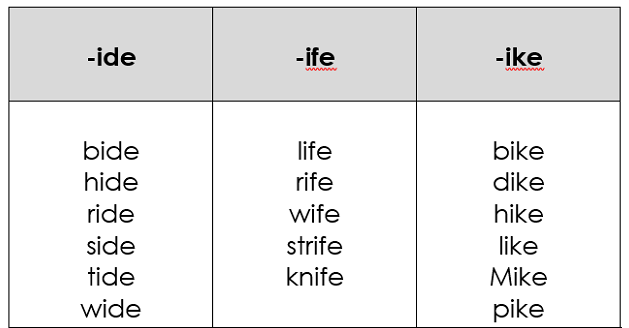 March 26, 2018
MN ABE/ESL Teachers Find Success with Teaching Analogy Phonics
Marn Frank, Literacy & STAR Coordinator
During the summer of 2015, I developed Teaching Analogy Phonics (TAP), an ATLAS resource providing MN ABE/ESL teachers with convincing background information, a lesson plan model and template, and many lists (over 100!) for teaching phonograms and word families. I introduced TAP in a previous newsletter and many FREE copies have been distributed.
In this article, I share successful use of TAP by two Beginning ESL teachers from Rosemount-Apple Valley-Eagan (RAVE), who participated in an Evidence-Based Reading Instruction (EBRI) study circle in the spring of 2017. Note: As needed, their contributions were revised to fit the newsletter format.
Barb Verville – phonograms combined with multi-sensory method and What's Next
Barb Verville used analogy phonics with students who had some first language literacy skills. She focused on 2-4 phonograms a week, beginning with the short a, i, and e patterns. For each pattern (-ab=cab, dab, fab, gab, jab, lab, nab, tab, etc.), she had students trace the letters (using a colored pencil), say the sounds, trace and say the phonogram, and write/read the words. Then she used What's Next (an ESL series authored by MN ABE instructor Lia Conklin, available through New Readers' Press) to supplement the sets of phonograms. Her lessons ranged from 30 to 45 minutes and were offered twice a week. A volunteer worked with other students on more challenging phonogram patterns. Both groups loved the lessons and saw value in them. They taped their word lists into a notebook for reference and review at school or home.
Barb has found it hard to find an approach that works for students with limited formal education. The multi-sensory method of seeing, hearing, tracing, and saying letters, sounds, phonograms, and word families helped them to learn and remember. It also became routine and increased their reading confidence. She plans to continue with analogy phonics lessons; hopefully, shorter in length and more frequent.
Pam Strawn – phonograms and word families combined with Story by Story
Pam Strawn combined analogy phonics with Story by Story (a contextual phonics series of short passages and word lists). Each student had a folder, notebook, and set of word family flashcards. She began each lesson by introducing a phonogram and word family that corresponded with a Story by Story passage. Students wrote each word family in their notebooks. Then they read and discussed the story and concluded with flashcard practice. Her lessons ranged from 45-50 minutes and were offered three times a week.
Pam's students found analogy phonics to be beneficial. They never complained about practicing the phonograms and word families. In fact, they often asked for clarification of other words that were familiar or similar. She liked having a ready-made story for each phonics lesson. She encourages other ESL teachers to try this combination; however, be prepared to provide additional practice for students at lower levels. Pam wants to continue with more frequent and consistent analogy phonics and fluency lessons.
Interested? Go to the Alphabetics page in the Reading resource library to download and print Teaching Analogy Phonics and to find access information for Story by Story.
Questions? Contact Marn Frank at mfrank06@hamline.edu

Originally published 12/5/17
Marn Frank, Literacy & STAR Coordinator
ATLAS