MN ABE in Action! A New CCRS Classroom Video Makes Its Debut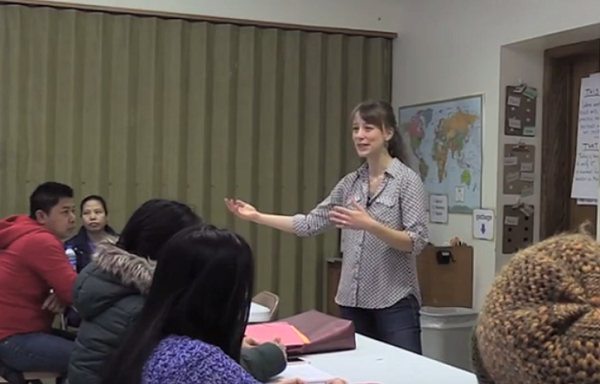 October 2, 2018
MN ABE in Action! A New CCRS Classroom Video Makes Its Debut
Kristine Kelly, Literacy & ELA Coordinator
Andrea Echelberger, ESL Training Coordinator
We like to say that if there is something to support ABE instruction that hasn't been created yet, MN ABE will make it happen! Continuing the amazing history of homegrown Minnesota resources, the Minnesota Literacy Council and ATLAS have responded to requests for videos with a project that will benefit all ABE teachers, no matter what level of ELA you may teach.
This video project began in response to the noticeable lack of materials – particularly videos featuring real learners and teachers – of CCRS in the ABE classroom. We'd all like to be able to observe other teachers who are implementing CCRS at similar levels, so the current available videos of native English-speaking or K-12 classroom videos can be challenging to apply to ABE situations, particularly low literacy ESL classes.
In the first of a series of three videos, we get to observe the classroom of Jessica Jones. Jessica has worked with adult learners at the Minnesota Literacy Council since 2004. She currently teaches intermediate/high intermediate ESL learners at the Open Door Learning Center on the east side of St. Paul.
The main CCR standard students are targeting is Reading Anchor 1, Level C (see if you can spot other Reading or Language standards!), through a lesson that requires students to:
Identify and highlight evidence that supports their answers to text-dependent inference questions as evidenced by their responses to the questions and highlighting marks in the text
Accurately quote or paraphrase specific evidence from the text as evidenced by small group and whole class discussions
Look for the following highlights as you view the video:
Instead of Jessica providing meanings for key vocabulary during pre-teaching, students productively struggle in small groups to discuss and define meanings on their own.
Jessica circulates around the room during activities to guide students to possible answers without giving them outright.
Students are actively annotating text by highlighting evidence and drawing arrows from the determiners this/that/these/those to the noun referenced.
Students are practicing academic language with their "vocabulary talk" sheets and by using sentence frames that Jessica provides to aid in discussion.
The students spend the majority of the class in the text!
No matter what level of ABE you teach or area you teach in (ESL, GED, Diploma, etc.), this video is worth watching because the scaffolding techniques Jessica uses (chunking the text, sentence frames, vocabulary support, small group work, guided questioning, contextualizing a grammar lesson to aid in comprehension) are valuable for every teacher to see and use!
This project is supported by the Minnesota Literacy Council and ATLAS, both part of your MN ABE Support Network. A professional video editor has been volunteering his time to produce the three videos, which will be released throughout the fall.
For the video link, go to mnliteracy.org/classroomvideos on the Minnesota Literacy Council website.
Kristine Kelly, Literacy & ELA Coordinator
ATLAS
Andrea Echelberger, ESL Training Coordinator
Minnesota Literacy Council