More Retired Minnesota ABE Manager Wisdom!
September 4, 2015
More Retired Minnesota ABE Manager Wisdom!
Marn Frank, Literacy & STAR Coordinator
Once again, a number of long-employed and experienced MN ABE managers retired over the past year. After hearing of their impending retirements "through the grapevine," I enlisted four of them to graciously participate in an email interview that included 10 questions. Then I incorporated their answers into last year's Retired ABE Manager Wisdom document, in which managers graciously agreed to share their accomplishments, frustrations, and hard-earned manager wisdom. MANY THANKS to these managers for generously sharing their time and experience with us!
Kevin Avise-Burnsville • Bonnie Herman-Moorhead • Britta Youmans-Rochester • Joan Krulc-AEOA • Janice Mino-Austin • Jim Nicholson-Willmar • Beth Tamminen-Duluth • Bev Mountain-Mankato • Kathy Simison-Detroit Lakes • Claudia Kinville-Dakota Prairie • Vicki Ostrom-Central MN, Cambridge • Julie Mischke-Willmar
What does this mean to me as an ABE manager (or coordinator, teacher)?If you are an ABE manager or coordinator, lead or classroom teacher, I think you will appreciate their collective wisdom, honesty, and humor. You might even want to print and post the one-page Retired ABE Manager Tips by your desk or work space! As you read the latest version, consider asking yourself:
What does this mean to my ABE program?
What does this mean to my ABE staff (or co-workers)?
---
Question 1: Describe your career in 3-5 words.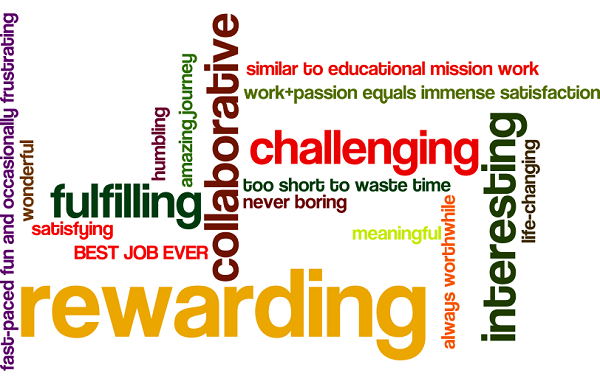 Question 2: What has been your greatest accomplishment?
One ABE manager mentioned winning the PEGASUS award and another as runner-up the same year, but still recognized as a Program of Excellence. For both managers, this award publicly confirmed their exceptional ABE programs and staff. Other individual accomplishments included: (1) watching students learn and achieve success, (2) mentoring staff to become accomplished in their jobs, (3) getting managed enrollment working in an ESL program, (4) initiating and continuing a GED graduation ceremony for over 20 years, (5) starting a county jail and paraprofessional program, (6) increasing the program budget from about $300,000 to over a million dollars, (7) working through the Program Improvement Process and not having to do it again, (8) initiating and coordinating the program's move to a MNSCU campus and collaborating with their staff and administration, (9) knowing adult learners who used ABE as a springboard to bigger and better things and seeing them do well in the community, and (10) seeing students fearfully enter the program, share their hopes and dreams, and walk away standing tall with an educational or personal success achieved.
Question 3: What has been your greatest frustration?
Budget issues:
•  Lack of budget control
•  Unknown budget amounts, which limit programming options
•  Limiting budget amounts, which reduce options for quality teachers (full-time positions and benefits)
•  Continually doing more with less of a budget
•  Accessing and using UFARS for financial or budget reports
Program advocacy and promotion:
•  Advocating ABE to outsiders OR advocating rural ABE differences to metro programs
•  Program promotion and marketing – never-ending, always necessary, but too easy to move to the bottom of the "to do" list
Accommodating and balancing the many changes and mandates in the world of ABE
Interacting with MnSCU:
•  Learning how to navigate the politically-charged atmosphere of the Minnesota State Colleges and Universities (MnSCU) system
•  Striving to build bridges to MnSCU and making very little progress
Student-related issues:
•  Dealing with the never-ending student barriers of childcare and transportation
•  Always needing to implement strategies for student retention
Lack of quality teacher evaluation tools and processes that provide constructive feedback and can result in more rigorous programming
Retired ABE Manager Tips
This is a summary of the managers' combined answers to the following questions:
What has worked and not worked for you?
What do you wish you had done differently?
What does every ABE manager need to know?
What do you wish you had known sooner?
Be connected and visible in your school district and community; remind local administrators, related service agencies, and potential outside funders of the importance of ABE services, teachers, and students.
Establish and foster relationships with your school district's VIPs, MDE-ABE staff, supplemental service providers, and other ABE program managers. Network (even if not natural) and share chocolate.
Follow the rules – even if you disagree. Make your opinions known and lobby for change, but still follow the rules.
Surround yourself with good people. Connect with ABE managers or coordinators – the greatest group of professionals you will every work with – and do not hesitate to ask for their support, advice, good ideas, guidance, clarification, assurance, comfort, and friendship.
Hire qualified staff, let them do their jobs, and watch your program grow. Do not micro-manage – it does not benefit you, your program, or your staff. Delegate often because teamwork leads to greater achievement.
Lead by example: Always keep the lines of communication open. Always keep everyone informed. Always listen to staff's ideas, insights, and concerns. Always give credit. Always say thank you.
Be friendly, curious, talk and listen to staff even when there is not a problem or crisis. Be aware of their different learning styles or personalities and try to balance their strengths and weaknesses.
Do not make promises that you cannot keep. Be honest with staff about what's doable, affordable, etc.
Attend and send staff to as much professional development as fiscally possible. Then ask them to share their learned knowledge and skills with others.
Interact with students often so that your managerial demands do not overshadow the purpose and importance of ABE in the lives of real people. If possible, do some teaching in the classroom.
Keep detailed notes of all phone calls and conversations. They will be valuable in more ways than you can imagine.
Gain access to and become adept at UFARS (financial system) and MARCS or MABE (reporting databases). Establish a daily, weekly, or monthly routine of viewing, checking, and updating.
Try to let go of your work-related stress and leave it behind every day. Being overly consumed by program, teacher, or student problems is not good for you or your work. The building (and challenges) will be there tomorrow.
After statewide ABE meetings or Summer Institute, BREATHE and give yourself time to process new mandates, initiatives, or expectations. Talk with YOUR staff, set clear goals, and figure out what will work best for YOUR program and YOUR students.
When driving to an ABE meeting, keep a life and work balance by noticing the vibrant fall leaves, sparkling snow and sky, and lush spring and summer foliage until you are nearly at your destination.
Try to be flexible; ABE is a constantly changing field. Take a few risks and go with confidence.
KEEP YOUR SENSE OF HUMOR. Laugh more than worry or cry. Eat more ice cream!
And finally, if you think you have seen it all, just you wait…
Marn Frank, Literacy & STAR Coordinator
ATLAS