Multisensory Mosaics Make a Statement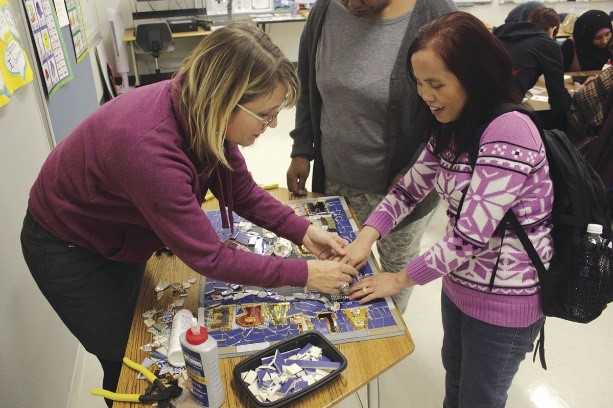 January 29, 2018
Multisensory Mosaics Make a Statement
Mosaic: a picture or pattern made from small pieces of glass, stone, or other materials.
Cultural mosaic: diverse elements forming a coherent whole.
– The English Oxford Living Dictionary, online (paraphrased)
Multisensory instruction (a Universal Design for Learning [UDL] technique) through visual, auditory, and kinesthetic pathways is beneficial to all students, including those with learning challenges, disabilities, and low literacy. Examining and creating art allows students to access content through multiple learning modalities.
In October and November 2017, a diverse group of Colleen Crossley's students studied heroes, events, and art from the early and modern civil rights movement. They considered the role of art in driving social change. Artistic images of inequality and cruelty, as well as hope and joy, broadened their insights into the struggle for social justice. Students made emotional connections as they read about civil rights and saw evidence of its impact through contemporaneous art and symbols.
In conjunction with the classroom activities, an experienced mosaic artist, Lisa Arnold, facilitated two projects. Students first worked together to create a community mosaic; later, each student designed and completed an individual piece. Prior to the classroom visits, Lisa and Colleen shared ideas and priorities; for example, it was important to Colleen that both pieces correlate to learning targets. Lisa proposed the idea for the students' community piece, and Colleen enthusiastically agreed. She brought artistic expertise and a sense of what could be accomplished in two 2-hour sessions!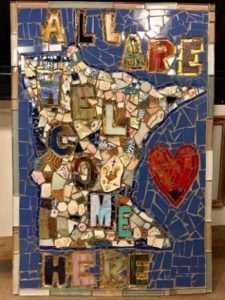 The completed community mosaic, shown here on the left and made in the shape of Minnesota, is surrounded by a sea of blue to represent the many lakes here. Broken plates make up the interior of the state, representing food and how it binds individuals, families, and communities together. A heart and the message:  "All Are Welcome Here" are also embedded, each letter outlined in gold.
This mosaic now hangs in our school's entryway and is one of the first things visitors see when they enter our doors. It sends a powerful message of acceptance and social change, reflecting the beautiful cultural mosaic that is our student body!
During the second visit, students created individual mosaics. Many depicted peace symbols; one student was inspired by a Student Nonviolent Coordinating Committee (SNCC) symbol of the civil rights era. Her piece, a white hand with brown fingers (shown below), is reminiscent of SNCC's buttons and logos.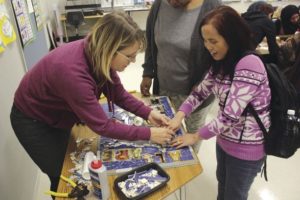 The photo on the right shows Lisa Arnold working with May, a student in Colleen's class. May is blind. Her visual impairment did not limit her from participating in the mosaic project using guidance from Arnold.
Finally, in December, Colleen and her students visited senior residents of a local assisted living facility. Before going, they practiced and reviewed with another class the steps involved in making a mosaic. While there, students enjoyed creating mosaics together with their senior partners.
A local newspaper reporter wrote about and captured students' experiences. The story and more photos can be accessed here >>
For more information, contact Colleen Crossley at colleen_crossley@rdale.org.
Resources: